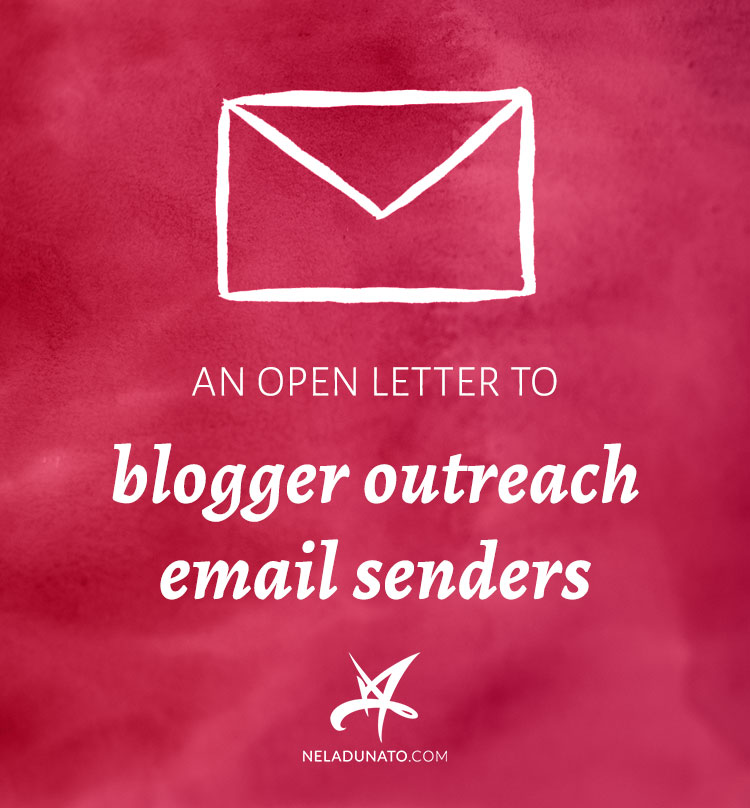 I'm not a super popular blogger, but I get plenty of email pitches from people who want me to link to their stuff, or publish their guest post (even though I clearly state in multiple places, including my contact page, that I don't accept them). I can only imagine what it's like for people whose readership is much bigger.
Getting one such email isn't a big deal. In fact, the first person who sent me that email got what they wanted... for a while. I wasn't very good at saying no, so giving in to the repeated follow-ups seemed easier. (Luckily, I've learned quite a bit in the past years, including saying no to things I'm not 100% on board with.)
After you've received two or three outreach emails, you start noticing a pattern, and you're no longer that gullible. You realize you're just one of hundreds or thousands of people this person is emailing, and that they don't give a rat's ass about adding value – they just want to increase Google search rankings for their content, and you're but one step on the ladder to reach that goal.
After receiving yet another email of that kind, I created this little chart so that others who are still as naive as I was in the beginning can quickly decipher what it means: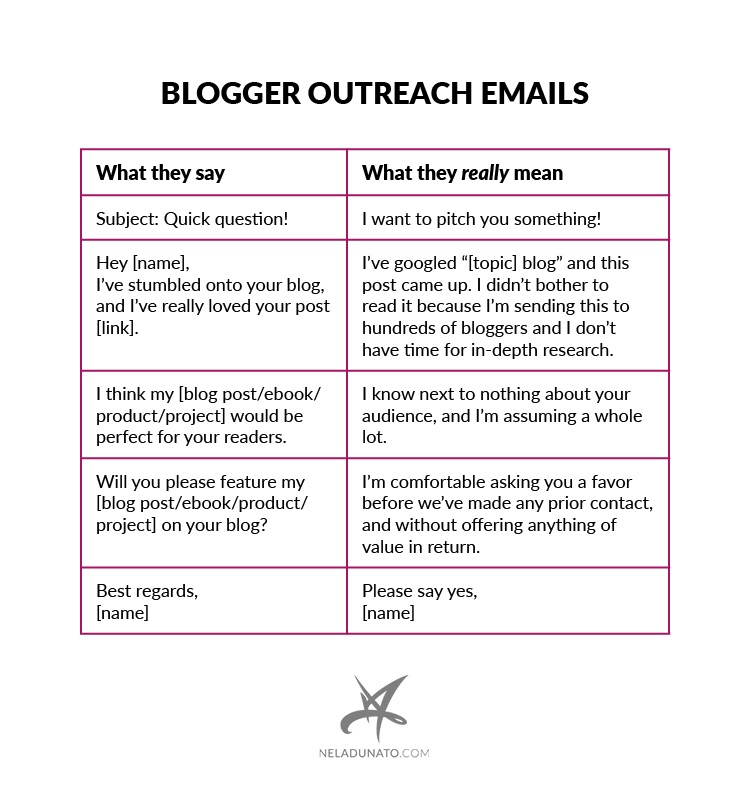 If you've recognized your own emails in this chart, I'm really glad you're here. I don't intend to tell you everything you're doing wrong without helping you improve so you can get better results.
Here's a couple of tips on how to do blogger outreach email campaigns the proper way. (And this goes to anyone, not just marketers who are currently using this terrible method.)
Be more direct in your subject line
Your "quick question" is far from being the only one in my inbox. Just say what you want so I can prioritize accordingly.
Do more research
Read more than one blog post thoroughly, so you get a sense of the blogger's style and philosophy. Also do read their contact page or their FAQ page because they might simply not accept guest post submissions, sponsored posts, placed links etc. (I don't.)
Be more personal in your introduction, and go beyond the "I loved this first post I've stumbled into". Show that you've put in some real effort, and not just plugged scraped data into a template. And while we're at it...
Don't use a template
Bloggers are getting dozens of these form emails every month, and we can spot the pattern pretty easily. I wonder which online marketing guru gave you this template? I'd like to have a word with them.
Never assume – ask
Bloggers know their own readers much better than you ever can. They communicate with them through comments, email and social media every single day, and publish content in response to questions they receive. Acknowledge that and ask them if they think their readers would enjoy your content.
If you see a comment someone has left that your content is addressing, you can use that as "proof" that this information will increase the value of the blogger's content. If you can't do that, leave your assumptions at the door.
When someone tells me they think my readers would love something, it gives a really bad first impression. Let me be the judge.
What's in it for me?
"Your readers will love it."
No, what's in it for me? Sending my readers to content on another person's website and giving you Google link juice is not in my best interest, especially if we're competing for the same keywords. I've been around the block (since 2003, if you can believe it) and I understand very well how SEO and link building works.
Just recently, someone tried to get me to link to their "roundup of 10 top graphic design companies". Hello? This proves that they didn't even bother to check what my website is about. I am a graphic designer, and I'm running a business here. Linking to your roundup goes directly against my self-interest.
If I'm going to send people away from my own website, I better have a very good reason. Your content would have to offer something I'm not able to provide, and make me look good.
A post that breaks down relevant scientific research comes to mind, since I'm too lazy to do that on my own. If you give me a really good verifiable reference that backs up some of my claims, damn right I'll link to it – it gives me a boost of credibility in front of my readers and potential clients. Linking to your opinion piece, a beginner's guide, or a product you sell? I have absolutely no incentive to promote that.
People are selfish. Give them what they want. At the very least, ask them what they want in return for doing you a favor. Let's not kid ourselves here, they are doing you a favor by sharing your content. If you can't think of a tangible way to thank them, you have no business asking for a favor in the first place. (Sharing my post to your 83 Twitter followers doesn't cut it.)
But that's too much work!
Yes. Giving value is work. Building relationships is work. You can't automate your way to stardom, no matter what the guru who sold you that template has told you.
Stop trying to game the system in such a cheap and crass way.
The basic rule of reciprocity will take you further, faster.