Do you feel like you spend so much time on social media, and it's giving you little to no results?
Are you feeling overwhelmed with all the choices and advice, and you have no idea who to listen to and what will actually work for you?
If so, I have an important message for you:
Stop wasting your time online and share your work where it really matters
The real problem is that your approach to promotion is haphazard and lacks strategy.
You may be desperately trying out different things, without stopping to think if this is the right choice for your business, just because some business guru said it works great for them. The truth is, you don't have to promote like everyone else.
I've created this free guidebook to help you craft your custom promotion plan that is rooted in your unique strengths and tailored to reach the people you care about.
Using this guidebook, you will:
learn how to get over the fear about sounding "too salesy" when promoting your work
identify the type of content that highlights your strengths and appeals to your right people
choose the social media channels that are the most effective for promoting your work
create a custom promotion plan tailored to your individual needs
evaluate how well your plan is working and tweak it to get better results
After completing the exercises in this guidebook, you will have a clear vision of what to focus on and this will save you a ton of time that you'll be able to spend doing your creative work!
This guidebook is a beautiful 20-page PDF containing lessons and worksheets to help you take action immediately. You can fill it out on your computer, or print it!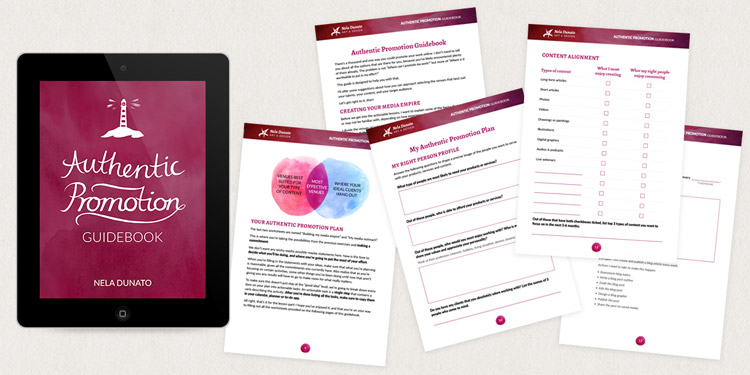 How to get it?
Just scroll down below this post and fill in your name and e-mail, and you will get a download link right into your inbox.
(If you're already subscribed to my newsletter, it's waiting for you in your inbox! Check the "Promotions" tab in Gmail or the Spam folder if you can't find it.)
Enjoy, and let me know what you think about it in the comments! :)