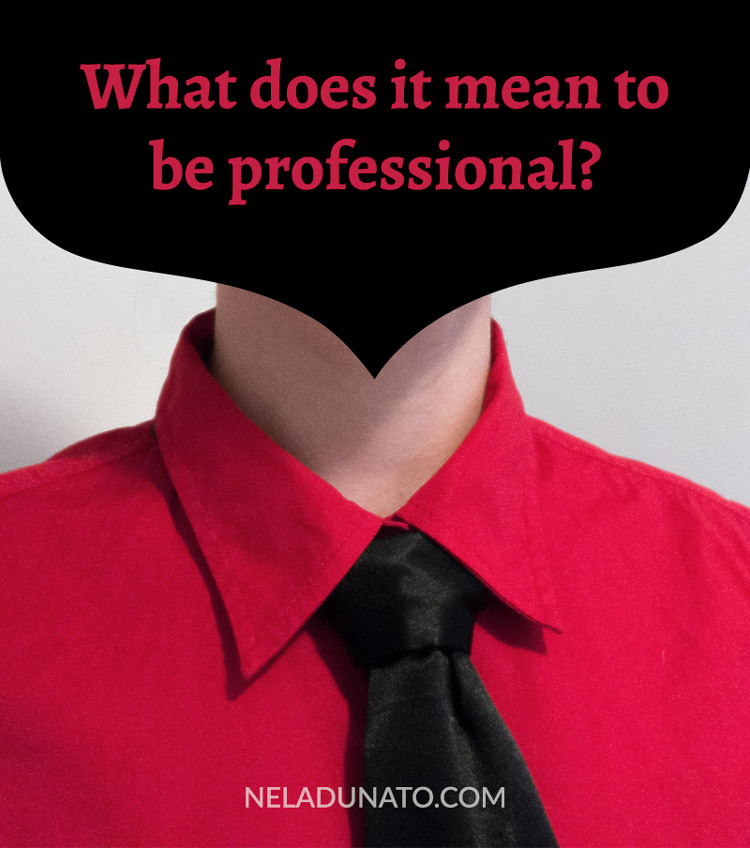 Popular marketing advice for small business owners is to "be authentic and transparent" online. But some of us who may be careful about what we put out in public are asking ourselves the question:
Is too much authenticity unprofessional?
That's a valid question. After all, we grew up in a society that generally shuns authenticity like the plague, and showing our true self to the world feels extremely risky.
Some entrepreneurs are taking the authenticity road with a stride, and their blog and social media streams feature family snapshots, bountiful cursing and personal health information — things that would not sit well with our bosses in a corporate setting.
When we became business owners, our "bosses" became our clients. Now we want them to like us, because if they don't — they won't buy anything from us.
Here's where things get all tangled up.
If we were to think about every person on the planet as our potential buyer, we might as well never say, do or publish anything, because every single thing will offend someone.
That's why I emphasize so much the importance of identifying your right people (or ideal clients). We don't call them ideal for nothing. We want to pick and choose the people who are already likely to be interested in what we're selling, and appreciate our unique approach to business and life, so we don't have to be all awkward and maintain a facade.
We want to work with clients who share our core personal values.
As you might have realized already, professionalism is subject to people's opinion. If you happen to work with suit-and-tie corporate CEOs, their standards are going to be very different from what a small mom-and-pop business expects, and this is yet very different from what a rock band might expect.
Some may find discussing religion on their blogs distasteful, but for a designer specializing in Christian church websites, it makes sense to talk about Jesus on their blog. That way she insures that the priest or a pastor will realize she's not in it only for the money, and end up hiring her, instead of a heathen like me (who paints crucified fairies in her spare time).
Some people may think I'm crazy unprofessional for discussing depression openly, but I know a lot of my right people have experienced it as well, and I want them to know "Hey, I get you." If you're bothered by it, I'm sure you'll be able to find plenty of artists and designers who don't talk about their emotions at all.
There are less "musts" in professionalism than you may think
You must deliver what you promised, in the time-frame you promised. [Tweet this!]
In order to do that, you need to have an established process of creating the good or service that gives reliable results (before you can do that, you're a student, not a professional).
Your standards of integrity, honesty and respect need to be equal to or higher (if you're a bit of an ass) than those you maintain in your personal relationships.
Every "rule" of professionalism stems for that. For example:
Perform your work with the highest quality standards (integrity)
Quality test (integrity)
Reply to inquiries in a timely manner (respect)
Keep any information provided by the clients private (respect)
Send the buyer exactly what they ordered (integrity)
Publish clear images of your product (honesty)
Make it clear what is included in the price, and what is charged separately (honesty)
Don't spam people who aren't subscribed to your list (respect)
I'm sure you can extrapolate more of them for yourself.
But the way you dress, talk, walk and share your personality online is up to you and who you want to invite under your umbrella. Don't water yourself down for your clients.
Some people will see you, scream "Disgrace!" and run in the opposite direction. That's a great sign. If every single person you meet likes you, it means you're not remarkable – you're just fine.
If you're fine with being "fine" that's cool, but more often than not, "fine" doesn't pay the bills.
Decide for yourself what's professional
Are you addressing your clients by their first name, or last name and title?
Are you willing to share information about your illness when it causes a delay in the project?
Are you accepting phone calls, video calls or live meetings as a means of client communication? You're not obliged to do any of them, you know.
Are you sending holiday or birthday cards to your clients?
Are you giving discounts to new clients, repeat clients, on special occasions, or not at all?
Are you willing to share information and photos of yourself, your family or pets on your blog and social media?
Do you want every piece of business communication that leaves your office stamped with your logo? Just because I'm telling you it's a good idea because it helps in establishing your brand, it doesn't mean you're not allowed to have your own opinion about it. Of course you are.
Do you want to use your headshot or your logo as a profile picture on social media?
Do you want to use your headshot in your website header? Just because Marie Forleo or Ali Brown told you you should, you really don't have to.
Are you willing to do cold calls, e-mail pitches or send postcards to potential clients?
Will you add a business card or a flyer to the orders you send, or would you rather write a thank you note, or both?
Will you publish a price range for custom projects on the sales page, or do you want to hear the requirements first?
Do you want to write your opinions about politics, spirituality, health or other potentially touchy subjects?
It's your business.
You get to decide how you want to do it, and it will be much easier for you if you choose a way that's aligned with your personality.
It's best to think about this before you find yourself in a situation where you need to react. Set standards for yourself, and stick to them. If they don't work for you, change them. But do it consciously, and more importantly – make them clear to your clients.
That way you'll end up serving people who want exactly what you want to provide.