Revamp Your Brand In One Day
Your creative work is unique and extraordinary – then why is your brand boring?
You may have heard already that a strong brand can help you:
stay memorable
stand out from other people and companies
appear more trustworthy
attract your dream clients
encourage word-of-mouth referrals
and yes, even raise your prices.
But you're unclear about where or how to start?
You've heard a thousand times that that you should "show your personality" in your marketing, but you might be frustrated and unsure on how do you actually do that?
The reason you're confused is that you haven't figured out yet what's unique about you and your work, and how to use this insight in your branding and marketing.
This free mini-class will help you do that – in a single afternoon.
Learn how to let your individuality shine through your brand
During this class, you'll learn to:
identify what makes you & your business unique
discern who are the people you really want to attract and how to connect with them
choose the ideal colors and fonts for your brand
generate new content topics that are entirely on-brand
evaluate your current website and promotion channels and fix all off-brand glitches
The result of this class is a list of clear steps you need to do to transform your brand, and text you can copy directly to your website to let your clients know what makes you remarkable.
We're keeping this short, concise and to the point, because I want to get you moving and implementing stuff as soon as possible.
What you'll get
A 10-minute video class (with transcript) + a 24-page printer-friendly guidebook
No fluff, pure value.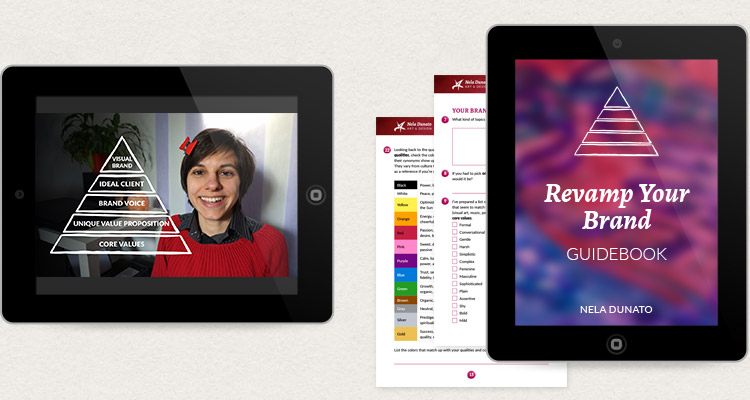 Ready to revamp your brand?
Enter your name and email below, and your class will be in your inbox within minutes!
By submitting your information through the form, you'll be subscribed to my newsletter and get weekly tips and articles on branding, design, cultivating creative productivity and growing your passion-fueled business. You can unsubscribe at any time. Your email address is safe and I'll never share it with others.