What you offer to the world is gorgeous & extraordinary. Together, we can tell a visual story that reflects that.
Meet Nela, creative geek & small business branding expert
Hello there!
I'm an artist, designer, and writer from Rijeka, Croatia (EU). I design human centered brands that help service-based businesses and non-profits express their authentic story. This has been my dream job since 2005, and I'm still just as passionate about design as I was in the beginning. I also teach design and branding workshops, and speak at conferences, schools, universities, and companies.
I've poured my knowledge into a book "The Human Centered Brand", a practical guide that teaches small business owners everything they need to know about branding.
I spend most of my free time drawing, painting, writing, practicing personal development techniques, hiking in nature, chilling on Adriatic beaches, and playing board games.
My personal interests have always been inseparable from my work. I was not a good fit for agency jobs where I wasn't able to bring my whole self to the role. This led me to starting my own studio Nela Dunato Art & Design in 2013. Over the past decade, I've succeeded in integrating various aspects of my personality into a fulfilling career that brings me joy every day.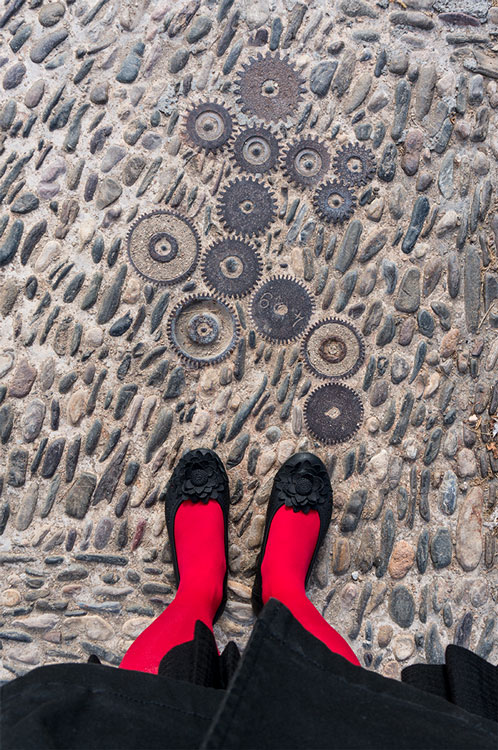 Here's the most important lesson that I've learned in life: even misfits can be loved and accepted. The trick is to surround yourself with the right people.
Most of us learn early in life that being a bit weird is a bad thing, and that our families, neighbors, classmates, and teachers will shame us for it. Only when we grow up do we realize that it's the misfits who change the world.
We didn't choose to be who we are, but trying to be any different doesn't work. Our biggest strengths and talents lie in those peculiar facets of our personality.
Those who appreciate our unique gifts will gather around us and provide all the support we need in our career. Your life transforms when you find those right people. Things you didn't think were possible for you start happening.
If I could ask for one wish, I'd go back in time to tell my 10-year-old self that one day she'll be happy. I'd tell her to keep her head high in the face of all the bullying and ridicule, because one day she'll be surrounded by people who think she's amazing.
Most people who are drawn to my work have had similar experiences of being "too nerdy", "too quiet", "too loud", "too sensitive", "too attention seeking", just too much for the world around them. This influences how we express ourselves today in the business world, and can cause us to shrink and hide so we don't get called out again.
The past was what it was, but we can focus on improving our future. That's why I'm doing this work for you.
My approach to branding is about claiming your unique and unusual skills, talents, and personality traits, and shining a spotlight on them so that your right people may find you.
We identify those core values that have been pushing you into motion all your life. We find the unique viewpoint you bring to your field. We examine your writing and speech patterns so that you can express yourself intentionally to your audience. We hone in on what kind of people are most likely to show interest in your work.
And then we wrap it up into a gorgeous package that is your logo, brand identity, and website.
But the visual eye candy can't happen before we talk about the real stuff—what's actually going on with you and your business. That includes talking about your current challenges and your future plans.
My clients sometimes tell me that talking to me feels like therapy. I'm the type of person that people easily open up to, and I think that's precisely what makes me so good at my job. I reflect people's positive qualities, and encourage them to own them and highlight them in their marketing.
My work is definitely not for everyone! You'll know if it's the right path for you.
Sketching, drawing, picking colors, choosing photos, and making compositions are just a part of what we do in my studio. The part that makes my methods different is that we search for the deeper meaning of your work, and this often steps out from the realm of "just business" into the realm of personal growth.
Masks are meant for Halloween, not for your business.
With my branding approach, you'll never have to pretend you're someone else.
If you need an ally to take care of your entire visual brand identity and all of its applications, I'd be happy to accompany you on your business adventure.
Check out my creative services
If you're not yet ready to work together and would prefer to read free tips, in-depth advice, and stories from my artistic and entrepreneurial journey, take a look at my blog.
What others say about me…
I've had the incredible luck of working with one great client after another, and I genuinely care for them and their business. And it seems like the feelings are mutual:
"Nela was fabulous to work with! Somehow, she was able to take my vague guidance and turn it into an image that was not only exactly what I had in mind, but was even better than anything I could have imagined! I was blown away at her creativity."
"I was blown away that there is a way to combine beauty and efficiency. On one hand you are this creative person who has so much imagination and uses colors and tones and all of these things to create beauty, but on the other hand you're also a kind of anomaly who's very organized, has processes, and is very efficient. It never occured to me that a creative person could be both."
"We were pleasantly surprised by constant improvement of her services, and her personal and professional integrity."
"The experience of working with Nela was great! She was friendly, helpful, and patient. Her instructions and requests were clear. She encouraged dialogue and valued feedback and opinions. She answered queries and questions. She helped with various aspects of tech and gave advice on some of the wider considerations and implications of the project."
"Initially I was concerned about trusting to work with someone internationally, but her professionalism proved trustworthiness. I would most definitely work with her again, and recommend her to anyone who could use her service, 200%. She's the best!"
"Nela has an artistic flair in her work, and that's what we wanted for our organization and its visual brand identity. She understood what we wanted and the essence of our work, and she portrayed it with visuals.

We really liked Nela's discipline, honesty, responsibility, simplicity and creativity in her approach. Communication was easy and effective, and we quickly got to an agreement."
"I would definitely collaborate with Nela again, because of her professionalism, support, respecting agreements, pleasant cooperation and personality, a sense of confidence in her professional competence, and a refined sense of pleasant communication and attitude."
"Honestly, I don't know anyone who manages the creative process so clearly – their own and the clients' process. When we collaborated a few years ago, I can't describe how much I learned from her approach and how much it helped me in my own work. Setting expectations and realistic deadlines, exchanging questionnaires, cooperation… I would definitely work with Nela again and recommend her services to others."