Design Fairy Godmother
Hello there! I'm an artist, designer, writer, and educator from Rijeka, Croatia (EU).
I design human centered brands that help consulting businesses and non-profits express their authentic story. This has been my dream job since 2005, and I'm still just as passionate about design as I was in the beginning.
I also teach design and branding workshops, and regularly speak at conferences, start-up incubators, schools and universities.
I've poured my knowledge into a book "The Human Centered Brand", a practical guide that teaches small business owners everything they need to know about branding.
My upcoming illustrated book "Creativity Keys" is a collection of my tried-and-true methods of overcoming creative blocks.
I spend most of my free time painting, drawing, writing, hiking or cycling in nature, chilling on Adriatic beaches, and playing board games.
Because of my varied interests, I wasn't a good fit for working in agencies where I wasn't able to bring my whole self to the role. This led me to starting my own studio Nela Dunato Art & Design in 2013. Over the past decade, I've succeeded in integrating my passions into a fulfilling career that brings me joy every day.
The most important lesson I've learned as a neurodivergent person:
Even misfits can be loved and accepted. The trick is to surround yourself with the right people.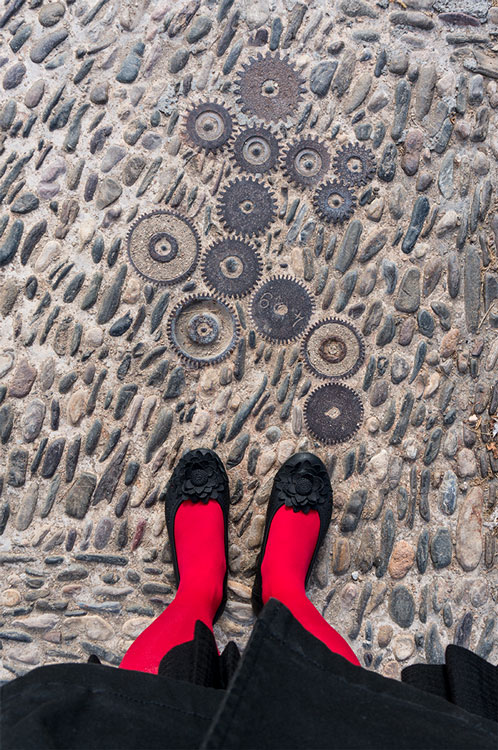 Most of us learn early in life that being a bit weird is a bad thing, and that our families, neighbors, classmates, and teachers will shame us for it. Only when we grow up do we realize that it's the misfits who change the world.
Our biggest strengths and talents lie in the quirky facets of our personality.
Those who appreciate our unique gifts will gather around us and provide all the support we need in our career. Your life transforms when you find those right people. Things you didn't think were possible for you start happening.
If I could ask for one wish, I'd go back in time to tell my 10-year-old self that one day she'll be happy. I'd tell her to keep her head high in the face of all the bullying and ridicule, because one day she'll be surrounded by people who think she's amazing.
Most people who are drawn to my work have had similar experiences of being "too nerdy", "too quiet", "too loud", "too sensitive", "too attention seeking", just too much for the world around them. This influences how we express ourselves today in the business world, and can cause us to shrink and hide so we don't get called out again.
The past was what it was, but we can focus on improving our future. That's why I'm doing this work with you.
My approach to branding
We identify those core values that have been pushing you into motion all your life. We find the unique viewpoint you bring to your field. We examine your writing and speech patterns so that you can express yourself intentionally to your audience. We hone in on what kind of people are most likely to show interest in your work.
And then we wrap it up into a gorgeous package that is your logo, brand identity, and website.
Sketching, drawing, picking colors, choosing photos, and making compositions are just a part of what we do in my studio. The part that makes my methods different is that we search for the deeper meaning of your work, and this often steps out from the realm of "just business" into the realm of personal growth.
My work is not for everyone!
You'll know if it's the right path for you.
Masks are meant for Halloween, not for your business.
With my branding approach, you'll never have to pretend you're someone else.
If you need an ally to take care of your entire visual brand identity and all of its applications, I'd be happy to accompany you on your business adventure.
What others say about working with me…
I've had the incredible experience of working with one great client after another, and I genuinely care for them and their business. It appears the feelings are mutual:
"I was blown away that there is a way to combine beauty and efficiency. On one hand you are this creative person who has so much imagination and uses colors and tones and all of these things to create beauty, but on the other hand you're also a kind of anomaly who's very organized, has processes, and is very efficient. It never occurred to me that a creative person could be both."

Sarah Santacroce
Founder of Humane Marketing
"I was pleasantly surprised by Nela's positive energy and her attitude that speaks without words: don't worry, everything is fine, we're going in the right direction, just relax, you're in good hands.

I would work with Nela again because I know I'll get exactly what I want (if not more), due to her personal approach and positive energy, expertise, punctuality and previous positive experience."

Nives Radan
Founder of Templum Est
"Nela has an artistic flair in her work, and that's what we wanted for our organization and its visual brand identity. She understood what we wanted and the essence of our work, and she portrayed it with visuals.

We really liked Nela's discipline, honesty, responsibility, simplicity and creativity in her approach. Communication was easy and effective, and we quickly got to an agreement."

Ana Markovic
Founder of PEZ Association
"Honestly, I don't know anyone who manages the creative process so clearly – their own and the clients' process. When we collaborated a few years ago, I can't describe how much I learned from her approach and how much it helped me in my own work. Setting expectations and realistic deadlines, exchanging questionnaires, cooperation… I would definitely work with Nela again and recommend her services to others."

Iva Silla
Founder of Playful Croatia and Secret Zagreb
"Initially I was concerned about trusting to work with someone internationally, but her professionalism proved trustworthiness. I would most definitely work with her again, and recommend her to anyone who could use her service, 200%. She's the best!"

Malik Jones
Founder and CEO of Student Justice Union LLC
"I would definitely collaborate with Nela again, because of her professionalism, support, respecting agreements, pleasant cooperation and personality, a sense of confidence in her professional competence, and a refined sense of pleasant communication and attitude."

Sanja Krmpotic
Hospitality consultant at Sagape
My work has been featured in…
My core values
I believe that successful professional relationships rest on a foundation of overlapping core values. Here are my core values, and how they affect my work.
Creativity
I craft original content with love and care that expresses my unique point of view, and I also encourage others to express themselves creatively. Our creations have intrinsic worth, regardless of whether people consider them "useful" or "needed".
Freedom
I'm committed to respecting everyone's freedom of choice and sovereignty, and encouraging people to make their own best choices. I refuse using manipulative business practices that impede people's freedom of choice.
Fairness
Everyone deserves a dignified life without exploitation, in a safe and healthy environment. I'm making an effort to decrease my dependence on businesses that use unjust capitalist practices, and I'm running my own business according to socialist principles.
Brilliance
I intentionally cultivate an atmosphere conducive to deep thought and inventive problem solving. I avoid forcing the creative process and stifling innovative thinking in order to push things out faster.
Compassion
I do my best to create conditions for authentic sharing and connecting with my audience and clients. I don't shy away from difficult conversations and uncomfortable topics.
Vision
If the world is to change for the better, we need to envision things that don't exist, and that sometimes even seem impossible. I'm committed to trusting my vision and doing what it takes to make it a reality.
---
If you share some or all of these values, we'd most likely have a great time collaborating!
Official biography
Nela Dunato is an artist, designer, writer, and teacher from Croatia with 18 years of professional experience building brands and digital presence for companies and nonprofits. Her belief that business can be fun, and that we do our best work when we can allow ourselves to be authentic and fully ourselves in relationships with our clients is what drives her to help passion-driven business owners to create and grow expressive brands that are a natural extension of their deepest personal values.
She's the author of the book "The Human Centered Brand", a practical guide that teaches service based business owners and creatives how to create an authentic brand and grow meaningful relationships with their clients. The ideas and methods presented in the book draw from Nela's career as a brand designer, as well as her deep interest in symbolism and the human psychology, and her experience as a facilitator of personal development techniques.
Nela previously taught graphic design as a course instructor, and currently leads in-person workshops and speaks at international industry events. She's been writing articles about art, design, marketing, business, and creativity for two decades.
Her art has been exhibited in Europe and the United States, appeared on the covers of sci-fi genre books, and received the European Science Fiction Society award in 2012. Nowadays she creates art for her own pleasure, and aims to inspire more people to embrace creative self-expression as a regular practice, and get in touch with their own essence.
---
Thank you for reading! ❤
If you still haven't, download the free chapter of my book The Human Centered Brand right below…