Unethical freelancers are the worst, and it stings even more when those rotten apples are my own colleagues. I'm as passionate about preventing these people from cheating you as you are.
Crooked design professionals hurt the entire industry by ruining the reputation of freelancers. Because of these hacks, business owners are afraid to hire people from a different country and consider freelancers to be "second class" to creative agencies.
It's not fair that all freelancers should suffer because of a few outliers who prey on naive business owners. For this reason, I want to make their job of cheating you harder, and your job of finding great freelancers online easier.
Here's what you can do to protect yourself from being taken advantage of.
Don't use Fiverr
Hiring logo designers on Fiverr is the equivalent of walking into a sketchy back-alley office of an unlicensed surgeon. Don't say I didn't warn you.
$5 is an unreasonable price for a custom logo design, so the majority of the designs you'll get there are either:
bloody awful amateurish work
derived from stock graphics
Neither of these paints a great picture of your business. In fact, it can tarnish your reputation, and make it near impossible to become a premium brand.
Let me tell you a real life story.
Just recently, I participated in a Facebook discussion about logo design prices. Many people voiced their opinions—designers and clients alike. The advice varied from "Great logo design costs good money" to "I know someone who will do it for cheap", and from "Don't use Fiverr or 99designs", to "Fiverr is awesome".
One jewelry designer chimed in and boasted that she was super pleased with her "incredible logo design" that she only paid $25. Apparently, she hired 5 different people to do a logo for $5 each, and one of them came out OK.
(Let's pause for a minute and think about this: if you bought groceries in a store and 4 out of 5 were spoiled, would you accept that? Of course you wouldn't, you'd stomp right in and ask for your money back—but apparently, people are comfortable throwing money at Fiverr knowing to expect a crappy service.)
She posted a photo of her "incredible" logo, and it immediately got me suspicious. The logo had an attractive icon to it that looked like something above the $5 designer's pay grade. I needed to know for sure, so I ran it through some image search engines, and there it was:
I've found 3 other companies using the same icon within 2 minutes.
It wasn't a similar icon—it was the very same graphic. Same shapes, same colors. Not even a little detail was changed.
After a little more searching, I've identified the source of the original drawing: it was a cheap vector stock graphic from a service called Fotolia. The entire pack of vectors cost about $5 and had 6 different shapes in it. The "designer" from Fiverr was re-selling these as custom logos at a profit. Their work involved adding the company name to a ready-made graphic.
I've notified the jewelry designer of my findings because I wanted her to know the truth, but I also had self-serving reasons—I want to bust the myth that you can get a good, unique logo for cheap within a few days. That's simply not feasible. (I wish it was, really—I'd be pumping out a dozen awesome logos a month and have hundreds of clients on my reference list.)
In the interest of preserving this business owner's privacy I don't want to share her logo, but here's an example that recently came under the scrutiny of Croatian design community. The Zagreb International Airport logo uses a free stock vector, the same as many other companies have used. I don't know the story behind the logo design—it could be that someone within the company designed it, so they're fully aware it's not an original symbol. Even if that were true, it's still pretty bad from a branding standpoint.

Spot the differences
Be wary when you get an offer that seems too good to be true—it usually is.
Quality logo design can't be rushed.
It's not about arranging a couple of elements or quickly drawing a symbol. The entire logo design process involves:
Detailed communication with the client to learn about their goals, needs, and target audience.
Researching the market to ensure our design is original.
Creating dozens or hundreds of different ideas in order to be able to choose the best one to turn into a final design, all the while thinking about the deeper symbolic message behind the logo.
Refining the concept until it's perfectly polished and ready to present to the client.
How fast someone can draw is irrelevant, because drawing is not the main part of a logo design job. Coming up with fresh ideas that suit our client, and then polishing them until they're just perfect is our main job.
So apart from avoiding the back-alley designers, what else can you do to protect your hard earned money?
Do a reverse image search on designer's portfolio pieces
Search engines have gotten really smart in the past few years, and now they can recognize the contents of graphics and photos, and even match a photo with a person's name. You can use this capability to see if the visuals your potential new designer are genuine, or lifted off from stock sites or even worse—other companies that might sue you.
Here are the reverse image search engines to run your samples by:
Use the camera icon to select a photo to match in the search. On Google, scroll down and click the link "Visually similar images". I recommend using all of the search engines, because their methods and results differ. Typically Google and TinEye give more accurate matches.
Please note, if the results don't show anything, this doesn't mean the image is definitely not plagiarized, but you can use it to eliminate the worst offenders.
If a designer uses plagiarized logos in their portfolio, run.
Look up the designer on social media
I've heard numerous stories where someone impersonated a freelancer with a good reputation on websites such as UpWork and Elance (exhibit A, exhibit B, exhibit C, exhibit D). The impersonator didn't have the expertise to do the project as advertised, so some of the clients ended up harassing the real freelancer for their money back.
Verify that the person you're hiring through a freelance marketplace is who they say they are. Message them on social media channels (like LinkedIn or Twitter) to check if they're the ones who responded to your offer.
Ideally, set up a Skype video chat during the hiring process to see that the face behind the camera matches the photo on their profile. If the freelancer isn't willing to show their face on video, they may be hiding something.
Vet their previous clients
The designer's previous clients can tell you a lot about the quality of designer's work, and their expertise. (This might be a bit of a shortcut on doing extensive research, since you're relying on the fact that other people did their research.)
Look up the websites of the clients and see if they're still in business. Oftentimes you'll see people hire cheap logo designers for low-priority or test projects that never work out, because it means they won't have sunk too much money in it.
Question for you: is that the kind of company you want to be in? Or would you prefer to work with a professional whose clients are successful and making stuff happen?
If you find a client in their portfolio that you have a lot in common with, check in with them and ask them what their experience was like. If they're full of praise, that's good. If they seem reserved, maybe their experience wasn't so great. Better be on the safe side.
And when it comes to safety…
Sign the contract before money exchanges hands
Contracts are here to protect both sides. My number one red flag for a bad client is when they don't want to sign a contract—and it should be a red flag for you if the designer never offers a contract to sign.
Contracts are used to define situations such as:
What the scope of work is.
Price and payment schedule.
What's the time frame of the project.
Intellectual property rights on completed work.
What happens when one party wants to back out of the project.
Pay attention to the intellectual property rights in particular: the designer is the legal owner of all the work they create during the course of the project, unless stated otherwise in a contract you both sign. For logo designs, it's crucial that the business owner owns the rights to use the logo for an unlimited time, in whatever media they want, worldwide.
I transfer copyright of the final logo to the business owner upon full payment. Protecting and enforcing those rights becomes their responsibility. (I keep the author moral rights, as well as copyright for the sketches and unused proposals I create during the process.)
To protect your investment, make sure the contract you sign contains the following:
The scope of work that includes vector image formats (EPS, AI or SVG).
Statement that the designer will create a unique logo that doesn't violate a third party's copyright.
Statement that copyright of the final logo will be transferred to you upon full payment.
What happens if the designer has to back out of the project (do you get your money back, or the half-finished logo?)
The designer will have clauses that protect them from your potential misconduct as well. When both sides feel safe and protected, that's when trust and collaboration can flourish.
By now, you should be safe that the designer you're working with is solid, and has your best interests in mind. Still, if you feel for any reason that the designer might be attempting to cheat you, you can double-check their results.
Ask to see the thought process behind the logo
Some designers will provide an in-depth presentation of their design solution complete with inspiration, sketches, logo construction, examples of use etc. which is what I advise my colleagues to do.
Logo design requires a methodical iterative process that for the most part goes unseen by the client. When we show just the final logo, clients may dismiss it as something easy, when in fact it took dozens or even hundreds of sketches and versions to get there. Showing how we got to the logo and what the thinking process was helps us "sell" the idea to the client.
But it also does something else—it shows to the client that our creation is original.
If your designer isn't forthcoming about their thought process but only shows you the final solution, prod them to explain their process. Ask them if you can see the sketches or inspiration that lead them to the final solution. We love geeking out about design with anyone that will listen, and if you show genuine curiosity, it might actually impress them.
Check your new logo with reverse image search
When the designer sends you a proposal of the logo, and you're worried that it looks too much like something else you've seen, do the reverse image search on it using the methods I've mentioned before. Same if the designer gives you a vibe like they're hiding something.
If you know of a competitor or a high-profile company who uses very similar visuals, let the designer know—they may be genuinely unaware of this and not intentionally copying anyone. Even so, you want your brand to be easily recognized in your niche so you can register the trademark and protect your intellectual property.
Do all of this before you pay the remaining amount. If you've already parted with all your money, it will be more difficult to enforce your rights.
A good designer will check for duplicates before they even send the proposal to you, but they might miss something. You need to be sure that the intellectual property you're buying is legit so you don't get sued and forced to change the logo later.
It's not fair that you need to do the extra work, but you can't rush into a professional relationship.
I wish we lived in a world where everyone was honest and fair. Unfortunately, many people feel a lack of confidence in their ability to earn money in an ethical way, so they resort to deception and theft.
If you did get ripped off in the past, it's not your fault. It's no wonder you've missed the red flags—you weren't looking for them, because you trusted people. I hope this didn't destroy your trust in all creative professionals. Not all of us are like that.
I suggest that you start looking for a designer as early as possible (months before you plan to start the project) so you can thoroughly research all the options instead of making a rash decision forced by panic. If you decide to hire a freelancer you've met online, follow the steps above and you'll be safe.
If you've already found a designer and want to do your best to make the project a success, read my guide on how to write a design brief and be a glorious client.
And if you're still looking and would like to work with me on your new brand identity design, I invite you to do your research—you'll find that I'm an open book ;)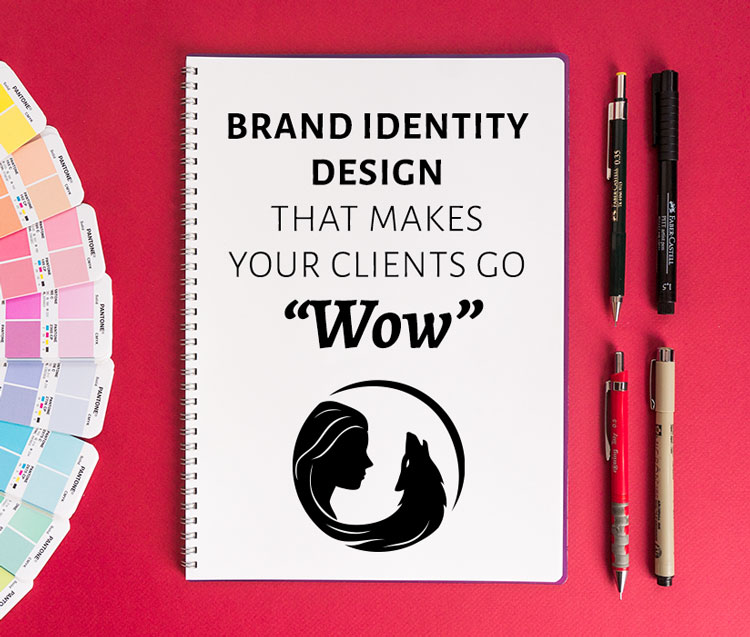 ---
Some blog articles contain affiliate links to products on Amazon. I'll get paid a few cents if you buy something using my link, and there's no extra charge to you.
---
14 responses to "How to avoid getting ripped off by a logo designer"