Q: What's the best sketchbook out there?

A: The one you use the most.
This post is a tribute to one of my favorite sketchbooks which I'm reunited with after two years of separation.
I've written before how fancy sketchbooks intimidate me, and I'm more likely to do elaborate drawings on cheaper paper than using thick and beautiful paper that's actually made for that sort of thing. While I did make some progress since that blog post from over 4 years ago, most of those sketchbooks in the photo are still barely used—no more than a couple of pages each. I don't do the projects these sketchbooks were made for very often, and just doodling over them doesn't seem right.
At the moment of writing this post, there are 13 partially used sketchbooks sitting on my shelf, and another 2 are missing because I seem to have lost them during my last vacation. (EDIT: Yay, I found them a few weeks after publishing this post!)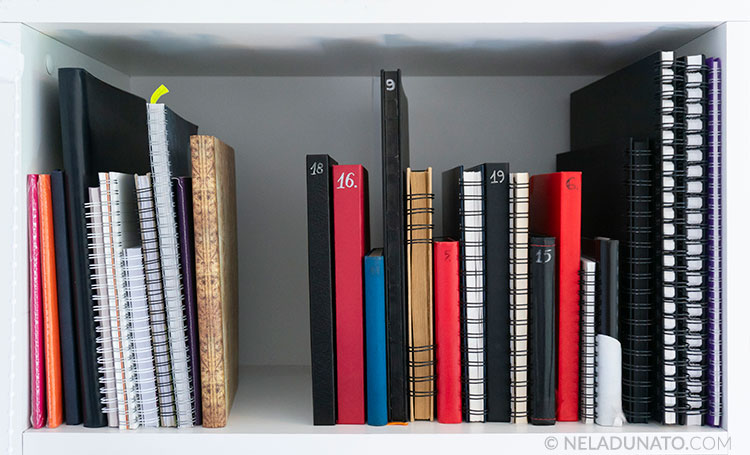 On the right side are all my current and blank sketchbooks. To the left are my journals and notebooks. Used sketchbooks are on a separate shelf.
Some of these sketchbooks I've had since 2009, and still haven't completed them. Some of them I don't use very much because I don't like the paper (#6 red cover Moleskine sketchbook), some because the paper is too nice to waste on doodles (#2 Winsor & Newton spiral bound sketchbook), and others because the paper isn't practical for daily use (#5 Lega-lega with red paper). I've written mini reviews of the many different sketchbooks I tried on my old sketchblog.
There's an exception to all of these unfinished sketchbooks that I wanted to talk about today. My favorite "workhorse" sketchbook is the Canson Art Book Universal in A5 size (5.5×8.5 in). (It's available on Amazon here (affiliate link).)
I've gone through 3 of these sketchbooks since I first discovered them in 2012. None of the other ones I've used so far have lived up to the versatility of the humble Canson. It housed my doodles, art ideas, finished sketches, practice studies, elaborate illustrations, conference notes, art journal pages, lettering practice, logo ideas, client meeting notes… anything that crosses my mind that I want to make a note of.

What my workhorse sketchbooks look like after I'm done with them

Check out this video for a journey through one of these sketchbooks.

Old sketchbooks compared to the new one
When I tried it out for the first time, I was over the moon with how great the paper was. It's thin (96 gsm) so the book has many pages, but not so thin that the ink shows through. It handled light watercolor washes reasonably well with a little buckling, which was fine for quick sketches. The smoothness of the paper was perfect for my brush pen sketches, and it's also extremely easy to erase graphite from it.
When my last Canson sketchbook ran out and I went to the local store to buy a new one, they didn't have it. When I went to check again months later, they still didn't have it. And again. They had plenty of other Canson products, and plenty of hardbound sketchbooks from other brands, but not this one.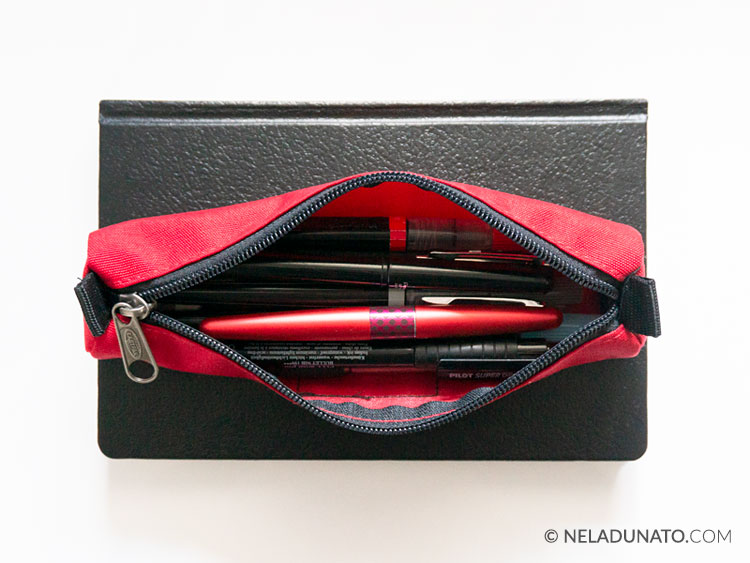 My current essential sketching kit
I lived without it for a while, rotating between a couple of Hahnemühles, but apart from the Kraft paper sketchbook, none of the others was that great with ink, which happens to be my favorite drawing technique.
I also bought a Clairefontaine Goldline sketchbook with 140 gsm pages (which scored as the most versatile one in my sketchbooks comparison), but it felt too precious for note-taking and doodling, so I don't carry it with me. I find it important to be able to draw or write anything when I'm on the go, and carrying several sketchbooks to cover all my needs is burdensome. I prefer having one all-purpose sketchbook to take with me every day, and then switch it up with a good watercolor pad when I go to the beach. When I'm at home, I pick a sketchbook based on the tools I want to use so I may choose one of the fancy ones.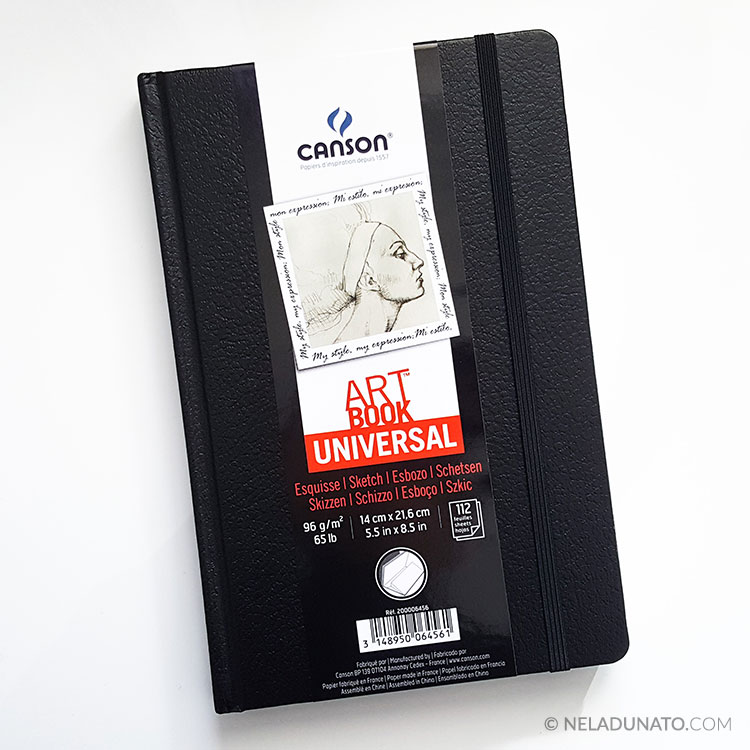 Last week I finally got my hands on another Canson Art Book Universal at the local store, and breaking it in with the first sketch was like coming home. I know us stationery nerds sound weird when we praise a stack of paper, but if art is near and dear to your heart than you can surely understand.
I'm taking it wherever I go, and I don't think too much before I put down a stroke or write down an idea for a project. Most of all I'm enjoying drawing with brush pens and fountain pens because this paper shows them in the best light.
(Speaking of fountain pens, I have a blog post on sketching with fountain pens too.)
Other sketchbooks may have thicker paper that's better for elaborate drawings, but they're less useful for my chaotic approach. While I wouldn't call this sketchbook cheap, I find it a good value because it has 112 sheets (224 pages) so it lasts much longer than most sketchbooks of comparable price. I use both sides of the paper and even heavy strokes of ink barely show through.
(There is some slight shading visible when scanning the page, ie. the white areas of the drawing may be darkened a bit from the drawing on the opposite side of the paper. But there's an easy fix I learned from Jessica Hische: put a black sheet of paper under the page you're scanning.)
Leafing through the pages of my old Canson sketchbooks, I can see what was on my mind at the time, and there's a sense of continuity that most of my other sketchbooks are missing.
I enjoy experimenting with different kinds of paper and matching up different techniques with the paper that suits it the best, but at the end of day, I'll always come back to my rugged Universal Art Book.
Do you have a favorite sketchbook?
What makes it especially convenient for your approach to sketching and note-taking?
If you want to read more of my thoughts on sketchbooks, here are a couple of other posts I recommend: