Branding projects can be tricky for new companies, because it's too early to tell what kind of marketing materials and documentation your business will need. Experienced professionals who are going through a rebranding process usually have a better idea of their needs, since they've created most of these materials already (even if they're not looking so great at the moment).
Brand identity design is rarely just about creating the logo and brand style guide. Every brand design project I work on involves at least a few additional graphics.
But which of those graphics do you need?
Many business owners are stumped by this question because they may not even know what options exist. My hope is that this article helps you clarify your individual needs. While designers can definitely make suggestions, this requires a degree of knowledge about your business that outsiders may not have.
Bear in mind that a large amount of additional graphic assets can significantly increase the price of a brand identity design package. If a brand identity designer's services page states a "starting at" fee, that usually only covers the very basics (logo and style guide), unless specified otherwise. I've quoted and worked on projects where the total fee was double or almost triple the starting price, due to the large number of requested brand identity applications.
Here's how to determine which graphic assets your business would benefit from.
1. Sketch your client journey
In my article Improve your business & brand with a client journey map I explained how writing out or sketching your client journey can reveal opportunities to improve your services, client communication, and branding.
I also explained the process of creating a client journey map using either traditional tools (like post-its and a large sheet of paper), or digital tools. I won't be getting into the details here, read the article for more information.
Once your map is done, examine all the steps and especially pay attention to steps where ready-made materials would speed up your work, and help your clients to move forward. Examples may include educational text or videos, document templates, forms, and similar.
2. Evaluate which documentation you need for your client process
I'm a big believer that professional creatives and consultants need a repeatable and reliable client process. Having a process saves you time, decreases uncertainty both in you and your clients (so they feel taken care of), and it enables you to re-use resources from previous projects on your new projects. Not only that, your process and client experience helps you stand out from competitors.
In a typical consulting business, the resources we re-use the most are various types of documentation. This includes the documentation you need to inform prospective clients and sell your services, as well as to create your deliverables. The content and format will depend on the type of work you do and what your unique marketing and sales process looks like—that's why we need to do step 1 first.
Necessary documentation
If you're selling services, you may need a few or all of the following in order to sell your offerings and check all the legal requirements:
Invoice template which is formatted according to your local tax law, and possibly the requirements of your buyers (if you're selling internationally). Most businesses use some kind of software which doesn't allow for lots of customization, so in that case this may not be needed. But some of my clients still create invoices in Word!
Proposal which may be a basic one-page specification of services and costs that looks the same as an invoice, or it may be a more elaborate multi-page document that goes into the details of each service. (I have both.)
Contract is essential for any kind of service, although I know that many businesses don't bother creating them. The contents are up to you and your lawyer, and the design may be a simple text document with nicely formatted headings, paragraphs, headers, and footers.
Deliverables – if you're creating reports, strategy proposals, guides, handbooks, worksheets, or any other kind of documents, they should be professionally formatted. ("Professional" doesn't mean they have to contain lots of graphics and colors—on the contrary, the fewer decorations the better.) The format depends on the type of document, but in my line of work I mostly see text documents, presentation slides, and interactive PDF forms.

A slide from my client's sales presentation, which reflects their brand identity and website design
"Nice to have" documentation
This type of documentation is not required by law or business norms, but it can help you to streamline your process, save time on client communication, and stand out from your competitors.
Welcome guide is a document that some consultants use (me included) to explain the services we offer, our business policies, terms of use, and other useful information that can help the client evaluate if we're the best service provider for them. It's typically an electronic PDF document, but it can also be a private web page.
Brochure or a flyer can be helpful during initial contact with potential clients, especially if you meet them in person. They offer a brief description of your services and how they help your clients and your contact information. We use them to create a great first impression, so design is extremely important. They can be printed or digital (PDF or JPEG).
Sales presentation deck can be useful if you do a lot of "pitching"—sales meetings where you need to get buy-in from multiple decision makers, especially if you have great case studies you can showcase. The contents would typically include a menu of your services, images of previous projects, or graphs of your clients' results. (Avoid bullet points. The presentation deck is meant to add context to your verbal delivery, not repeat the things you're saying.)
If you're giving your clients lots of printed documents, a custom folder is a very nice touch, though having 50–100 folders printed is a substantial investment.

Folder design was just one of many graphics I created for this real estate agency brand identity
3. Determine which channels you'll use to communicate and promote your business
Think about where your ideal clients spend their time (in person and online), and how you can appear in those spaces, share your content, and start conversations with people who would be interested in your work. To help you identify those channels or venues, I created the free Authentic Promotion Guidebook.
We can divide different spaces into broad categories:
Physical space (office, store, showroom)
Events (conferences, fairs, meetups, networking)
Direct mailing
Social media
Blogs and websites
Podcasts
Television
Radio
Newspapers and magazines
Knowing these broad categories is useful before starting the logo and brand identity design process, because then the designer can take it into consideration and come up with ideas and brand identity guidelines that fit those mediums.
The next step is to find which graphics fit the chosen mediums and channels best.
Examples of communication and promo graphics my clients have requested in the past:
Business cards
Digital brochures
Printed brochures and flyers
Roll-up banners
Email signatures that contain the company logo
Newsletter templates
Presentation slides
Interactive workbooks
Social media cover graphics (more fancy) and profile pictures (usually the logo, icon, or a monogram)
Social media advertisement graphics
Quote templates for use on social media or blogs
Podcast cover artwork
Video title screen/thumbnail
Holiday greeting cards
Magazine advertisements
Branded gifts or merchandise (shirts, hats, badges, planners, pens, etc.)
I could go on, but I hope you get the idea. If you need inspiration, spend some time in those spaces as an observer and pay attention to what other people and businesses share. You can even save your favorite examples and share it with your designer, so they can get a sense of your taste.

Printed merchandise for an event. Check out this fun futuristic brand identity project in my portfolio
If you also plan on creating or redesigning your website, there are two options:
Work with a brand designer that can also design a theme for the content management system you're using. (I design WordPress websites, some colleagues of mine work with Squarespace.)
Find another freelance website designer, front-end developer, or web development agency that will create the design based on the brand style guide.
The third option is of course to do it yourself, if you know how. In that case the brand style guide might provide enough guidance to customize a premium theme with your fonts and colors.
I often draw custom icons and illustrations for my clients, even when someone else is designing and developing their website, to give it a more unique and appealing look.
4. Decide between done-for-you design or templates
The choice between having a designer create each individual graphic for you, or hiring them to prepare templates that you can edit yourself is usually a matter of practicality and budget.
Documents that you need to edit on a regular basis (such as proposals, reports, social media posts, video or podcast covers) are only useful as templates. Those templates will contain only a few elements, so there's not many design mistakes you can make in the process, as long as you stick with the colors and the typography that are specified in your branding guidelines. (Please don't add tacky clip-art.) If you're a trainer or a speaker, or create custom sales presentations for each client, then you absolutely need an editable slide deck.

Presentation template that was a part of the student union brand identity
Other types of graphics can be created and edited only by the designer. Usually those are graphics intended for print (since they require special design software and file formats). They may also be digital graphics that need to have a great impact, like the brochure or a sales presentation I mentioned before. Since such documents are typically edited less often than once a year, it's not a big financial burden to occasionally request changes from your designer.
If you're launching an important marketing campaign, I would definitely advise to let a professional designer handle it, the risk of getting it wrong is not worth the savings.
If you need templates instead of ready-made files, say so immediately.
The designer needs to know what kind of work is involved, and which software they'll need to use.
Creating a PowerPoint template out of PDF slides is basically re-doing the project all over again. We can't simply "convert the file" and call it a day. Graphic software is not compatible with office software, and graphic files made with one program may not be compatible with another graphic program. (The few times I tested various online file format "converters", the results were unusable.)
Let's avoid this issue by determining up front which files you need to be able to edit.
5. Don't forget your office space and equipment
If you invite clients into your office or training area, it's extremely important to help them find their way around:
Put up signage on every entrance and on every floor. You'll usually need a few different sizes to fit your building's designated spaces for signage. (Depending on your local law, you may be required to add certain company information to the sign by the main entrance.)
You may need to put a large sign on the side of the road.
Some of my clients like to put tall vertical flags in front of the building.
If you drive official cars or vans, they can act as free advertising space. Don't overload the vehicles with text, but putting a web address and/or a phone number can be a good idea.
In addition to that, you can find little ways of introducing your brand visuals to make the space appear more high-end and thought-out:
Place decals on the walls or glass surfaces like your logo, symbol/monogram, a branded pattern, or subtle decorations.
Get custom printed coffee cups.
Don't forget your computer desktop background. I would not suggest a huge logo over the entire image, but a subtle decorative graphic with a smaller logo toward the bottom.
Details like these require a larger budget, but if you charge substantial rates for your services, you could make back the investment with your next project.
However, you don't have to do it all at once.
As I explained in a previous article, branding is a journey, not a one-off project. My clients often come back years later to either update their graphic materials, or create new ones because their business has grown and has different needs now.
Timing is also an issue of cash flow. While it would be ideal to launch your new brand with all the details taken care of, sometimes it's not viable from a financial standpoint. Prioritize the most important graphic assets that you need right now, and don't pressure yourself to do it all perfectly.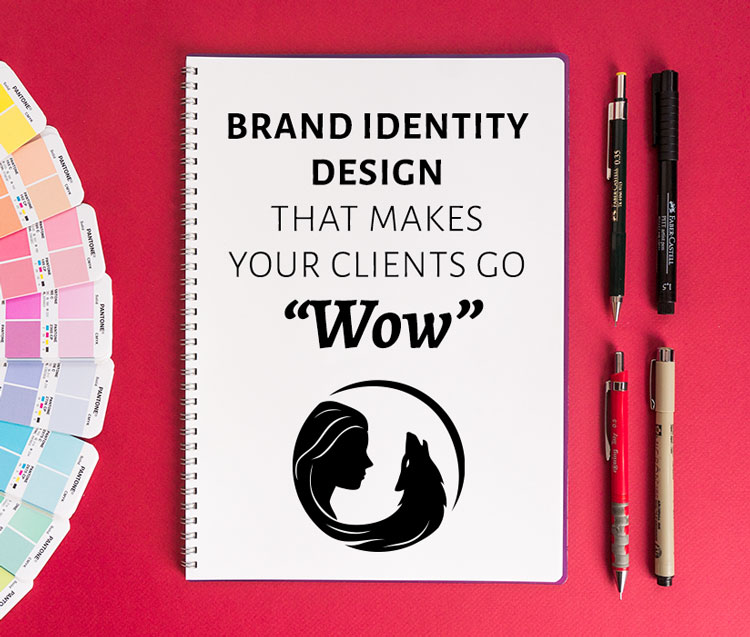 I help consulting companies increase their visibility and impact using my signature human-centered branding design methodology. For more information on how we can collaborate on your project, check out my brand identity design services.
If you'd like to see how I work, take a look behind the scenes of my logo & brand identity design process.
---
Some blog articles contain affiliate links to products on Amazon. I'll get paid a few cents if you buy something using my link, and there's no extra charge to you.
---