If you've been exploring logo design services for your upcoming branding project, or you're learning how to design logos on your own, you've probably encountered the term branding guidelines, also called brand identity guidelines, branding manuals, or brand style guides. (I don't know how we've ended up with so many synonyms for this thing, and I'm sure it sounds confusing to people who aren't brand designers themselves.)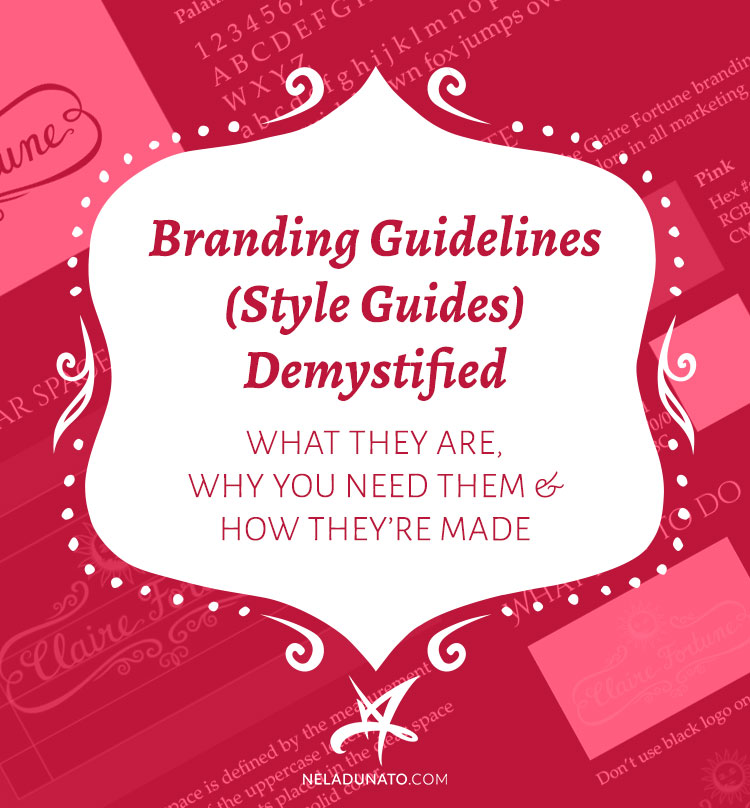 Branding guidelines are a document that contains a set of rules for how a brand will be visually represented through different media (printed, electronic, video, photography etc.) They're supplied by the brand designer, usually as a PDF booklet, though some may also give their clients printed copies (which is more common for high-end branding projects). Sometimes these documents also include guidelines on the verbal communication (voice and tone) and other areas.
Why do brands need these guidelines?
Branding guidelines enable people to create designs that are aligned with the brand, and look consistent and professional.
A brand is an ever evolving creature, and will be used by several, sometimes even thousands of people throughout its lifetime. Not all these people are designers who understand how brand design works. Giving people just the logo, and sending them on their merry way without any instructions can end up in a disaster.
The designer creates a logo with a set of constraints which are defined by the client before the project starts (for example, where the logo will be displayed, and what technology will be used to apply the logo to different surfaces). During the logo design process, the designer makes sure that the logo they're making will fit those constraints. If the client will use silk-screen printing on T-shirts, the logo must look good in a single color (like white on dark). If the client will apply the logo to the uniforms using embroidery, then the logo must look recognizable even when slightly "pixelated", so it can't contain too much delicate detail, or too many shades of color.
At the end of the project, the designer's job is to reiterate those constraints back to the client and everyone on their team, so the correct logo is used for each application.
Which brings me to the next issue I often see in logo design:
You can't just give the client one logo variation and be done with it.
What do designers on Fiverr, 99designs and other cheap marketplaces have in common? Since they charge unreasonably low prices for their logo design work, they try to get away with the least effort possible (so it would be worth their while). Now, there may be design students who are there because they're learning and they're really giving their best, but often what you get as a deliverable of a logo project is not even a vector, let alone a logo optimized for different uses.
One logo graphic file is not enough in most cases. If a designer has sent you a single logo file, they probably don't know what they're doing. The only exception to this are logos that are intended to be used in a single color throughout all the media, and this color happens to be black. In all other cases, you're looking at two variations at a minimum.
I usually create at a minimum 9 logo variations for each project where an icon is involved – vertical composition, horizontal composition and icon alone in color, black and inverse palette. Each of these files is available in several vector and raster file formats, each in either RGB, CMYK and Pantone color system. This amounts to a whole lot of files, and my record so far was over 300.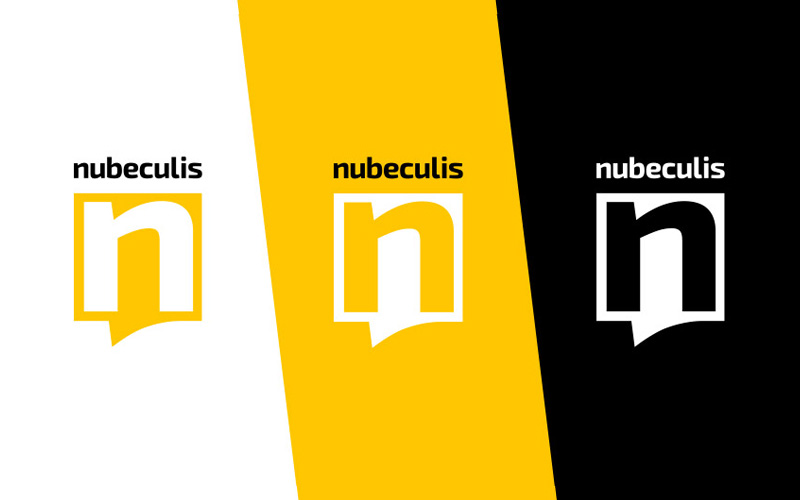 Different color variations of the publishing house logo design
If I just gave my clients these files with no explanation, they would be lost as to which one to use when. So even in my most basic, no-frills logo design package, I provide a document to explain which logo variations the client has at their disposal, and in which contexts they're used.
So, correct logo usage is the first reason why brands need guidelines, but there are more.
I've explained in my post on the vital elements of a premium brand that you need a consistent color palette and typography if you want your brand to be taken seriously. (Do these two well, and you can even get away without having a logo.)
Each typeface has a different personality, a unique "voice", which represents your brand voice in written communication. There are no right or wrong fonts in general, but there are inappropriate fonts (think, Comic Sans for anything other than a children's birthday party).
Color is one of the most memorable elements of a brand, and while the color symbolism doesn't matter as much as some people think, the colors should be appropriate for a brand.
The logo designer chooses a typeface that communicates the qualities the client wants to project through their brand (like their core values). In the case of a hand-lettered logo design, the designer chooses a typeface that is in harmony with the hand-lettering that will be used in all the brand's communication.
The color palette includes the colors that are in the logo itself, but it should also be expanded to a few more colors. The need for different colors is especially obvious on the web where you need neutral colors (for paragraph text and large surfaces), accent colors (for headings, graphics etc.) and action colors (for links and buttons). This enables the website visitors to easily distinguish the most important and clickable elements from the rest of the content.
When a designer gives the client their branding guidelines, it's like giving them the keys to their new car – they can now take full ownership of it.
If the designer gives the client just a logo without any other guidelines to rely on, they're essentially keeping the "keys" to themselves. If the client wants even the simplest thing done, they must come back to the original designer if they don't want to risk messing it up. You have a car in your garage, but you need to call up your driver (who is also driving several other people at any given time) and check then they're available – that's crazy.
And what if the designer is unavailable – they're on vacation, parental leave, sick leave, or are booked 6 months in advance, or went out of business? The client is stranded and needs to find someone else, and pray that the new person will be able to recreate what the previous designer did.
Branding guidelines empower business owners. They answer questions like:
Which font is used in the logo?
Which colors will go with this?
Can I put the logo on this photo? What about that photo?
What if I don't have the last say in the design where my logo shows up, how will I keep my brand integrity?
You may not be thinking about these questions now, but they do pop-up frequently after your logo is done. Having clearly spelt guidelines makes all the design decisions much easier.
Any person who does any part of the communication for the brand needs to adhere to the branding guidelines
Have a virtual assistant? Give them your branding guidelines. Hiring a web developer? Give them your branding guidelines. Hiring a marketing strategist? Give them your branding guidelines. Taking on an intern during the summer? Give them your branding guidelines.
While investing in branding guidelines may seem like an unneccesary expense, they'll actually save you time, money, and frustration in the long term.
If it's obvious that your website, business cards, posters, brochures and social media updates are all done by different people, this means that either:
You don't have branding guidelines in place, or
You do have them, but people don't respect them.
Both of these spell trouble for your brand.
Branding guidelines are developed for a reason. They're not open to "artistic interpretation" by any team member who happens to know how to use Photoshop.
What goes into a brand style guide
In my studio, I have two levels of logo & brand design service: the logo design, and the full branding package.
The logo design package contains the logo (duh!) and what I call the "mini" logo usage guidelines. The larger branding package contains everything in the mini guidelines, plus additional graphic standards for various uses.
Here are the essential elements of a brand style guide.
1. Logo variations
As I've mentioned before, having multiple logo variations for different uses makes sure that no matter where your logo is applied, it looks its best. Printed color brochure? Check. Website and mobile apps? Check. Black rubber stamp? Check. Laser-cut aluminium signage for your building? Check.

A page from my Nubeculis branding guidelines
The logo usage guidelines contain all of the logo variations, and explain where each one is used.
2. Minimum clear space
Minimum clear space is the area around the logo that must remain empty to preserve the integrity of the logo. If you put other graphics or text too close to the logo, it will drown in a mass of content and the resulting look will be unprofessional and unflattering for your brand.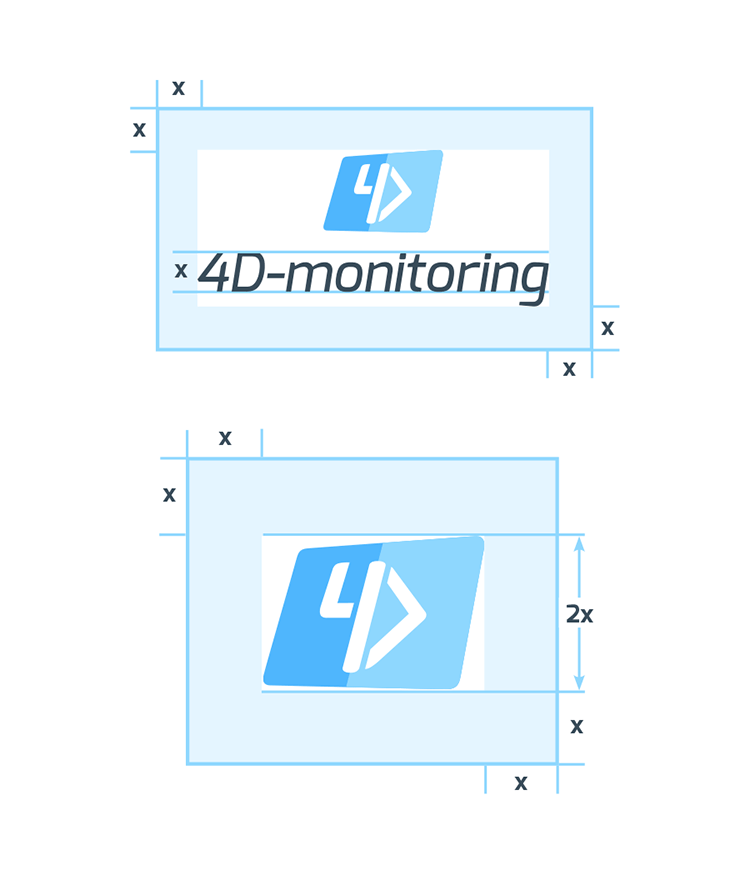 Clear space for the 4D-monitoring logo
This part is especially important if your logo is displayed in media you have no control over, like a partner's website or a poster for an event you're sponsoring, where your logo is likely to be displayed along with many others. Whenever there are other people involved in representing your brand in the media, insist on them respecting the logo clear space.
3. Minimum logo reproduction size
Remember those constraints I've mentioned earlier? When a client defines where the final logo will be used, this affects the design process. Logos that will be used in app icons and website footers are designed differently from logos that will be shown on TV commercials and billboards.
Some logos look great when they're small, but a little too simple when they're blown up. Some logos are gorgeous and interesting on posters, but if you resized them to the size of the stamp, they get blurry and unrecognizable.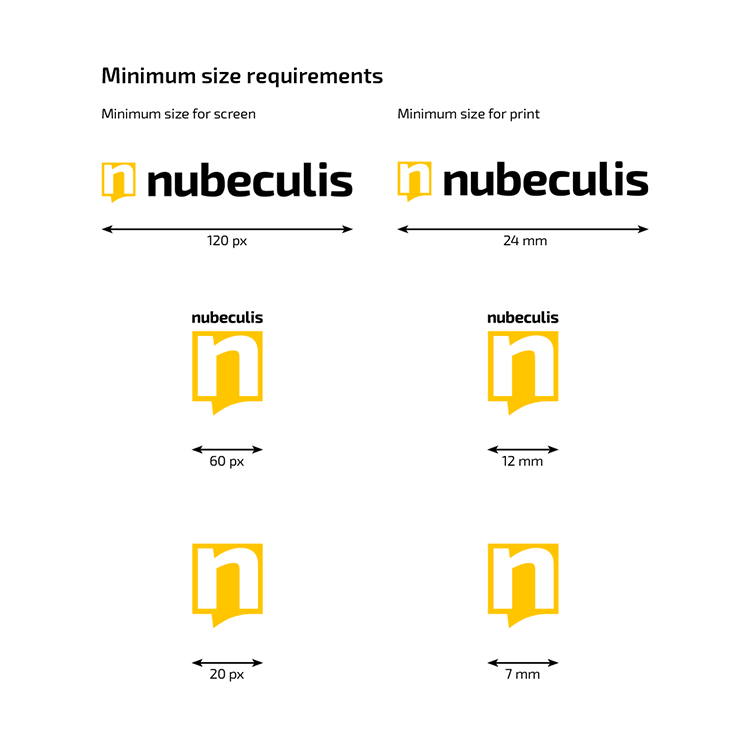 When I design the logo, I print out copies of it in a variety of sizes and take measures with my ruler to determine what the smallest acceptable logo size is. This size is noted in the guidelines in millimeters and pixels, and going below that size is not recommended.
4. Logo backgrounds
Logos are designed with certain background colors in mind. Certain variations are designed to be placed on light backgrounds, others on dark backgrounds. Mixing them up would result in poor visibility of the logo.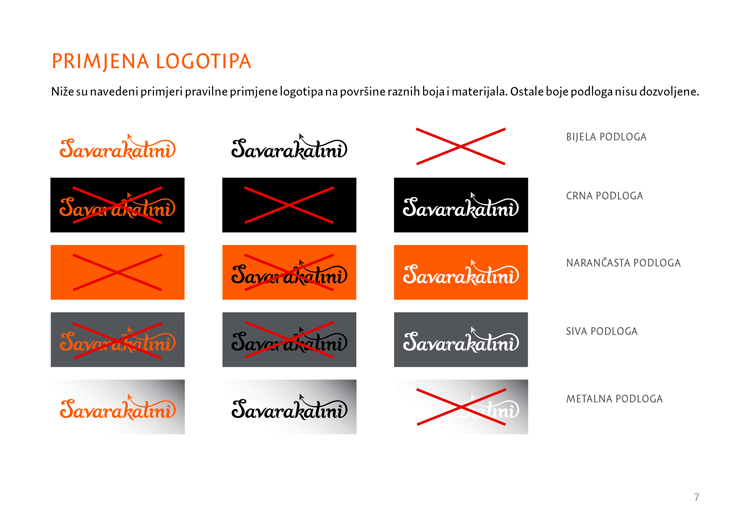 Savarakatini logo on different backgrounds
Some logo designs allow being placed on photographs, others don't. Usually putting a logo on a uniform photographic background is OK, but you need to be careful and make sure the logo reads well. When in doubt, solid colors are better.
5. Incorrect logo usage
The main rule of proper logo use is: don't change the logo in any way. Don't change the logo color. Don't change the font. Don't change the orientation. Don't change the aspect ratio. Don't add drop shadows, outlines or any effects to the logo. Just… don't change it.
Incorrect logo usage sheet reinforces this message with visual examples of what you're not supposed to do.

Examples of improper logo use for a real estate agency brand identity design
Basically, you just need to use the logo files supplied. That's it. If you need more logo variations for a specific use that the designer didn't anticipate (like something to put on dark backgrounds), let them know you need it and they might be able to provide it.
6. Typography
Typography guidelines can be either pulled directly from the logo design (if it's based on an existing font), or be chosen based on the compatibility with the logo. This is especially the case when the font used in the logo is not appropriate for larger blocks of text (like script or all-caps font), or the letters are designed specifically for this logo (ie. hand-lettering).

Typography definitions from my own brand style guide
Typography guidelines may define several different typefaces: a primary typeface, and a secondary typeface used when the primary isn't available (for example, on the web). They can also define more than one primary and secondary typeface, and how they're used.
7. Color palette
The primary color palette is defined from the logo design itself and includes all the colors present in the logo design.
The secondary color palette is expanded to include more colors that are compatible with the primary palette, and will enable designers and illustrators to create interfaces and visual art that's visually appealing and easy to understand.
Color guidelines may also explain in which cases the secondary colors are allowed to be used, and how large the areas of color are allowed to be. Certain colors may only be used in small quantities.
8. Additional graphics
Now we venture into the area of the full branding package which, along with the logo design and a basic set of guidelines, includes the extras that help your brand stand out from the rest of your peers.
These graphic elements may be used across your marketing communication to signal your brand in a subtle, or an eye-catching way. Some examples include:
Decorative details
Icons
Patterns
Illustrations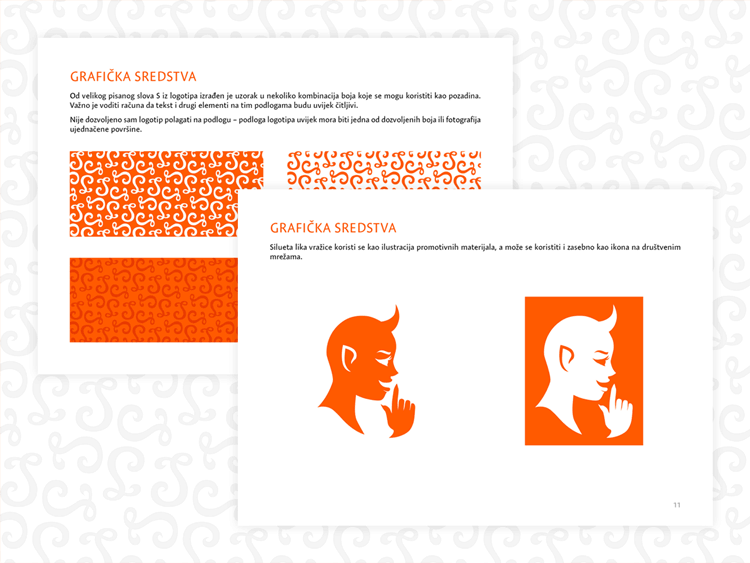 The letter S from the Savarakatini logo is used as a pattern. The female demon illustration can be used to draw interest on promotional materials.
Designing marketing communication is so much easier when you have a predefined set of resources you're able to use, and better yet, you get instructions on how to use them. With them, you don't need to rely on stock libraries and end up using the same graphics as your competitors. It's a step that many brands don't make, but that can be a game changer from "same old, seen before" to "whoa, that's pretty cool".
9. Application for specific media
As a part of my complete branding package, along with designing the logo, I also create graphic designs for all the documents and promo materials the client needs to start with. These designs can then be documented in the branding guidelines. If someone else were to step in and continue creating designs for the client, they could easily follow the instructions so all the new graphics are exactly the same as the old ones.
The guidelines may include design solutions like:
Business cards
Letterheads & envelopes
Website, apps and social media graphics
Email signature
Signage
Documentation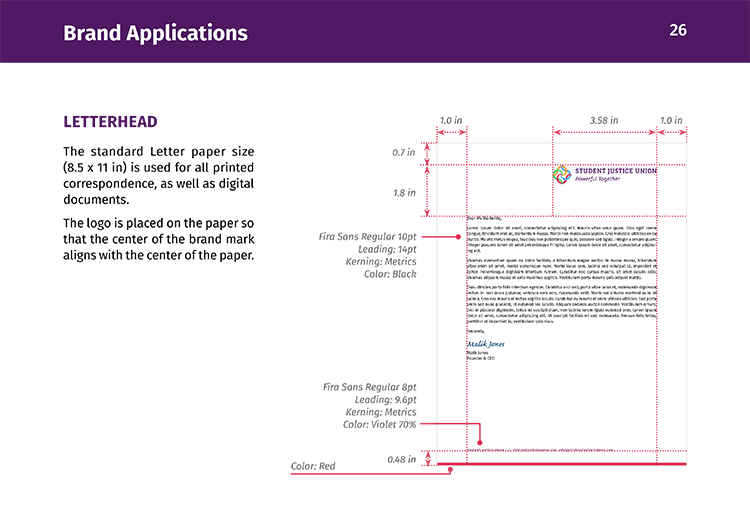 Instructions for letterhead design I created for the student union brand identity
Once I create the guidelines, the clients are no longer bound to work only with me, unless they really want to – any decent designer will be able to translate them into any medium.
10. Photography and art direction
These may not be a common part of a style guide, but I like to include this part for the clients which anticipate a lot of stock photo or commissioned art use.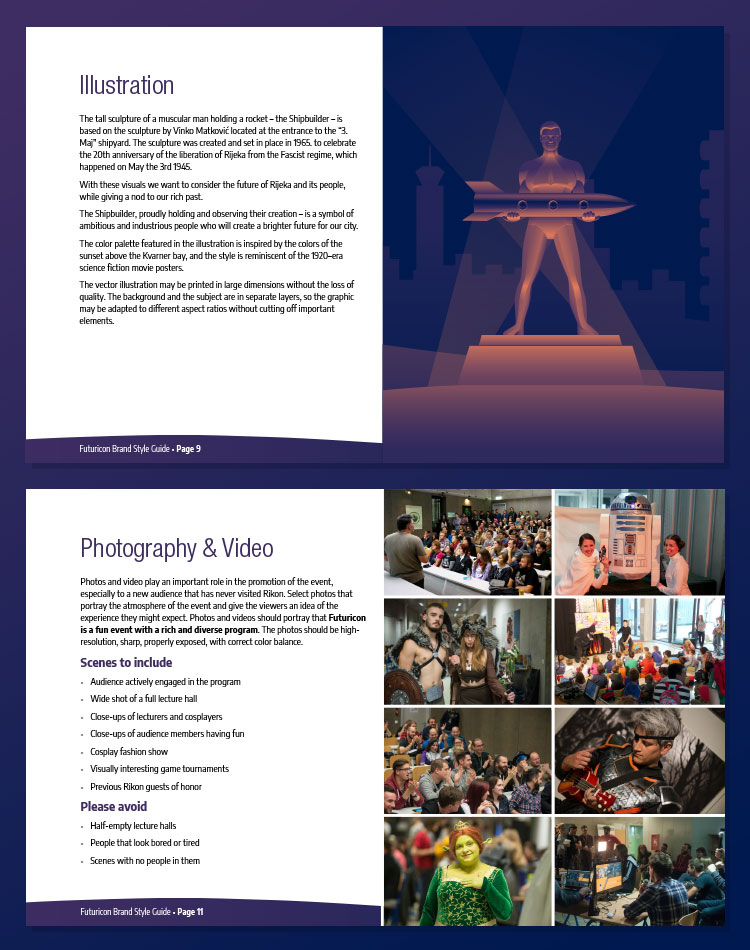 Illustration and photography guidelines I created for a conference brand identity
Photos and artwork can impact the brand more than any other visual tool, and they must be aligned with the guidelines in order to be effective and to convey the atmosphere you want your customers to experience. Photography is one of the 6 vital elements of a premium brand, and I wrote more in detail about it in that article.
The client is free to deviate from this direction, but for best results it's recommended to keep the photos and art consistent.
But what if my branding guidelines don't define a specific use?
As your brand grows, your branding guidelines can be expanded to include an application that wasn't anticipated in the beginning, or you didn't have the budget to prepare for it then.
If you need a style guide for a new brand application, contact your designer and ask them to update your guidelines to address the new medium. (Keep in mind you'll need to pay for that, as it's beyond the scope of the original project.)
Where do you keep the guidelines?
Some companies and non-profits choose to publish their vector logo files and branding guidelines on their website, so they're accessible to all the employees, partners and press. If you expect to deal with press and advertising agencies a lot, I recommend creating a "media kit" page where anyone can access them.
Here are some examples:
If you don't deal with press, and don't want your branding assets to be visible by everyone (many business owners are very protective of their logo and guidelines), I recommend uploading them to a cloud service like Google Drive or Dropbox so they're always accessible to you, and you can easily share them with your team members and vendors.
Bonus point: create a friendly link (using bit.ly) that you can remember by heart, so you don't have to look up your files every time someone asks you for them.
And of course, always keep multiple backups of your logo and branding guidelines. Don't expect your designer to keep your files forever. (We deal with a lot of client projects, and sometimes purge our disks to make room for more.) Make as many copies as you're able to.
Design your own brand guidelines like a pro
If you're in the startup phase and aren't able to invest in a professional brand, I get it. I recommend that you get started with my book The Human Centered Brand. The Book + Brand Style Guide Bundle offers fill-in-the-blank templates you can use to create professional-looking branding guidelines for your own business.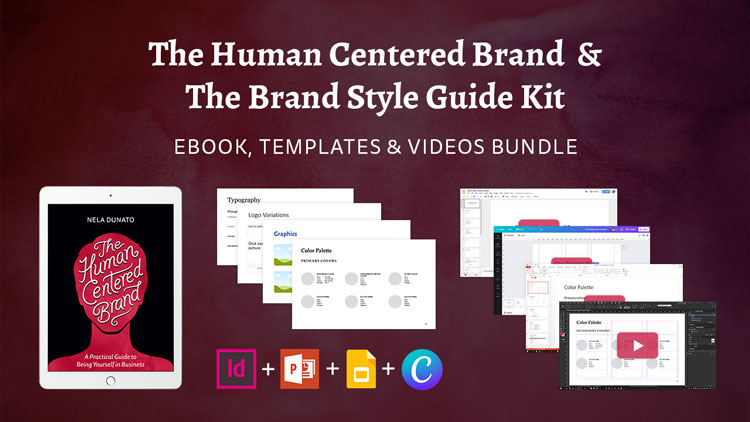 Prefer to let someone else do this?
I get it, you're too busy to do this on your own. If you want your business to look its best and need professional help, I'd love to hear from you.
Check out my logo & brand identity design services and contact me, so we can chat about your project and see if my approach is what your business needs right now.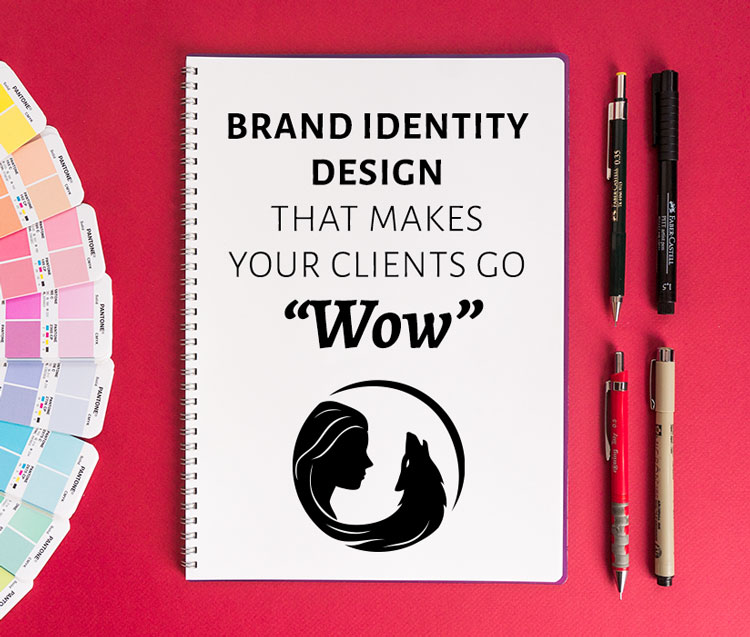 ---
Some blog articles contain affiliate links to products on Amazon. I'll get paid a few cents if you buy something using my link, and there's no extra charge to you.
---
2 responses to "Branding guidelines (brand style guides) demystified"