I find selling easy, but it has nothing to do with my "ability to sell". (You know, the persuasive Jedi mind tricks that would make the other person want what I offer.)
I'm not a good sales person. I'd hate doing a sales job for a living. But I happen to do a lot of other things that remove all the pressure from the sales conversation, and it works.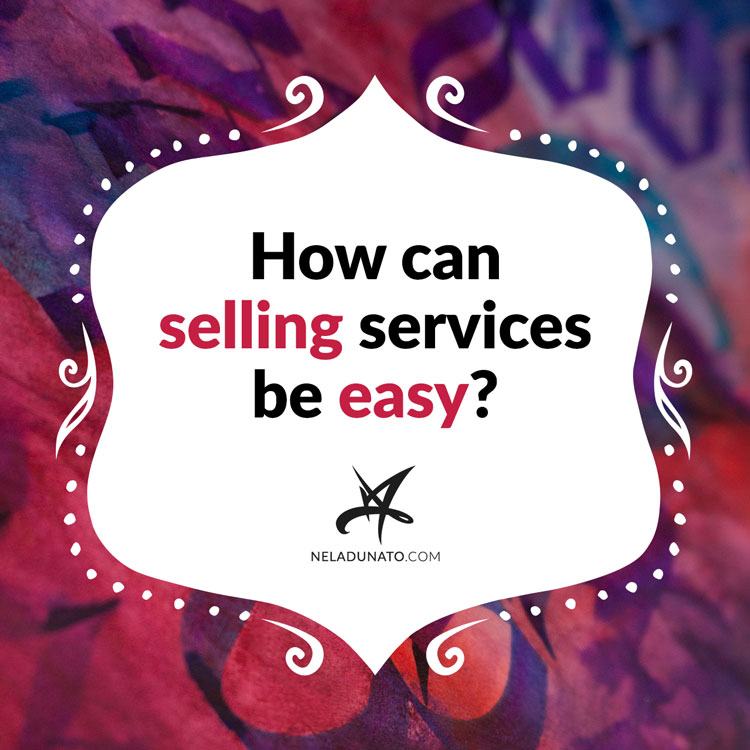 Believe it or not, I can usually tell from the first email a prospective client sends me what the odds are of us working together.
The first conversation clarifies the odds further. The "vibe" of the conversation tells me whether they're enthusiastic about working with me, or they're just going through the motions. Even before I send them my proposal, I usually know the answer.
A prospective client is less likely to work with me if:
They offer only the most basic information about their business in their initial email.
They immediately ask only for my proposal, nothing else.
They're all business and curt during our conversation. We may end our meeting early.
They don't smile at any point.
I find this type of interaction awkward. I'd be concerned if they accepted my proposal in the end, because I'm unnerved by this level of emotional detachment. That's not how I do business.
A prospective client is more likely to work with me if:
Someone directly recommended me to them.
They've read my articles, watched my videos, or researched my portfolio before contacting me.
They want to meet and discuss their project.
They openly share a challenge they're experiencing and what they're hoping for.
They mention specific projects in my portfolio that they like.
They're warm and friendly during our conversation. Time flies by and we sometimes run over allotted time.
Of course, it doesn't always pan out. Sometimes the timing isn't right, sometimes their budget can't cover my price of services. But I just know that if there's any way they can make the budget and timing work, they will. I've had clients wait for months for me to become available, because there's no one else they'd rather work with.
Can you spot the difference?
It's them, not me. That's why I never attribute their decision to anything I did right or wrong.
They either respond well to my personality, approach, and previous results, or they're completely unimpressed.
I can't impress someone who has already made up their mind about whether they like me or not. For some people, I may be "too much". For others, I may be "not serious enough".
I've learned when I was a kid that some people just won't like me no matter what, and that likability impacts how people treat you, not necessarily how you act. Business is no different.
Yes, I'm actually saying that if someone just doesn't like you for any reason whatsoever, they may judge you harshly even if you did nothing to deserve it. It's incredibly unfair. (See: racist, sexist, ableist, and other types of biases.) On the other hand, when people really like you, they're willing to tolerate small offenses (like being late to a meeting).
So what can you do about it?
Project your core values & unique point of view everywhere.
I've written so many articles and a whole book about branding, so I'm not going to repeat it all again.
In short: be more authentic in your marketing and all forms of communication. Use your strengths and quirks to your advantage. Be transparent about your process. Behave like a normal person, not a robot!
For more information on how exactly you can do that, check out my articles:
What happens when you project your unique point of view is that clients who are open to accepting this point of view are attracted to your work. People who share your values, find your previous work impressive, and want you to work your magic for their benefit will reach out to you. Talking to them will feel natural, and you won't worry about how to sell to them.
Selling becomes easier when you set the foundation.
Every business is different, so my foundation may not look the same as yours. But I'll share some of the things I do in order to help potential clients decide if they want to work with me:
I write a ton of helpful content on my blog that demonstrates not only my expertise, but also my willingness to educate people to do things themselves.
I also share this content on LinkedIn, which is my main social network to connect to clients. I take part in LinkedIn conversations and meet new people in an organic way. (No mass connecting, only the people I truly want to get to know better.)
My branding & design services page clearly outlines my approach (which may be different from that of other designers), my process, and my pricing. I've also featured many satisfied client testimonials that highlight what they loved the most about their experience of working with me.
My about page is actually about me, not another sales page. I shared some information about my interests and past work, and went a bit deeper into my point of view that informs my approach.
Right after they contact me, I send over a brochure/guide that goes into more detail about my approach and my creative process, as well as pricing and terms of service.
My hope is that everyone who contacts me has actually done a bit of research and has read at least one article or page on my website. I also hope that they actually read the guide in its entirety, because if they find any part of it objectionable, we won't be able to work together.
I can't make anyone do these things, and that's why I still get plenty of people who have done zero research and just want me to tell them how much a logo costs. Those people don't care about my point of view. They don't want me to "work my magic" on their project. They just want a generic logo design service.
I can tell from their email which potential client is which.
I do the hard work in the marketing stage, so that I'd have less work to do in the sales stage.
The sales process starts once the prospective client contacts you directly. Everything before that point was marketing:
Personal referral from a past client? Marketing.
They saw your social media post and decided to get in touch? Marketing.
They land on your website because they've searched for a keyword related to your services? Marketing.
They respond to your newsletter campaign after having been subscribed for a year? Marketing.
The impact that the marketing had on their decision to contact you is directly proportional to how enthusiastic they are about working with you.
If your previous client told them outright you're one of the best in the industry, they'll be highly motivated to work with you specifically.
If your sales page and blog sounded like you can read their mind and your services are perfectly tailored to their needs, they'll also be highly motivated to work with you.
But if the impact of marketing was not so strong and they've got a list of consultancies they want to get proposals from, they're clearly not that enthusiastic. Trying to persuade them to work with you may be a waste of energy.
My "no sale" conversation.
Sales coaches (yes there is such a thing) will tell you all about presenting your offer, handling objections, and closing the sale. They'll share a script you can customize to steer the conversation, and encourage you to get the client to commit while they're on the call with you.
I do the exact opposite:
I assume the client knows what I offer because they've already told me they need my services. I answer their questions, but I'm not doing most of the talking.
I ask many pointed questions and let them talk about their project as much as they want.
I'm not persuading anyone to accept my price or terms of service if they're unconvinced they truly want it. If they're concerned about something I'm happy to talk about it and ease their worries (for example my one logo design concept approach that some clients are skeptical about). But I'm not interested in overcoming all of their objections, because I trust them to decide what's best for them.
I thank the client for their time, and promise to get back to them with a proposal within 1–2 days. There is no "closing" conversation, or any kind of implied commitment.
They have all the time in the world to decide whether they'll accept my proposal or not, with the understanding that they may not get the first available spot in my calendar if another client books me before they do.
The proposal is just a formality.
The proposal itself outlines how much my services cost and how long it will take to deliver them. The only remaining questions are whether the client can afford it, and whether my timeline fits into any deadlines they have.
If they're OK with the budget and timeline, they're sold. I don't have to do anything else. There's no pressure at all.
The only scarcity I need to acknowledge is that of my time, so if they're in a hurry, they need to act fast. But if they're not in a hurry, I won't rush them.
By the way, one prospect declined my offer because they supposedly couldn't work with my timeline—they needed the logo completed sooner. When I checked their website a year later to see what kind of logo they ended up with, they still had the old one up, so… It's more likely they didn't like my fee, but didn't want to say it. It's good to keep in mind that clients sometimes don't tell the full truth, but it doesn't matter because I'm not in the business of chasing clients.
Need some ideas how to respond to clients' objections about your price, and other challenging stuff that pops up in sales conversations? Check out my post How to tactfully answer awkward client questions.
If you're putting too much pressure on initial conversations with clients, perhaps you're neglecting some opportunities to pave the way.
If you're having trouble selling your creative services, it's probably not due to something you're doing "wrong" during your sales conversation, or what your proposals look like, or your pricing. It's because of the things that come before that: how you attract prospective clients into your world, and how you present your past work and skills.
It's not easy or fast, but I'd rather work on that than any Jedi mind tricks.
Here's what you can do:
Demonstrate your expertise through online and in-person avenues.
Create a public portfolio or case study archive of past projects.
Explain how your process works and the benefits of your approach.
Collect client testimonials and publish them on your services page, and along with the corresponding portfolio/case study entries.
Create text, image, video, or audio content that shows your point of view and personality, so potential clients can get to know you.
Create a cohesive and authentic brand that stands out from others who offer the same services.
Yes, it's a lot of work. But once you've done it, you'll keep reaping the benefits for years to come. If you need even more help with this, my client Sarah Santacroce wrote a great book "Selling Like We're Human" that explains how to sell to your ideal clients in a totally normal & chill way, no Jedi mind tricks required. Check it out on her website.
---
Some blog articles contain affiliate links to products on Amazon. I'll get paid a few cents if you buy something using my link, and there's no extra charge to you.
---