If you're anything like me, you're probably mighty curious about what other creatives use to do their work and run their business. I mention my tools when I write about my process, but now I'll lay them all here and go into more detail about them so you can easily find whatever you're interested in.
Graphic design tools
You'll notice a theme here. While Adobe software is almost prohibitively expensive (at least in Croatia), I don't see myself switching to different brand anytime soon. In most cases, the cheaper software just doesn't cut it.
Adobe Photoshop
Photoshop CC is a part of the Creative Cloud suite of Adobe products. (Standalone programs you pay for once and continue using forever are no longer available.)
I've been using Photoshop for the longest time—I believe I've made my first photo-montages back in 2002. Later I've started using Photoshop for graphic design as well.
Today I use Photoshop for:
digital art and illustration
website style guide designs
blog post graphics
social media cover graphics
editing my photography
editing the scans of my traditional art and lettering.
There are plenty of features in Photoshop that I've never used, but I'm pretty happy with the wide range of capabilities it provides.
Adobe Illustrator
I've only started using Illustrator since I've transitioned to the Adobe Creative Cloud—since I'm paying for all this anyway, I might as well use it.
Before this, I used an open source vector program Inkscape. I still love Inkscape and use it to edit SVG graphics I've created earlier. It's less cluttered and faster than Illustrator, and it's pretty powerful. All of my logos and vector illustrations done before 2014 were made in it. (Check my Komfor logo design process to see a bit of my workflow in Inkscape.)
That said, I like Adobe Illustrator better for 2 reasons:
Better support for print, and CMYK and Pantone color systems.
The interface and keyboard shortcuts are similar to other Adobe programs I use.
Because of that, I use Adobe Illustrator for:
Adobe InDesign
InDesign is my second favorite Adobe program after Photoshop. Its main purpose is to create designs intended for print.
I use InDesign for:
I no longer use any kind of office software to create documents and presentations—I do it straight in InDesign.
If you're wondering what the difference between Illustrator and InDesign is: InDesign is built to handle a large number of pages, while Illustrator works well only for 1-2 pages. InDesign is not meant for drawing—you can draw simple vectors in InDesign, but it's better at managing imported vector or raster graphics.
Wacom Intuos3
After more than 9 years of everyday use, this large tablet is still working wonderfully, and never had as much as a hiccup. *knocks on wood*
I've never bothered to upgrade to a newer model simply because there was no need. This one works so well, and I'll continue to use it as long as it works until I save up for a Cintiq.
Wacom Intuos Creative
Since Intuos3 is huge and takes up half of my desk, I wanted a tablet I can use to work when I travel (trackpad and mouse just aren't an option).
Enter A5-sized Intuos Creative, formerly known as Bamboo. This is not the "real" Intuos. What was formerly Intuos (high pressure sensitivity, better surface, better grip pen with a pen stand) is now Intuos Pro. Now they've changed the names again, so the newest version of this might be called Intuos Draw or Intuos Art something like that. (I'm as confused as you are.)
WordPress
Several websites I own are not built on WordPress.org. Every other site I've created—whether it's for my clients, or my other personal projects—is.
I've tried different content management systems available, and I like WordPress best. The interface is nice, there are a ton of plugins for every purpose imaginable, and a vibrant community of users who happily offer tutorials, resources and answers to your questions, so it's very easy to get on board. There's also WordCamp!
I prefer self-hosted WordPress sites to any other CMS (like Squarespace) because I like the option to take things apart and tweak them as I wish. The SaaS systems just feel too constricted.
Genesis Framework
I bought the Genesis Framework prior to learning how to create my own themes from scratch, so it would enable me to build themes quickly. Turns out making themes isn't that difficult, but Genesis provides some additional functionality I like. It has its own ecosystem of themes and plugins, and built-in SEO features.
Pantone Bridge Color Books
Pantone Bridge color books had been on my wishlist for the longest time since they cost a small fortune. The point of a color book is to be able to choose just the right brand colors for my clients that can be reproduced correctly in print and digital media.
Pantone Colour Matching System is the industry standard and makes picking the colors and showing to the client how they're going to look in print very easy. (I prefer Bridge to the basic Formula Guide, since it includes the closest RGB and CMYK values.)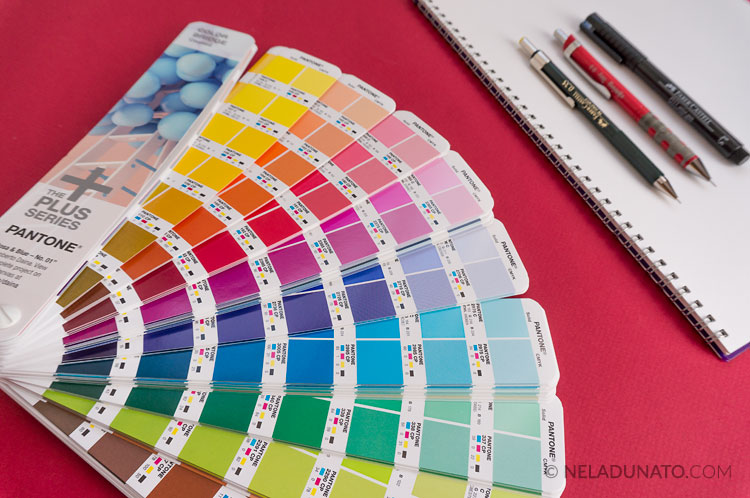 I've gotten the Pantone Metallic inks book as well, for those special projects that ask for an elegant, luxury vibe.
LightCraft Light Box
The Lightcraft A4 Ultra-Slim Light Box is one of my newest aquisitions that I've bought the last time I visited London. Naturally, I had to comb through all the arts & crafts stores I could find, and got home with a ton of goodies, but this was one that I was the most excited about. I'm over the Moon that I can finally re-draw my sketches without having to resort to taping papers to my window (as I've demonstrated in this post).
So far I've been using it for my hand-lettered logo design projects, but I expect it will come handy for my art as well.
Sketching tools
Sketching on paper is an essential step in my creative process. I've written about my sketching kit in the context of drawing before, so I won't elaborate on every single tool in detail here.
Currently I'm using these tools to draw my early design concepts and hand-lettering:
The sketchbook, and a small pencil case with my basic sketching tools goes with me wherever I go—you never know when inspiration can strike.
---
Photography and video tools
Blogging and sharing my work on social media requires taking good quality photos and videos. While I'm by no means a professional, I do enjoy photography a lot, and videos are becoming a more important part of my media expression. To see the kinds of photos and videos I make with these tools, check out my YouTube channel, and my Instagram feed.
Sony α NEX-5TL Mirrorless Digital Camera
My old DSLR camera didn't have video, so I needed something new with HD video capability. Mirrorless cameras just became popular at the time, and after some research I've settled on the Sony α NEX-5TL. (It had many new versions since, and the model names changed to a four-digit designation.)
I love this camera. It makes excellent photos, so I gave my DSLR away. It's smaller and lighter than DSLRs. The video is pretty good, and audio is decent if I stand close enough. The few things I dislike about this camera is that it doesn't have an external mic port, and that it heats up tremendously while shooting longer videos (which is the issue with all Sony Alphas), so I had to find workarounds for that. There are some great tips on YouTube if you're running into this problem as well.
Sigma 30mm F1.4 DC DN Contemporary lens
A couple of years after buying Sony α with a kit lens, I purchased a gorgeous Sigma 30mm F1.4 E-Mount lens that significantly upgraded the quality of my photos and videos. (You can see the difference it makes in indoor recordings if you compare my 2016 and 2019 videos on YouTube.) It's perfect for low light conditions, so now I'm able to film videos at any time of day, no matter what the weather is like. (Previously I was only shooting videos in bright daylight.) I'm totally in love with this lens and would recommend it to Sony camera users, and it's also available for other camera system mounts.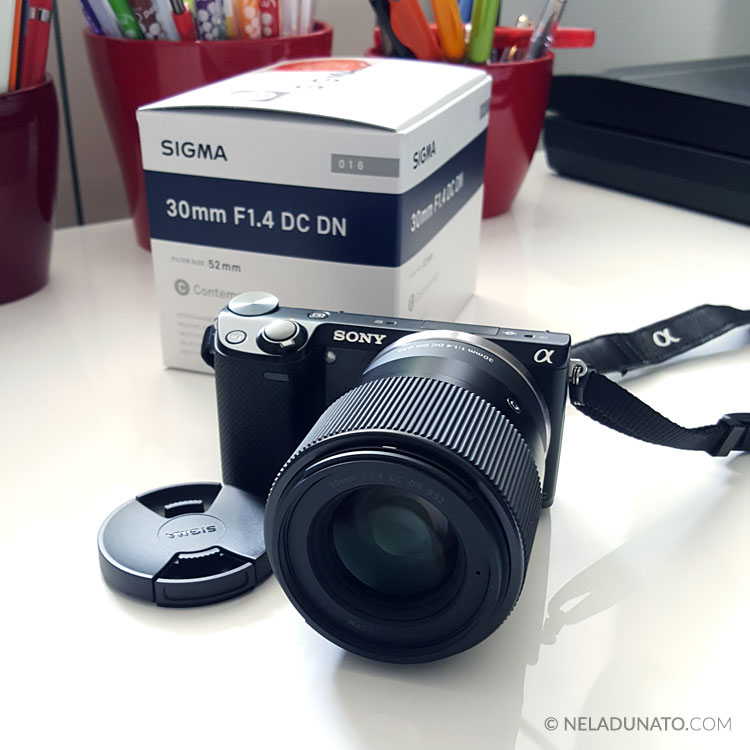 Aputure A.lav microphone
Since recording sound with a camera results in less than awesome audio quality, I needed an inexpensive mic that would provide decent sound for my videos. Enter Aputure A.lav lavalier microphone. It came highly recommended by one video producer (outperforming lapel mics that were twice as expensive) so I decided to give it a go. What I like about it is that it has a ton of adapters, so I can record audio on my laptop, desktop, and phone. (Sadly not my camera because Sony has a proprietary mic port.) There is some audible white noise when recording, but it's easily removed in any audio editing software.
Thomann t.bone SC 420
I asked a friend who knows a lot about microphones what he could recommend for my budget, and he recommended I get this affordable German brand. I liked that this Thomann t.bone SC 420 came with a desktop tripod and a pop filter. I like it very much so far, it has many advantages over the lavalier microphone, but I still use the lav on some occasions.
Lighting
My newest aquisition is a Daylight Techne LED Artist & Drafting Lamp, which can be attached to any drawing surface, including easels. I'm able to point it at the surface without it shining into my eyes. Most of the time even the lowest setting is quite enough for drawing, but I increase it for video recordings. It doesn't take up any space on the desk, and doesn't require a diffusor because the light is distributed fairly evenly across the surface, so it's much more practical than my previous setup.
Before I purchased this lamp, I used a very bright Philips LED Daylight 100W equivalent bulb for my old desk lamp together with a diffuser. I still use it as a key light with a cheap light bouncer I got from Aliexpress to lighten the shadows. (Before I had the bouncer, I used a large styrofoam sheet. Whatever you have around the house works!)
Adobe Premiere
Premiere is a professional video editing tool. It's probably more than I realistically need because I'm a complete video noob, but it's easy enough to use even with my limited skills.
Samsung Galaxy S6 / Samsung A52s
When I want to take a quick snapshot to share on social media, I shoot and edit photos on my phone. (I used to use Aviary app, but since it shut down I've been using Photoshop Express.) The photo quality is pretty great so there's not much visible difference in such a small resolution. I also used my phone to record live video streams, since it's super fast and easy. I plug in the external mic and it results in pretty good quality videos. I always, always use a back facing camera, even when streaming, because the selfie cam is pretty horrible.
Logitech StreamCam
After nearly 2 years of pandemic, I realized that hooking up my phone or tablet for every video meeting was becoming too burdensome, so I finally bought an external webcam Logitech StreamCam. I chose this one because it had the best reviews in that price range, and one of my friends had it as well and her streams looked pretty great. I'm happy with how it works, it can be attached to a regular tripod so I can use it to stream overhead drawing videos as well.
Tripods
I currently use 2 different tripods. One of them is a 12+ year old cheap Vanguard MK-2 that has served me for a long time, and I still use it for portrait videos, livestreams, and other stuff. (I attach a phone clip when streaming from my phone.) I used this tripod exclusively for all my recordings until 2018.
The other tripod is Vanguard Alta Pro 263AT that I now use for overhead videos of my drawing timelapse recordings, shetchbook tours, etc. Its special feature is a middle column that can rotate in any way, so it gives me a clear view of my desk. It's also very robust and won't get knocked over if I accidentally tap it with my arm. I keep this tripod set up for overhead shooting all the time so I can set up my scene faster—that's why I still use my older tripod for other scenes.

This is what my filming setup looked like before I purchased the Daylight overhead lamp.
Western Digital My Passport Ultra External Hard Drive
I have a few backup hard drives (the larger WD MyBook as well), and MyPassport is the latest addition that I use primarily for art, design and video storage. I like it because I can fit it in my laptop bag and take it anywhere, so I can work on the road because all my working files are always with me.
After my first hard drive failure in 2004 where I've lost my final high school project (that I had to rewrite in 4 days), as well as my early digital artworks and websites, I've been obsessive about regularly keeping things backed up.
(I know it technically doesn't fall into this category, but I didn't know where else to put it.)
---
Business management tools
Gmail / Google Workspace
A lot of business management stuff happens through emails: onboarding clients, talking to potential partners, requesting proposals for print jobs or equipment, etc. I move stuff away from email and into Trello (see below) whenever I can, but I can't completely avoid email.
Gmail Tabs are the best thing ever. I know a lot of people hate them (because your newsletters end up in the Promotions tab), but I love the Promotions tab and having my priority inbox uncluttered.
Labels help me keep stuff organized and out of my inbox. For example, I label all emails relative to finances and taxes "admin" and archive them immediately, and then process them on Mondays during my weekly admin appointment. The rest of the time they're out of sight.
I used to use the free version of Gmail, but have since migrated to a paid account to get some extra features and to keep my presonal and work inbox separate.
Google Drive
Google Drive is my exobrain. I don't know what I'm not using it for. Here's just a few things off the top of my head:
writing all my documentation drafts in it (before I design it in InDesign)
storing notes on my processes (standard operating procedures)
keeping my email communication templates
tracking money and stats in spreadsheets
drafting website content (including this very blog post)
sharing content with clients
storing all my ideas for future creative & business projects
writing notes from courses, workshops, webinars etc.
keeping track of clients, leads and proposals (CRM tools are an overkill)
I don't know if I've forgotten something, but you get the picture: I use Drive for pretty much everything.
The reason I love it so much is that I can type my notes (and entire blog posts) on my phone, whenever I get inspired (which is sometimes late at night, or while riding the bus).
Trello
I love Trello so much, I've written a bunch of guest posts about it that you can read to get started using it and get the maximum power out of it quickly:
I said Google Drive is my exobrain, but Trello is the structure that keeps it all organized. I use Trello for managing:
client projects
personal projects
business development and admin
editorial calendar
speaking and workshops
keeping track of online classes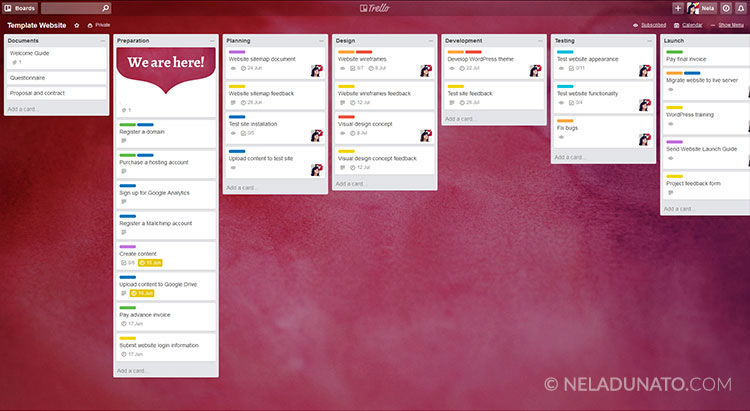 Trello is free for unlimited team members, and you really can't beat that. The paid plan is very affordable and gives you extra features like custom background images, multiple add-ons, etc. You can join here. Tell them Nela sent you.
Gumroad
Gumroad is a platform for selling physical and digital products. It can handle payment processing, file delivery, coupons, affiliate tracking, etc. It's quite similar to Selz and SendOwl, but the reason I've chosen Gumroad because I don't need to pay a monthly fee if I don't want to—the free account offers all the features I need.
It integrates into my own websites really nicely, so people don't even have to leave my site to pay with a credit card. (You can see what the payment process looks like on the website for my book The Human Centered Brand.)
Solo
Solo is a simple invoicing web app designed for the Croatian market. We have tax laws and regulations that make generic and US-centered software unusable for us, and this product was a godsend.
Solo has a free tier (up to 3 invoices per month) and a very affordable paid tier (unlimited invoices), called Jabba and Solo respectively. The developer is a huge Star Wars fans, a very nice person, and responds to support and feature requests very quickly, so I'm happy to recommend this app.
Adobe Document Cloud
Along with local clients that I meet in person, I also work with clients internationally. This means signing any sort of paperwork in paper form is a hassle. Back in the day we used to send each other agreements by snail mail, or print, sign and scan the documents.
With the Adobe Document Cloud, this process is quick and hassle-free. I upload the PDF file to the Cloud, digitally sign it and enter the client's email address to share it with them. They receive a direct link and digitally sign it. I get a notification when the document has been signed, and electronic signatures are legally binding in the EU, the UK and the US.
Adobe Document Cloud is a part of my Creative Cloud subscription, so I don't have to pay anything in addition.
Time Stamp
Popular invoicing software typically has built-in time tracking. Since I don't use the said invoicing software (because Croatian tax laws), I had to find a separate time tracking solution. There are quite a few, but I'm still set on a Windows program I've had for years now called Time Stamp. It's simple and and old and ugly, but it works.
I use it to track all my projects, regardless of whether I'm charging per-project or hourly rates, because I want to know how much time I actually spend doing things. By paying attention to my time, I've discovered that I spend as much as 20% of my time on a project handling client communication—like, whoa. I had no idea. It's useful to track stuff.
Microsoft SyncToy
I've mentioned I like to have everything backed up, even on multiple external drives if possible. SyncToy is a free Windows program (one of their PowerToys apps) that I think should be a system application because it's so good. I run the backups manually after I complete my workday, and can override any individual file change, which is why I prefer this one over some of the more complex applications with auto-backup features.
Dropbox
While I use Google Drive for most of my file sharing, some of my clients prefer Dropbox, and I don't mind. I also use it to easily transfer files to and from my phone.
---
Marketing tools
MailChimp
Currently all my email lists are delivered via MailChimp. I like that it's easy to use, and makes mobile-friendly emails out of the box.
What I don't like is that it lacks advanced segmentation tools, so delivering more than one opt-in freebie (like an ebook or an email course) to the same person is crazy complicated, if you want them to be on only one email list. I've kinda gotten around that by using IFTTT, which I'll mention later.
Buffer
Buffer helps me achieve two things: schedule social media posts in advance (I mostly only use it for Twitter), and drip other people's blog posts that I've enjoyed since I usually read blog posts in batches.
(I'm ideologically opposed to never-ending content dripping Twitter campaigns that have become omnipresent, and I started unfollowing people who do this because it's flooding my feed.)
Productivity tools
Google Calendar
The older I get, the more certain I am of the following: if it's not on the calendar, it won't happen.
The best way to prove to yourself that something is a priority is to reserve a time slot in the calendar for this: whether it's a date with your partner, personal creative practice, or a business planning session.

Google Calendar view of a particularly busy week
I use recurring events to schedule things that happen every week and month, and I also use it to check on my own productivity cycles and learn how to plan better in the future.
Here's a pro tip for you: schedule time for rest before you add any appointments and work sessions. I've found it's a more realistic way of planning how much I can achieve in any given day.
LeechBlock
Staying focused while you're connected to the internet is hard. LeechBlock helps me eradicate the need for willpower, and blocks all the websites I'm not allowed to use while I work.
I have set blocks of time when certain types of websites are disabled: no email before noon, no social media until the end of my workday, and after 9 PM when it's time to wind down for bedtime. (I wrote more about this practice in my post My Top 5 Tips For Preventing Time Suck & Increasing Productivity.)
Pomodroido
When I get deep into a task, I neglect taking breaks, and this hurts my body. Using 25-minute long Pomodoro intervals, I get to take short breaks multiple times a day, and feel better while I work. Pomodroido is a free Android app that notifies you when your timer is up.
There are many free apps that do the same thing, I've just been using this one for years.
IFTTT
IFTTT is a tool that connects different online apps. Using IFTTT, I can automatically populate my Client Relationship Management spreadsheet in Drive from contact information in Gmail, or move my MailChimp subscribers from one list to another to avoid duplicate contacts.
I know there's a ton more I could be doing with it. If you have any suggestions, let me know in the comments.
Zapier
While IFTTT is great, it doesn't have and all the apps and advanced options that Zapier has. I use their free plan for just a few tasks that I need that IFTTT can't handle.
Low-tech productivity tools
I use my intention journal to contemplate on yearly, monthly and weekly intentions, and write notes about how things went to learn more about how I work best. I also use large sheets of paper and colorful sticky notes for planning big projects and optimizing my business processes.
Recently I've also started keeping a studio journal (I got this idea from Lisa Sonora), as well as separate journals for each of my big, important projects (for example, my book).
---
Media & learning tools
Feedly
People are saying that RSS is dead, but I beg to differ. I like keeping up with blogs I follow using Feedly, instead of subscribing to a host of newsletters.
Pocket
Articles can often distract me from doing what I need to do at the moment, so I use Pocket to save all the articles I encounter that seem interesting. I read them later in the evening, or when I'm riding a bus. This way I can take the time to really digest what I'm reading, instead of scanning through posts in a hurry because I need to be doing something else.
Evernote
When I find a useful, evergreen article that I want to keep for the future, I save it in Evernote. The downside of this is that I completely forget to look things up later.
I realized that I'm not implementing enough, and found a different approach for actionable tasks that works a little better—I share those articles to my Trello project boards, so I get a to-do, as well as the information how to do it, in one place. This works much better than the Evernote black hole, but I still keep hoarding articles like a hamster.
Check out @nelchee's complete list of design, business & productivity tools:
There you have it—almost all the tools I use on a daily basis to run my creative business. (If you're wondering why there's no computer listed, I work on a desktop PC and don't really feel like looking up and listing my hardware configuration.)
Are you surprised to see some on the list?
Do you use some that I haven't mentioned?
Let me know in the comments :)
---
Some blog articles contain affiliate links to products on Amazon. I'll get paid a few cents if you buy something using my link, and there's no extra charge to you.
---
8 responses to "My complete list of creative, business & productivity tools"