A brand mood board is a collage that represents your core values and aesthetic brand qualities in a visual way. It's the first step in translating these abstract concepts into visual language. It serves as a source of inspiration, and as a communication aid.
While working with a client, I use the mood board to establish mutual understanding about the visual direction of their new brand. Instead of using words to describe what I envisioned for their brand (which can lead to different interpretations), I show it to them.
Whether you decide to work with a designer or by yourself, creating a mood board is a great exercise in giving your ideas and impressions a more solid visual form.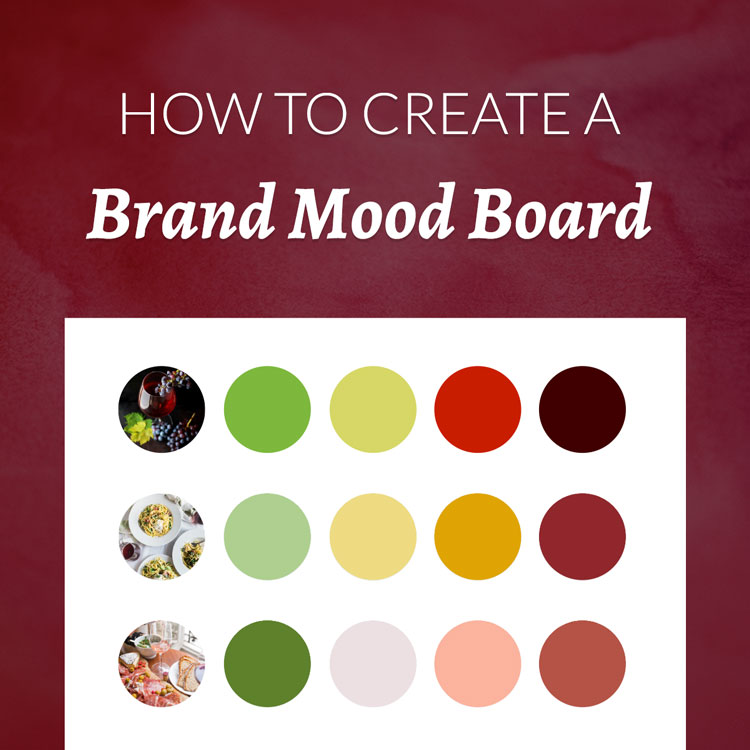 A mood board may consist of:
Photos
Illustrations
Words
Patterns
Color swatches
Fragments of graphics cut from flyers, magazines, web sites, etc.
Mood boards are typically created using elements found online or in printed media. Since they're only meant for internal use, you're allowed to use copyrighted images—under the condition that you don't use these elements in the final design, and do not publish the mood board. (If you use purchased images, or those licensed under creative commons, you're allowed to publish the mood board.)
If you're a visual artist, elements from your own work should be a part of your mood board as well. Focus on the details your works have in common, such as color palette, brush strokes, patterns, repeated motifs, etc.
Why are mood boards useful?
Whether you're creating your own brand identity design, or collaborating with a graphic designer, a mood board makes a great jumping off point for creative ideas.
It helps you clarify your vision.
It speeds up the design process by narrowing down creative choices.
It can highlight overused cliches and open up possibilities for original ideas.
Mood boards are used in various visual disciplines apart from graphic design, such as fine art, illustration, fashion, photography, videography, or interior design. I use them in almost all of my creative projects, not just client work!
You can create a brand mood board using a variety of tools.
You could even make a physical collage, if you have enough source material on hand.
Apps that are frequently used for mood board design include:
Pinterest
Canva
Adobe Photoshop
Sampleboard
If you want to create your own mood board, the process is very simple.
1. Choose your graphic application
Install the application you wish to use, or register for an online account.
Feel free to use an application you're already comfortable with, for example PowerPoint, Keynote, or another office app. We're just arranging found images, so you don't need any fancy graphic tools.
2. Choose the format of your mood board
If you're using an app that works with a "canvas" or a "page", you need to decide whether you'll arrange your mood board as one large page, or create several pages. (If you're using a website like Pinterest or Moodboard, all your images will be saved in a folder and not a page.)
Creating a one-page document may be easier, but then it needs to be fairly large (like a poster) so you can fit everything on it.
I use a multi-page document that looks like a presentation. I organize inspiring photos, color palettes, and typography on separate pages.
When you've decided how to organize your mood board, create the new document, folder, or image album.
3. Collect inspiring images
Visit your favorite image search website (such as Google Images or Pinterest), or a stock photography website like Unsplash or Pixabay.
One by one, enter keywords into the search bar that include your:
Brand voice qualities
Aesthetic brand qualities (eg. minimalist, classic, elegant, traditional, modern, luxury…)
Anything else you feel is important.
For each keyword, browse through the results and when you find an image that gives you the feeling of your brand, place it on your mood board.
What do I mean by the "feeling of your brand"?
This is difficult to explain in words. The best way to understand is to try it yourself.
Even if you don't consider yourself an artist or a designer, you have an innate ability to experience emotions when you look at images. Perhaps you're not as attuned to it as a designer might be, but if you pay close attention to how you feel when you look at different images, you'll notice that some of them strongly appeal to you, some of them are repulsive to you, while others don't have any effect on you.
When you find an image very appealing, ask yourself does this image relate to your brand in any way? Is the emotion you're experiencing one you want your future clients to experience as well?
Or does this image give you a sense of atmosphere you want your brand to have?
If the answer is yes, save this image to your mood board.
Rinse and repeat, until you fill your mood board.
You don't have to complete your mood board in one sitting. Feel free to keep adding to it whenever you encounter a visual that makes an impact on you.
4. Organize the mood board
If the app you're using allows you to move images around, you might want to group similar images together. For example, images that contain similar subjects (people, words, objects) or share a similar color palette.
If your document has multiple pages, place all the images from the same category on the same page. If your folder or document doesn't have pages, you can drag images close to each other to group them visually.
By organizing images by similar content or color, you'll be able to zoom in on a specific part of your mood board while looking for colors, fonts, or stock photos to use in your brand.
5. Save & share your mood board
This step depends on the software you're using, so I can't offer precise instructions.
Software that's installed on your computer or tablet usually requires pressing the Save button and giving a unique file name to your document. You can attach this file to an e-mail, or a project management app you're using to collaborate with others.
Online apps such as Moodboard, Canva, Pinterest, and others auto-save all the changes, so you only need to give your file or folder a proper name. Online apps have an option to generate a sharing link that you can send to other people so they can view your mood board. It can be a public link, or you can restrict it only to specific registered users.
6. Analyze your mood board
Step away from your mood board for a day, and then return to it with fresh eyes. Prepare a document or a piece of paper where you can write your notes.
Aesthetic brand qualities
The overall look and feel of your brand mood board can offer insight into your aesthetic brand qualities. Brand qualities are all about how you express yourself in a non-verbal manner, and what your ideal clients are attracted to and expect from a business like yours.
While brand voice qualities are verbal, general brand qualities can apply to any sense. They are often visual and tactile. Examples of different brand qualities include:
Classic
Fun
Minimalist
Modern
Retro
Bold
Glamorous
Hand-made
Elegant
Eco-friendly
Artistic
High-tech
Corporate
Traditional
Extravagant
Unconventional
Natural
Feminine
Masculine
Luxurious
Mysterious
Whimsical
Can you sum up the qualities of your mood board in 3 to 5 words? Keeping these qualities in mind will help you create graphics and other media that align with your brand.
Color palette
Do you notice a prevalence of certain colors and textures in your mood board? These elements can serve as inspiration in creating a unique color palette for your brand.
Typography
If you've sampled graphics that include text, make note of what kind of fonts are most common in these graphics. If you're able to identify what type of fonts they are, it will be much easier to find a similar font to use in your brand.
How to identify font types:
Sans serif: Simple letters with no decoration.
Serif: Fonts with "hooks" and "legs" at the ends of letters.
Slab serif: Fonts with thick, straight "legs" at the ends of letters.
High contrast: Fonts with pronounced thick and thin strokes.
Script: Cursive fonts that resemble handwriting.
Monospace: Fonts that appear like typewriter letters or computer code. Each letter is the same width.
Blackletter: Based on old Germanic calligraphy style, also known as "gothic".
Display: Any font with unusual, highly decorative features. Not suitable for small text.
Websites that offer free or commercial fonts have filters, so you can narrow down your choices as you're looking for a suitable font.
Symbols
Do the photos and illustrations in your mood board contain repeated visual symbols? Note what they are and ask yourself:
How are these symbols relevant to your brand?
What do they mean to you?
What would they mean to your clients?
These symbols can be a starting point toward a unique graphic logo mark. Sometimes it can be an obvious literal graphic representation, and at other times a more abstracted symbol may be more appropriate.
Anyone can create a brand mood board
While few of my clients choose to create their own mood board, those that do usually have lots of fun doing it! It's an easy creative assignment that doesn't require advanced visual or tech skills—very basic document editing skills are enough.
Once you finish your mood board, keep referring to it when you need to make a choice on visual brand identity elements, social media graphics, and other media.
What's the next step?
In a professional brand identity design process, next steps include logo design, and finally the creation of a brand style guide.
A brand style guide is a document that describes all the visual aspects of the brand, including the logo, color palette, fonts, decorative graphics, etc. Style guides are usually formatted as PDF presentations or printed booklets, but recently web-based style guides have become popular as well.
The differences between a mood board and a style guide:
| | |
| --- | --- |
| Mood board | Style guide |
| Provides inspiration for branding. | Prescribes and instructs on proper brand applications. |
| May be organized, or a chaotic free-form collage. | Neatly organized and professional. |
| Contains copyrighted graphics created by other people. | Contains original graphics created for your business. |
| Not intended to be shared outside of your design team. | May be freely shared with team mates, contractors, business partners, the media, etc. |
| Doesn't contain much text. | May contain explanations or instructions on proper logo, color, and font use. |
Do you need a style guide?
If you're just getting started in business, probably not. A mood board may be enough to get clarity on your fledgling brand, and create a website and some basic graphics.
If you've been in business for a while and aspire to be perceived as a premium brand, then you definitely need a style guide.
To learn more about style guides, check out my articles:
The Human Centered Brand & Brand Style Guide Kit Bundle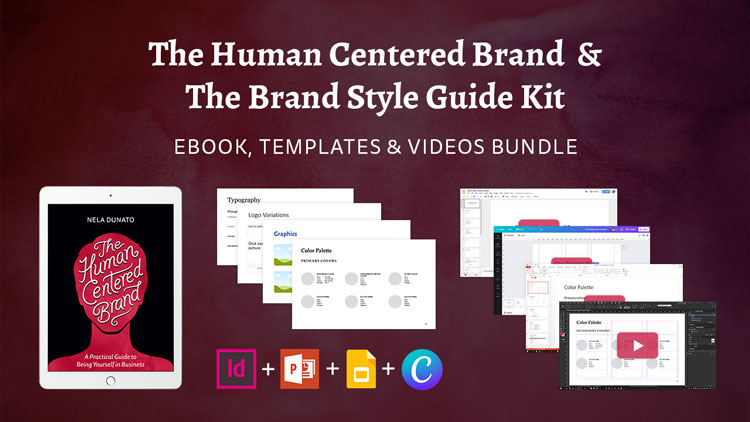 My book "The Human Centered Brand" is a comprehensive branding guide for service based businesses that helps you grow meaningful relationships with your clients and your audience.
The Brand Style Guide Kit Bundle offers fill-in-the-blank templates for Canva, InDesign, PowerPoint and Google Slides that you can use to create professional-looking branding guidelines for your own business. (Video instructions for each app are included.)
Buy the style guide kit for for just $60 USD
---
Some blog articles contain affiliate links to products on Amazon. I'll get paid a few cents if you buy something using my link, and there's no extra charge to you.
---