One of the reasons why I chose to be a freelancer instead of being an agency employee, was to have more time for my personal art and other self-initiated creative projects. Paradoxically, being your own boss often means having less free time than you've had as an employee, but at least there's one aspect I can control better – when I work.
The first few months of freelancing were chaotic for me. I'm a night owl type, so frequently I'd put off work until after lunch, and kept working until late at night. This didn't work out very well for me for several reasons, so I reluctantly decided to stick to a morning schedule.
Since it takes me hours to fully wake up and become able to concentrate on intellectual tasks, I implemented a morning ritual that gently prepares me for the day ahead, and helps me focus on my physical and mental health.
A crucial part of my morning ritual is personal creative practice. For at least half an hour (ideally a full hour) I draw, paint or craft something that isn't related to my clients or my business. Sometimes it's a continuous project I work on for days, and sometimes it's a random art experiment every day. The point is not to achieve anything, but to keep the feeling of doing something because it's enjoyable, not because I have to.
I'm public about it even though I know some of my clients are reading this, because I believe that prioritizing my creative practice benefits not only me, but them as well.
Here is why.
1. If I don't do my personal work first, it won't happen at all
I'll always do my client work on time, regardless of whether I start at 8 am, 9 am, or 4 in the afternoon. It has to happen, so I hustle and make it happen. I've been known to ship things off to print at 6 am after a full-nighter. I try my best to honor my commitments.
Personal work is not urgent and nobody is counting on me to do it, so when time is scarce, it falls to the bottom of the list and I never get to it. The only way I can insure I'll do it is to push it to the very top of the list, and do it first thing in the morning.
2. My personal work is a sandbox for learning new skills
A few years ago, hand-lettering was just a thing that sometimes happened in my sketchbooks. I enjoyed it, and I was doing it even though no one was paying me. Today, hand-lettered logos are one of my most valued services, and how I differentiate from other logo designers.
My clients appreciate and pay extra to have a 100% unique logotype, and it all evolved because of my personal practice. (Not to mention that my whole career in design started off as a hobby.)

"Prisoner of Worry", ink drawing in a kraft paper sketchbook.
3. Drawing has a meditative effect on me
Being immersed in a personal creative practice brings me into a state of flow, where inspiration bursts out of nowhere, and I'm prepared to take on any challenge.
My clients receive a real benefit from this – oftentimes, I'll get ideas for a design solution as I'm concentrated on something else, including doing my art. (My brain is always working, not just when I'm sitting at my desk.)
By the time I'm done with my morning practice, I'm calm, centered, focused and energized – and that's where you'd want me to be when I work on your project.
4. My personal work is where I experiment and push my boundaries
Client projects have high stakes, and business owners want to be able to predict my output. People usually point to my previous work, and say "I like this, I want something like that for my business."
I still experiment and try out different things, but I have a reliable process to deliver brand identity design solutions, and rarely do I veer away from it.
In my art however, all bets are off. Artistic mediums push my buttons and force me to change my behavior. When I'm allowed to do anything I want, I see how restrained and fearful I am about life in general. It's eye opening not just on a professional, but on an emotional level.
My personal creative practice helps me draw parallels between art and life, and to grow as a person.

Blackletter calligraphy practice over an old skull sketch
5. When I don't have a creative outlet, I get grumpy and burnt out
Since I've started teaching part-time, I've been working crazy hours to deliver designs to my clients on time, and by the time I get home from class at 7.30pm, I'm exhausted. For a while, life seriously sucked.
Luckily, I've figured that my life didn't in fact suck, but that I forgot how to enjoy it.
Whenever my schedule gets packed, things I do for personal enjoyment (that do not involve other people) are the first to go. A few weeks of this inevitably leads to feelings of resentment ("Why can't people just leave me alooone?!"), self-doubt and discontent. And sometimes this escalates into a meltdown and talking to myself while on a bus trying to figure out what went wrong.
I don't exaggerate at all when I say I need art. I'm a free creator by nature, always have been, and always will be. No matter how much I love my professional work, I believe that creatives need to keep creating personal art in order to remain happy, healthy and productive. Whenever there's someone else footing the bill, we don't have the absolute freedom that creativity needs to thrive – we get creatively stifled, and our work suffers.

Inktober sketch: Imagination hand lettering
Sometimes I create uplifting art, sometimes I create poignant or creepy art, but it's all OK because I'm doing it for myself, not for other people. I can be as wild and expressive as I want to be in my sketchbooks because my personal art is not meant to sell. I've written even more about the benefits of creating personal art in my article: Who are you really creating your art for? – it happens to be one of my favorite posts that I've ever written.
Personal creative practice is non-negotiable
It's not an "extra".
It's not a "reward" you give yourself for work well done.
It's not something you do on a Sunday, sometimes, when the weather is so-so and nobody is visiting.
It's a necessity, like air, water, food and sleep. I'm not exaggerating. People get stressed because they don't create. People get depressed because they don't create. People feel like they lead lives devoid of meaning because they don't create.
Personal creative practice is not a luxury or a reward – it's essential for a healthy, fulfilling life.
In a world obsessed with consumption, few take time to create. Humans are built for creation, and learning through experimenting. Our limbs and brains are equipped with mechanisms that no other animal possesses. And we waste them on what, tapping and scrolling?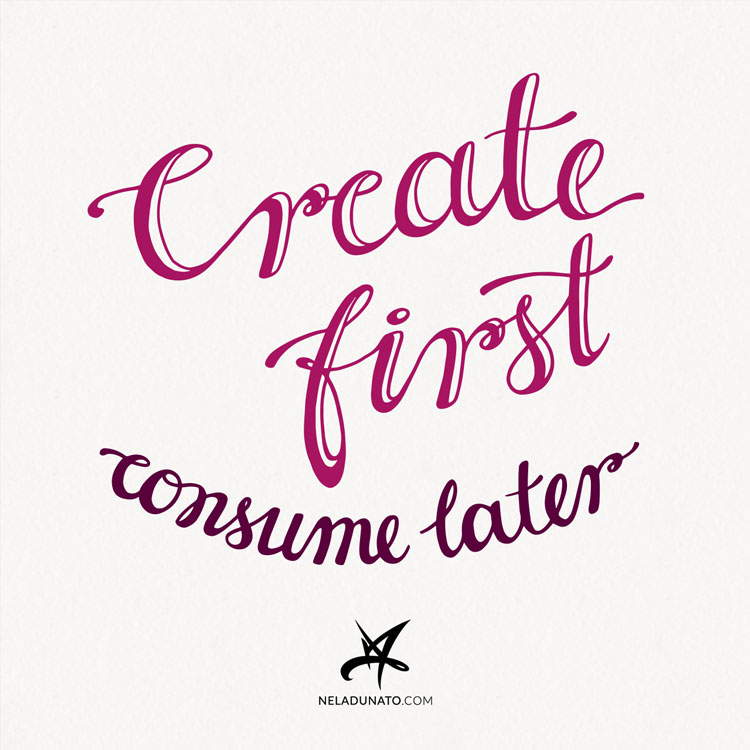 A simple tip for better creative productivity
Creating without goals, obligations and expectations is not the same as creating for money. Both are important for us to live a healthy and wealthy life.
That's why I'm making my personal art a priority.
Are you?
P.S. Having troubles keeping up with a regular creative practice? I know a lot about that, and have gathered my experiences and tips in the article: The challenge of (re)starting a creative practice. Check it out!