You feel like you spend so much time on content marketing and social media, and it's giving you little to no results. All the choices and advice seem overwhelming, and you have no idea who to listen to and what will actually work for you.
Maybe you're scrambling to be on all the channels, writing blog posts, sending newsletters, recording videos, designing quote graphics…. Or maybe you're still paralyzed by all the choices, waiting for someone to just tell you what the best online promotion venue is, so you can jump in already.
Stop wasting your time online and share your work where your right people will see it
The real problem is that your approach to promotion is haphazard and lacks strategy. You're desperately trying out different things, without even stopping to think if this is really the right choice for your business.
You don't have to promote like everyone else.
Sure, you could automate a bunch of Twitter posts in advance instead of posting manually to save some time, but will anyone even read them? Are your ideal clients even using Twiter? What if you just hate it when people post nothing but auto-tweets, so you don't want to do it?
Guess what, you don't have to. This free guidebook will help you craft your custom promotion plan that is rooted in your unique strengths and tailored to reach the people you care about.
Using this guidebook, you will:
learn how to get over the fear about sounding "too salesy" when promoting your work
identify the type of content that highlights your strengths and appeals to your right people
choose the social media channels that are the most effective for promoting your work
create a custom promotion plan tailored to your individual needs
evaluate how well your plan is working and tweak it to get better results
After completing the exercises in this guidebook, you'll have a clear vision of what to focus on and this will save you a ton of time that you'll spend better doing your creative work!
Get the guidebook – no sign-up required, no strings attached!
This guidebook is a beautiful 20-page PDF containing lessons and worksheets to help you take action immediately. You can fill it out on your computer or tablet, or print it.
Click the graphic or the button to download it now: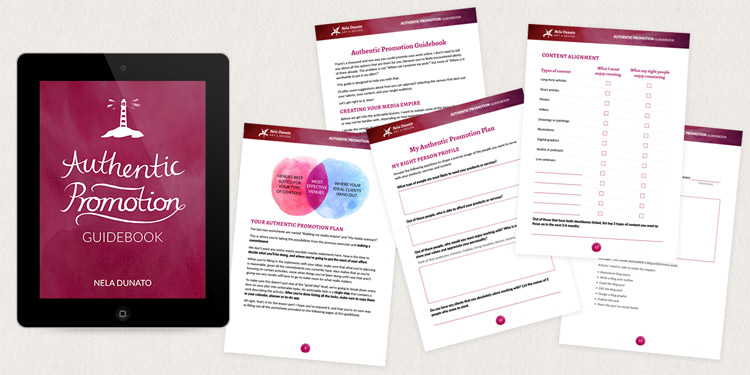 Enjoy, and let me know what you think about it in the comments! :)
---
Some blog articles contain affiliate links to products on Amazon. I'll get paid a few cents if you buy something using my link, and there's no extra charge to you.
---