Writing about art for me is writing about my process—not only the physical process of painting or drawing, but the process that happens in my mind, because that's where most of the struggle is. (For more on this, I recommend reading the post On being in the Process, which I keep going back to regularly to remind myself how this works.)
I'm very interested in reading about other people's creative process too, because 1) it confirms that we all share the same struggles and I'm not the only weird one, and 2) art takes on a whole new meaning when you understand where it came from. Sometimes it can also provide ideas on what I could try to resolve an issue I have, if the artist happens to have found a method that worked for them.
In that spirit, this article isn't a how-to, and it isn't focused on technique. I'm documenting my thoughts here like I would in a journal, but making it available to everyone so that if you can glean anything useful from it, even if it's just satisfying your curiosity, I'll be more than happy.
3 years of drought
When I tried painting in acrylics for the first time in 2008, I immediately fell in love with them. From that moment on, I thought I would be creating all my color artwork (which up until that point was mostly digital) on large canvases that can only be appreciated in person.
Contrast this with my experience with watercolor, which still sometimes frustrates me even after years of practice. Acrylics feel like home. Everything I wasn't able to do with pencil or ink or colored pencils, I was able to achieve with them. Magical.
Knowing that, it's weird that I haven't completed a single finished work of art in acrylic paint since 2014, when I had my last solo art show. If I love them so much, why didn't I use them for so long?
I have a few excuses.
I started a new design business, which required the majority of my time, energy and focus to get things off the ground.
We moved to a new apartment with a miniature office, and I can barely fit my easel in it. Leaving it out when I'm not working on a painting is not an option.

I'm not exaggerating the miniature size of my studio. There's barely enough room for one person.
The main downside of acrylics is that they take time to set up and clean up. An hour of painting is nothing, when it takes me half an hour to prepare, and then get my office back in working order. I switched to watercolor because they take up less room, and there was no harm done if I left the paint or brushes to dry. I could paint a bit in the morning, start working, go cook lunch or whatever, and come back to the painting in the afternoon, all with minimal hassle. (I talk about more ways I keep my practice portable and less messy in my article My 6 favorite mixed media art journal & sketchbook techniques.)
The other factor was that I felt "done" with my previous series "Katharsis", and I didn't yet know where to go next. I scrapped all my old ideas that I never got around to painting, and waited for something new to arrive.
On top of that, I've let some people that barely knew me get into my head, and sow seeds of doubt about my dark art, and whether it was "good" for me to be making it. Like, what if I was actually damaging other people's psyches by it? What if I was using my talent to increase suffering in the world instead of alleviating it? Those are the kinds of questions I was asking myself, and of course it fucked up my connection with my inspiration, as self-doubt always does.
Coinciding with this new social circle that had opinions, I've encountered all sorts of expressive and intuitive artists who actively wanted to use art for good: paint brightly colored mandalas, angels, abstract art, and stuff like that. Somehow this style of "bright, colorful, abstract, expressive, spiritual" got conflated with "good" in my head, and then of course my own art became "not good enough" because it didn't fit with that image.
I feel really stupid admitting now that I've ever listened to other people's opinions and bought into their delusional worldview, and that I've let this trend of hippy art affect me so badly. People who know me see me as a person who does her own thing, regardless of what other people think. But, we all have our tender spots, and "saving the world" is mine. I was afraid to make my art for fear of hurting other people, so I wasn't making any.
Thankfully, I no longer believe any of those things. Anyone can have opinions, but no one is a bigger authority on my own creative work than me. After all, I am creating my art for me, not for other people.
In the meantime while I wasn't making my art, I attempted experimenting with mixed media art journaling and expressive painting just to keep something happening, and see if this hippy stuff will rub off on me. I hated almost every attempt—it just didn't feel like "me".

Watercolor and watercolor pencils in a sketchbook

Colored ink, gouache and colored pencils in a sketchbook
I was attracted to traditional mixed media for a long time, since I was curious how I could translate my digital mixed media skills into traditional form. The book by Ann Baldwin was my first introduction to it. I knew I wanted to incorporate those techniques into my work in some way, but I wasn't sure how.
I looked at all those people doing colorful expressive abstract stuff, and whenever I tried a similar approach, I was disappointed. Most of those paintings were ugly (and I'll never show them to anyone), but even if the finished piece did end up looking interesting, it didn't feel right. That was not my next thing.
What this art journal experiment revealed to me is that I already know what I like, and what inspires me to create. I didn't need to change my approach to creating art, because what I was doing was already working for me. I just needed to dedicate more focused time to art. Not just bits and pieces here and there for my sketchbook practice, but to reserve time on the weekends and slow days so I can work without interruption on my larger pieces.
And here are a few specific things that I've clarified for myself during my failed expressive painting attempts.
The way I work
What inspires me to create is when I get a vision of what I want the final piece to look like. The vision is my kick in the rear. No vision—no inspiration.
I don't enjoy working on a painting if I don't think it will lead anywhere. I enjoy the process when I feel it's going well. I'm frustrated with the process when things aren't working out.
Process and product are important to me.
The stream-of-consciousness art with no premeditation comes to me in the form of pen doodles, not paintings.
I find drawing and painting small details very enjoyable and meditative.
I don't enjoy photographic collage.
My favorite painting palette is white-black-crimson-ultramarine (sometimes with bits of violet). No, I never get bored with it.
Abstract art doesn't feel "enough" for me on its own. I need at least one figurative or symbolic element in an art piece to feel it's complete.
This is how I feel at the moment, and how I've felt since I started making art over a decade ago. I don't mind if some of these things change in the future as I grow, but I won't force it just because this or that teacher says this way is more "free", "authentic", "intuitive" or whatever.
Maybe those teachers didn't mean to criticize other forms of art, but I've personally found the praising of the "loose" expression over "controlled" from multiple sources at the same time a bit… preachy. I still think those teachers are wonderful and do great work, I'm just not their target audience.
Instead of awakening my creativity, what constantly peeking over other people's shoulders has done is that it made me second guess my approach.
I wondered if my art was "fake" and "forced" because it came from a preconceived image, instead of just magically flowing out of my brush while my conscious mind was out on a picnic. Which of course was complete and utter bullshit, because we're not all made to be the same, and that's the whole point.
If my gift is that I see things in my mind before I paint them, then no one can tell me that's the wrong way to paint authentically. If I enjoy drawing meticulous details, while sloppily applied brush strokes frustrate me, there's only so much pushing against my comfort zone I can do before art simply stops being fun for me and I give up.
For me, art has always been about doing my own thing and just enjoying it. I've had enough of rules, shoulds, challenges, and confronting my fears in my life as is, and art was my respite from it. It worked wonderfully, and I don't regret a single moment spent creating, even if I don't have another art show in my life, even if I don't sell a single piece, even if nobody likes what I create ever again. I paint because I must.

THIS is the kind of sketching and art journaling I like to do. Click here for a larger view.
Faced with guilt and questions about my own process when I had such a long pause in creating "finished art", I looked outside to find what was missing, and tried other teacher's approaches on for size. The frustration I've felt when these approaches didn't work for me brought me back to myself. For that, I am grateful. But I also came back with a whole new bag of tricks…
The awakening of my painting Muse
In November last year, an artist friend mentioned that Paula Brett was looking for beta students for her new course for artists. It wasn't based on any particular art techniques, so I was excited to join. In fact, I thought it might be the perfect catalyst to get me to paint again. I was right about that.
After the very first lesson, which had journaling and researching assignments, the floodgates were opened and I was inspired for a new series of art. It was late at night and I was trying to fall asleep, but my mind was racing with ideas. There's only one thing to do when that happens—get up and write all of that down. I spent about an hour sketching ideas and writing notes over several pages in my sketchbook, and went back to bed. In the morning, it still seemed like a great idea. I decided to go for it.
The next day, I took one of my smallest canvases and painted the whole afternoon. Then the next evening, after I got home from teaching a class, I continued even though I was a bit tired. Because that's how I work: I get an idea that inspires me, and I can't stop painting for days. It's never the other way around.

"Daydreamer" painting in progress
The first few layers of the painting looked just like an abstract expressive painting would look, but I added something to it that would made it feel more like me: a portrait.
This experiment was a success. I couldn't stop looking at it. It was my first completed acrylic painting in 3 years, after all.

"Daydreamer" by Nela Dunato. Acrylic and collage on canvas, 20x20cm
When the painting was complete, I sighed deeply and knew it: this is my next thing. This is what I want to be doing for a while.
My failed attempts at mixed media art journals did provide some ideas for the backgrounds, and I knew my way around these techniques. It's interesting that knowing they would be leading to something "better" later, I enjoy creating them a whole lot more. Knowing that there is a concept that ties all this together feels much better to me than just splashing paint about with no purpose and no vision.
I now know why mixed media art called to me, even though none of the approaches I was seeing in other people's art were exactly what I was looking for. I needed to add something of my own to it.
Layers of Reality art series
This series explores the dichotomy of the inner world of the person, and their exterior appearance. The bottom layers of the paintings are created in acrylic paint and collage in a fluid and more expressive style, and represent the inner, or subjective truth, which is often viewed as less valid: dreams, visions, fantasies, hallucinations…
The top layers cover up parts of the background with a realist portrait representing the outer or objective reality, where one physical feature is completely transparent and offers a "window" into the inner reality (usually hair). The inner reality may never be seen completely from the outside.
In addition to the paintings on canvas, I'm also planning an altered book project as a part of this series, which was something I wanted to try for a long time.

Painting in progress
I currently have several canvases in varying states of completion, and expect to have the first few paintings finished in the upcoming weeks. After that, it will probably be a slower pace, since I also have a book to write…

Another progress piece. This one is actually hiding another painting I never finished behind all the layers.
The plan is to create enough artworks to form a complete solo exhibition. I'm not promising any timelines here, but if it happens sometime in 2019 I'll be more than happy.
The evolution of an idea
I described how the idea for the series came to me "out of nowhere in the middle of the night", but that's only half the truth. The other half is that the seeds this idea can be traced back several years.
In 2013, I took part in the Sketchbook Project. I titled my sketchbook "Mind Patterns", and explored the idea of portraits in which hair portrays moods or personality traits. I liked some of them a lot, and thought I should paint them as stand-alone pieces in acrylics.

"Self-criticism", colored pencils in a sketchbook

"Depression", ballpoint pen in a sketchbook
That, of course, never happened. I suppose this idea didn't have enough "juice". But hair as a symbol for a person's state of mind was something that has stuck with me.
I also have a painting titled "Layers", which deals with the multi-dimensionality of people and their personas.

"Layers" by Nela Dunato. Acrylics on board, 29x43cm
And then there was a journal spread from this summer where I attempted to create a funky abstract background incorporating some of my blackletter calligraphy practice pages, and then when I didn't know what to do with it, I framed it in a cartoony silhouette.

Acrylic paint, collage, markers, and water-soluble crayons in an A5 Moleskine sketchbook. View the larger scan in my sketchbook gallery.
When I was browsing through my sketchbook scans to find images for this post, I ran into these two, so apparently the silhouette shapes have been on my mind for a while:

Watercolor and gouache in a 15×15 Handbook Travelogue sketchbook
I see all of those moments as stepping stones that needed to line up, and I had to become open to receive a new direction.
Whether this series pans out the way I imagined or not, I'm just very happy to be painting on canvas again.
Things that help me with art block or inertia
I've been through many art blocks and slumps in my life (so many in fact, that I wrote an entire book on different types of art blocks that I never published). Getting over it is not as easy as "just snapping out of it", and each time things are slightly different, depending on current circumstances.
Here's a few things that helped me in the past year or two.
Rest breaks and spaciousness
The most important thing is to free up the energy and space to create. We all have commitments outside of art that fight for our attention, and art often ends up at the bottom of the pile. This sometimes means giving up things you liked to do, but that are of lesser priority for you. It's difficult, especially if other people are counting on you to keep doing the same thing you've always done, but it's a necessary step if you keep putting other stuff before your own art.
By giving yourself "space" I don't mean necessarily scheduling when you're exactly going to sit down and paint, but time to nurture your relationship with your art in any way. It can be just sitting and writing thoughts about your creative process and doodling ideas that might lead to something else. Or it can be joining a course, which will give you a container to explore, and get into a learning mindset.
Deadlines
They work.
I don't recommend adding a bunch of things on top of your already busy schedule if you're tired and burnt out as is. If you feel like you have enough energy to tackle a challenge, then this method might work great for you.
Last year, I wanted to join a seminar in creative photography, and needed at least 10 portfolio pieces to apply. I didn't have that many that I was satisfied with, so I created 3 new photo-manipulations in a little more than a week. I arranged a photo shoot with my friend, and immediately got to work. It paid off, and I got into the seminar, which was a pretty crazy and awesome experience.
There were a few other occasions when I joined group art show contests, which pushed me to paint pieces that might not have happened otherwise. I didn't get into those art shows and I was disappointed by that, but at least I've still got those paintings.
The main downside of this method is: when the deadline is over, how to keep the momentum? That's something I haven't figured out yet. I'm often exhausted by doing so much work in such a short amount of time and need a period of rest, which can easily turn into another slump. I suppose the trick is to maintain a healthy schedule so I don't get exhausted? But I don't like stopping myself when I'm "in the zone". This subject deserves a separate post, so let's just move onto the next one.
Learning a new technique
This one is my silver bullet. Last time I experienced it was when I started practicing calligraphy. I wrote pages and pages of different alphabets, and my favorite thing was (unsurprisingly) writing blackletter with red ink. As soon as I got the hang of the basics, I started incorporating calligraphy into my sketchbook pages. That gave me some ideas for a new art series, which still hasn't happened, but I haven't given up on it yet.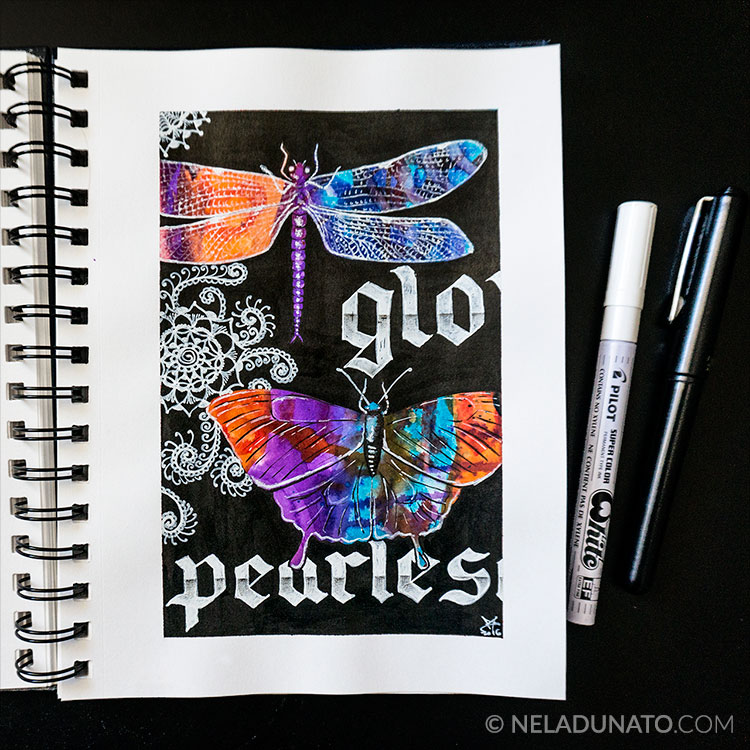 Colored ink, india ink, paint marker and pencil in a sketchbook
Sometimes just buying a new tool, like a white paint marker, or a bright water-soluble crayon, can get me excited about creating. (Buying new sketchbooks doesn't quite have the same effect.)
I realize that this may not be everyone's cup of tea, but I thrive on learning new things so that's something I turn to when I feel like I've been stuck in the "same ol'" for too long.
Introspection and brainstorming
The course I attended is an example of this. The first lesson was about exploring what we like, and setting intentions for our art and our career. There was also a lesson on healing emotional blocks, which is a big part of my life.
I suppose that the combination of cleaning up some of my painful memories and the optimistic view of the possibilities in front of me created a spark that ignited my desire to start creating ASAP.
I've been thinking about this issue of "I'm not creating finished paintings anymore, what's wrong with me?" for a long time, and it hasn't produced any results. So just because you're examining something, it doesn't mean it will immediately clear up. Maybe I was focused on the wrong things. Maybe I was asking the wrong questions. Instead of "What's wrong with me?" I should have asked myself:
"What do I really want? How do I want to live? What baggage am I holding on to that's keeping me stuck? Whose rules am I playing by?"
I'm still learning how to ask productive questions, but it's definitely worth a try when all else fails.
Waiting for inspiration to strike
I know, this is not a smart thing to say, especially among the professional artists. But I'm not going to force myself to do larger pieces and push paint around if I'm not inspired. Every time I've tried that in the past, I ended up becoming even more frustrated, and unhappy with everything I created in that state. If I don't feel it, I don't feel it. EOD.
There's a time and a place for everything. If I don't feel inspired to do a "finished" art piece, I'll do something small and irrelevant, like a sketchbook doodle. This way I still feel connected to my creative practice, but I don't expect it to become anything.
My main job is to nurture my inspiration: to keep my mind clear from worry, to feed it with curiosities, and to imagine what's possible. If I do a good job of that, everything else just flows.
My job is not to:
Force my ass into a chair when I'm not in the mood.
Set goals on how many paintings I'm going to complete in a month.
Beat myself up because I haven't painted in a long time.
Compare myself with more prolific artists.
Turn my source of pleasure into a chore.
Accept other people's markers of success as my own.
Do anything in a way that doesn't feel right for me.
Yes, it's lazy and dilettantish and I'll never be a "proper" artist this way, and that's what I've accepted for myself. I don't need my art to make me money. I need it to make me feel good. That's all I want from it. Everything else is a bonus.
2019 update
After yet another long break in my art making practice, I explored this theme in more detail and offered more tips that work for me in a new post: The challenge of (re)starting a creative practice. I suppose this is a lesson I need to keep re-learning :)
Anyway. I'm painting again!
Like, for real. Not just small watercolor pieces, not just in my sketchbooks, but real, actual paint-on-canvas things. I haven't been this excited in a long time, and I sure hope it lasts.
If you have any thoughts or questions that this post has sparked for you, please share them in the comments—I'd love to compare notes with you and continue the discussion.
Wishing you lots of inspiration and feel good creative sessions,
---
Some blog articles contain affiliate links to products on Amazon. I'll get paid a few cents if you buy something using my link, and there's no extra charge to you.
---
2 responses to "From art block to a new art series: Notes from navigating my creative process"