The title of post is not "how to paint skin tones", because I don't think my process is the best one, and I have quite a bit to learn. But for those of you who are curious how I do it, here is my process along with some palette formulas.
UPDATE: Free printable PDF skin tones mixing guide is now available for download.
Note: I've only tried painting Caucasian people so far, and can't offer any tips specifically for people of color. But I believe that varying the ratios of tube paints I use can provide pretty varied skin tones.
I will show you my process on my latest painting, Crucify.
Preparing the palette
I don't prepare the entire palette beforehand. Since I work in layers over the course of a few days, I mix the colors as I need them.
For easy reference, I will show you the entire palette and formulas right away.
I used 6 tube paints in total: Yellow Ochre (PY42), Primary Magenta (PR19+PR146), Ultramarine (PB29), Burnt Sienna (PBr7), Titan Buff (PW6+PY42+PR101+PBk11) and Mars Black (PBk11).
Here is my palette:
And here are the formulas for the mixtures pictured above.
Flesh = Yellow Ochre + Primary Magenta + Titan Buff
Base = Yellow Ochre + Primary Magenta + Ultramarine + Titan Buff
Black = Ultramarine + Burnt Sienna + Mars Black
Flesh shadow = Flesh + Black
Shadow = Ultramarine + Burnt Sienna + Base
Midtone = Base + Shadow
Highlight = Base + Titan Buff
Blush = Base + Primary Magenta
Why I used these tube paints? Mainly because I'm used to using ultramarine, magenta, ochre and browns. I haven't tried any other formula. They're the colors I've used in the rest of the painting (with addition of a few others).
As for Titan Buff versus Titanium white, I just happened to have bought this tube for other reasons, and it works very nicely for lightening skin tones. I've used Titanium white before, and it works just as well, you just have to be careful with how much you add.
Beside these colors, I also use transparent glossy medium in top layers. It enables me to paint transparent glazes and seamless gradients, but it also (in my opinion) helps the skin to look more alive. Our skin is translucent and has a gentle glow, and acrylics are matte and dull on their own. Adding some transparency to skin tones makes them pop from the background.
Painting process
Excuse me for not having documented the entire process in detail, I wasn't intending to write this post so I'll have to make-do with the progress shots I have taken.
I started with a blue undertone. I painted the entire background in blue tones, and transferred the sketch to the canvas. I painted over the sketch with a dark mix of Ultramarine (not sure which mix anymore), and marked the darkest shadows.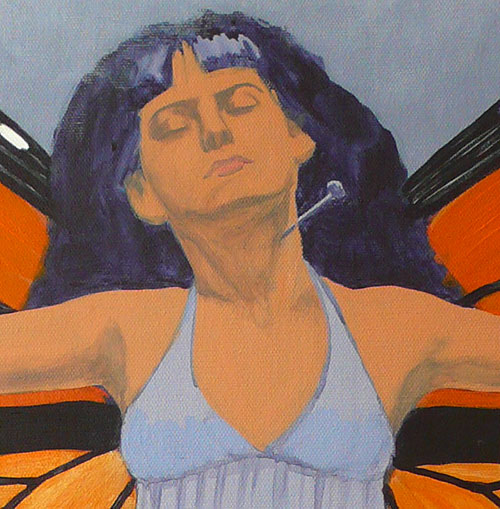 The first tone I mixed is what I named "flesh", since it's supposed to hint the redness of flesh beneath the skin. Shadows are marked with "flesh shadow" just so I don't lose the forms, but the tone of this one will be pretty much completely covered up with another layer of shadows, so it doesn't matter.
Next, I covered the entire skin with a "base" tone. The shadows show through, and the flesh beneath is just barely visible, which is what I wanted.
The next step was to paint highlights and shadows with "highlight", "midtone" and "shadow" tone. Also the darkest shadows between the fingers, legs and under the skirt are painted with "dark" tone.
Legs are much darker than the arms, so it took a lot of midtone to cover up the base layer, and I only used base tone for the lightest parts. Here the shadows look sharp and rough.
On the arms however the majority of the base layer shows though, with shadows painted using shadow and blended using midtone, and highlights lightly hinted using a transparent glaze of "highlight" tone. Everything is blended, and I used transparent glazing, as well as "dry brush" technique to make the gradients. But if the paint is still wet, you can use this to mix the tones on the canvas. I work very slowly, so I rarely get the chance to do that.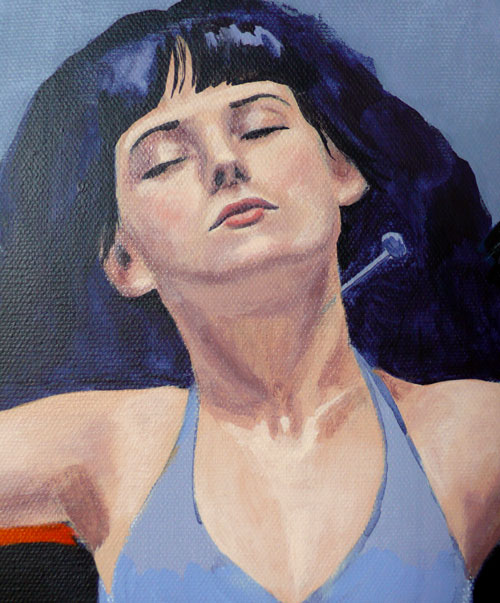 The face is a place of highest contrast. I made both the darkest shadows using the "shadow" and "dark" tone (as seen on the nose, mouth and ears), and very light highlights with pure "highlight" tone on the forehead, nose, eyelids, cheeks, chin and collarbones. "Midtone" is used mostly on the chin and under it, plus to make the gradients around the nose and eyelids.
You can see here how I was fixing the armpit (painted with "shadow" tone), and how it looked prior to applying midtone and base tone.
After the paint dried, I applied the "blush" tone to the cheeks and parts of the hand.
Here you can see what the skin looks like in the end. Again, you can see the final image here.
In the very end, when everything dried completely, I went over the entire skin with a very thin layer of transparent glossy medium. I don't know if that makes any difference in the result, but since I had some medium mixed in, I wanted the glossiness to be uniform, and not only on some parts.
So, that was my way of painting skin as of April 2013.
Do you have some better tips & suggestions? Please share! I'd love to learn if there is a better way.
If you enjoyed seeing this painting process, you might want to check out my painting process video: Making of "Nourishing Heart".
Don't forget to download your free guide!
Download PDF skin tones mixing guide
P.S. Before leaving, check out my blog archive where I offer lots of tips for artists and other creatives.
---
Some blog articles contain affiliate links to products on Amazon. I'll get paid a few cents if you buy something using my link, and there's no extra charge to you.
---
31 responses to "How I paint skin tones in acrylic + Free printable PDF mixing guide"