inobscuro.com has been my homepage since 2005 and we went through a lot of changes together.
It started out as a portfolio of my personal work, and a free design resource. Here are some of the screenshots of its various incarnations (click for a larger view).
After moving my entire art gallery and design portfolio here, I closed down my old design portfolio ChatteNoire.com, and decided to restructure inobscuro.com to give more prominence to the free resources.
I've given up on producing and marketing my free design resources for several years, but now I have this desire to infuse new life into my old website, and keep it active for the community.
The name — how do you even spell it?
I picked my website name from a dictionary of foreign words. I was flipping the pages from A to Z, scanning through every single page for something that would ring for me. I got to the letter O, and the second I read this one, I loved it!
obscurus – dark, mysterious, unclear, unspecified.
in obscuro – anonymously, out of sight, secretly.
I was very inconsistent with the website name spelling. It was mostly "in obscuro" (all lowercase), but good people around the web spelled it in all the possible variations: inobscuro, In obscuro, In Obscuro… and in the end I started using "In Obscuro" myself.
After all this mess I decided on inObscuro. I know, sounds silly, but I wanted to avoid the uppercase I lowercase L dilemma, and it just looked better aesthetically.
".com" is not a part of the website name.
inObscuro visual brand identity
inObscuro always had a dark style, in accordance with the name and the artwork featured there.
But still, "dark" is a bit ambiguous, and I never really decided on elements that would prevail through all the website redesigns and promotional materials. It's understandable, I was a newbie designer and I couldn't conceive of anything close to a "visual identity" back then. Every version of design had its own typography and color scheme, which was dependent on my current mood — I worked on my designs impulsively without giving it too much thought, when the "Muse" struck me. That's how newbies work, after all :)
The element I've used from the very start (as a favicon) was a pair of slanted red eyes on a black background.
It fit with the theme and name, but the trouble was combining it with type into a logotype. My early attempts were not very successful.
Here is the closest I've ever gotten to a logo (I barely recall using it because it was impractical):
I wanted an original logo with a recognizable style and story. I strive for being original when creating my free resources as well. I try not to repeat what I see elsewhere, but do "my own thing" — I guess this is what attracts like-minded people to my website.
The colors I love are black, red and purple so I knew some of these will be used in the final design. I figured after years of using the red-and-white-on-black combination that was too intense, I should make it a bit more user-friendly by introducing more lighter areas with dark text into the color scheme, but at the same time keeping the original "dark" vision.
Some qualities I wanted my logo to have are:
unique
stylish
feminine, but not girly
with a dark twist
I didn't want a cookie-cutter logo. I didn't want some font with an icon. I wanted my own thing. And my own thing I did.
Creating the logo
First I played with the lettering in my red sketchbook. Here are some snippets of my doodling process:
By the end of this experiment, I had a rough idea of what I wanted. Then I did the last batch of sketches:
My obsession with cats is quite evident (my old portfolio domain was ChatteNoire.com), and I think it goes perfectly with the name of my website.
Cats are night creatures and lurking predators, and they're adorable and elegant at the same time. I find this contrast very inspiring, because I feel like my work has these qualities — elegant and "pretty" (depending on your taste), but with a dark undertone.
These concepts laid abandoned in my sketchbooks for a very long time as I pursued other projects. But then I felt a strong desire to create this logo, and yesterday I finally did.
I imported this last batch of sketches into Inkscape and traced the bottom one. After that I fixed the letter positions, thickness and curvature to make it consistent and readable at small sizes.
Here is the final logo and the version with a tagline in Diavlo font.
I also made a watermark for digital products which features the URL:
In the end, I'm very pleased. Creating this logo was so much fun because I allowed myself to be playful above all else, and it's one of my favourite logos I've ever made.
I didn't want to dwell on things like "the letter N doesn't match the rest of the letters" because that's how I've been writing N in "Nela" for the past 10 years. I wanted a logo with a unique flair, and truly mine. Overlooking slight imperfections for the benefit of having a unique visual experience is how I roll.
Are you thinking of getting your own hand-lettered logo designed?
Check out my Logo design and branding services for more info on how I can help you!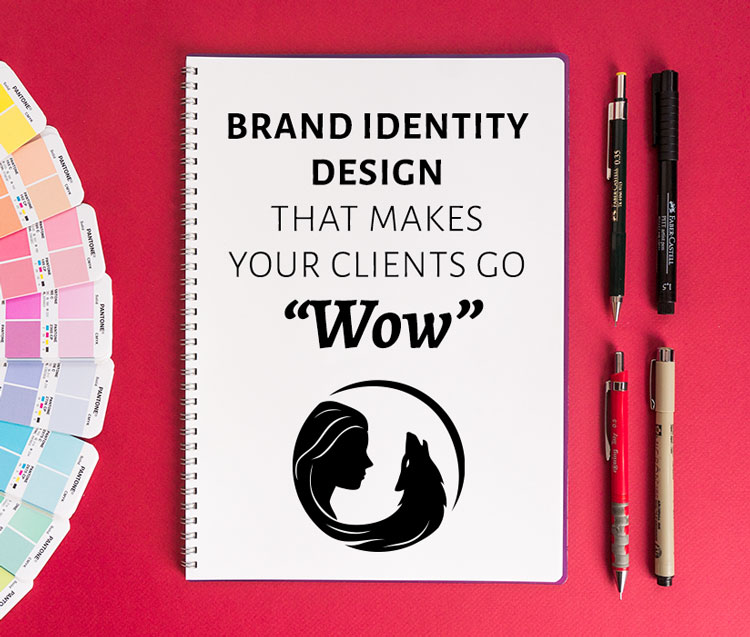 Interested in seeing more of my hand-lettered logo design processes?
Here are a few other blog posts:

---
Some blog articles contain affiliate links to products on Amazon. I'll get paid a few cents if you buy something using my link, and there's no extra charge to you.
---
2 responses to "inObscuro hand lettered logo design process"