When I was 4–5 years old, I adored comics. (Mickey Mouse and Bugs Bunny were my favorite.) Before that, like any kid, I loved picture books. Probably because of this, when I was drawing, I often wrote words next to my pictures. Next to this drawing of a chestnut tree (1990) I put a thought bubble saying "Chestnut", but I misspelled it.
In the media meant for little children, images and words always go together.
But in elementary school things start changing. In grade 1 or 2 there are still some illustrations in textbooks, and assignments to both write about a topic and draw a picture of it. But in advanced grades, illustrations give way to photographs, and creative assignments get separated into either visual art or writing. Fiction books for older kids don't have pictures in them—that's only for little kids. If you still enjoy comics and cartoons in your teens, you're labeled as "uncool" and childish. (Ask me how I know.)
I remember drawing something on the back of a test in 4th grade because I had time left until the end of the class. The teacher chastised me, so I never did it again.
I kept doodling on the last pages of my notebooks, but never where the teachers could see it. I did "proper" art for class and was very good at it. I always got an A for my school essays. I received awards for my prose and poems. But I never got a chance to combine writing and drawing, and eventually I forgot that I could even do it.
I did still enjoy reading comics and tried making a few my own, but found it too labor-intensive (read: I was lazy), so I gave up on my teen dream of becoming a comic artist. There was more important stuff to do.
The field of graphic design is mainly about combining words and images in a harmonious or unexpected fashion.
So it's not at all strange that I chose it for my career. I love my work, even though at one point I went through a phase of not loving it.
I also love my personal creative practice, which is more spontaneous and hands-on. I don't get to do 5 different versions, or rearrange elements indefinitely on the sketchbook page. Graphic design taught me how to experiment, but I always have an "undo" button, or an older saved version, or a fresh sheet of paper and a lightpad. Doing those experiments in the sketchbook is not quite the same.

Hand-lettered music band logo design. Here's the step by step process of how I made it.
Since I started using sketchbooks in 2006, I alternated between drawing and writing.
I occasionally combine the two, but it's still not completely integrated. It's like I have a "drawing mode" and a "writing mode"—when I'm using one, the other one is turned off.
I find that if I get sucked into long writing sessions, I have no creative energy left for drawing that day. (That's why Julia Cameron's "morning pages" never worked for me.) I find writing enjoyable, but it uses up all my fuel, so I need to limit it if I want to draw and paint more. I was most prolific as a painter at a time when I wasn't writing at all. It annoys me that I'm not able to do both. (I'm procrastinating on illustrating my new book as we speak. Again, I'm writing instead of painting.)
I occasionally do sketchnotes that combine writing and doodling, and that can be fun. But mostly I default to writing, only with lots of arrows and borders around the words.

Sketchnotes from the conference Branding of Culture. If you want to read them, I posted a PDF for download on my Croatian website (scroll below the images for the download button).

Sketchnotes on my upcoming book on creativity: Rest and Burnout
There was a brief episode in 2015 when I was drawing sad-looking ladies with watercolor, and wrote stream-of-consciousness stuff over their hair and backdrop. I was getting into "art journaling" in my sketchbook for the first time, and tried to find art journal techniques that work for me, because cutting out and gluing down stuff from magazines was not really my thing.

Graphite pencil, Sakura Koi watercolor, ballpoint pen and Uni-ball white gel pen in my favorite Canson Universal sketchbook
White gel pen on dark colored surfaces immediately appealed to me, so I kept doing it to this day. But the watercolor ladies I got bored with pretty soon, as I do…
But this "hair as a surface for letters or design" remained with me, and I keep coming back to this concept every once in a while. Here's one such drawing from 2016:

Pentel Pocket Kanji Fude brush pen in a Hahnemühle sketchbook
And this one from 2017: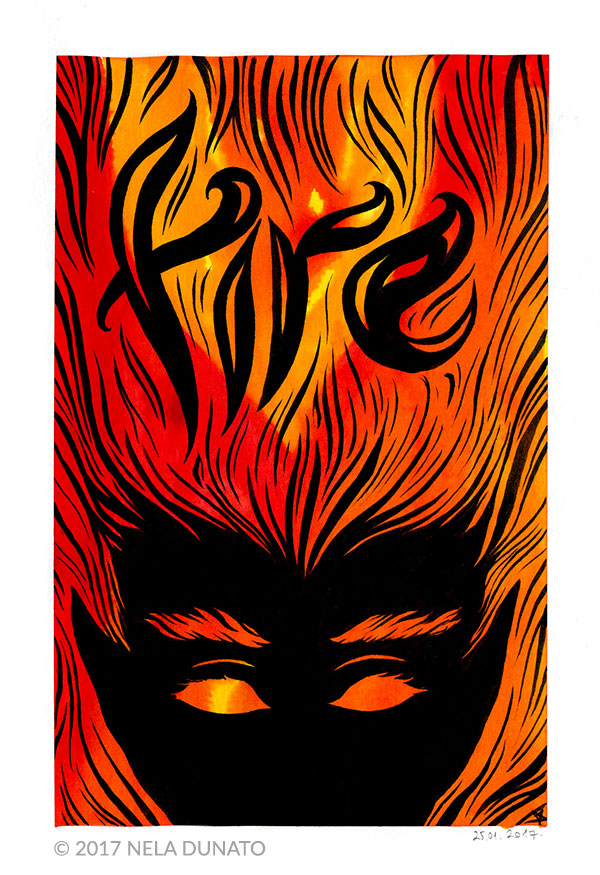 Color ink and Pentel Pocket Kanji Fude brush pen in an A5 Winsor & Newton hot press watercolor sketchbook
What I'm experimenting with right now
This summer I was dealing with a lot of resentment towards someone and journaled about it, and then I wrote stuff—very unsavory stuff—with a water-soluble pencil (Stabilo All), and then sprayed it with water and scribbled over it, until the letters dissolved. It was cathartic. And that's good for those challenging moments, when you just want the hard and unsavory things to dissolve.

Masking tape, gesso, acrylic paint, gouache paint, water-soluble wax pastels (Neocolor || and Stabilo) and Stabilo All pencil in a recycled sketchbook
Another little experiment was writing out this "message to self" in a simple way into a rib-cage shape, but I can only do that once or twice before it too becomes repetitive and boring.

Acrylic paint, water-soluble wax pastels and Uni-ball white gel pen
I want to evolve this part of my practice, so I'm giving myself assignments to integrate words and images.
Simple journal entries next to my sketches are the easiest. I just need to remember to leave enough space.

Pentel Pocket Kanji Fude brush pen, Penter Color brush pen and fountain pen in a small Royal Talens sketchbook
But that's not what I really want to be doing. There's a bigger possibility, I know it. I've seen it done in a beautiful way by some other artists/writers, for example:
It's not my intention to copy anyone's aesthetic style, besides I already have a blurry vision in my mind which is quite distinct from all these things I've seen so far, I just don't know how to make it yet. I need more practice.
Could it be funky journal entries combining creative lettering, calligraphy, decorative elements, and sketches? Sounds dreamy, and very time consuming.
One-page comic about a moment in my day? I've been thinking about it for months and even have character sketches of my alter-ego, but so far I haven't made even one. My days are rather uneventful even without the lockdown, but especially during the lockdown.
At the moment I'm working on a few tiny projects, they're sort of like illustrated journal entries.
I completed the first few, you can view and read them here:
I'm still refining my process. With the first project I started with a written draft in my journal, but I didn't get around to the drawing part yet, and it's been weeks. But the other two I was simultaneously writing and drawing in my sketchbook, or I should say I was alternating between the writing and drawing, but in much shorter intervals. Clearly this method works better, though they look less polished than the third one will probably be (when I finally complete it).
It's hard for me to find the right term to call this thing. Words that are rolling around my mind are:
illustrated essay
visual essay
graphic essay
illustrated journal
illustrated letter
illustrated narrative
sketchbook essay
sketchbook story
Some of these terms already represent other things which are different from what I'm doing, so I don't know what the most appropriate word would be.
As with any new experiment, I have no idea if anyone would be interested in reading that—is it too navel-gazing, and not "useful" enough? The few people I did show it to seemed to like it, but they're very introspective writers and artists like me, so it might be a very narrow niche.
But then I remind myself that I'm doing this for my own creative growth, not for likes and shares. Even if people ignore it, I'm still glad that I took a chance and tried something new. Thankfully, I can afford to make things that nobody cares about.