I've been doing more and more hand-lettering in the past month, so I wanted to share one of my latest works with you from sketch to finish.
This is an illustration I did for my last week's blog post Everything is an art project (if you're an artist or a creative of any kind, I really recommend you to read that one).
Here's what my lettering process looks like…
1. Ideas and thumbnail sketches
When I wrote the post, I knew I wanted to create a hand-lettered graphic to go along with it, something akin to a "motivational" poster.
I started with some rough composition sketches on a page in my sketchbook that was already covered in watercolor strokes (I'm not too precious with thumbnails). Then I took a clean sheet of paper and sketched the composition again until I've found the right one.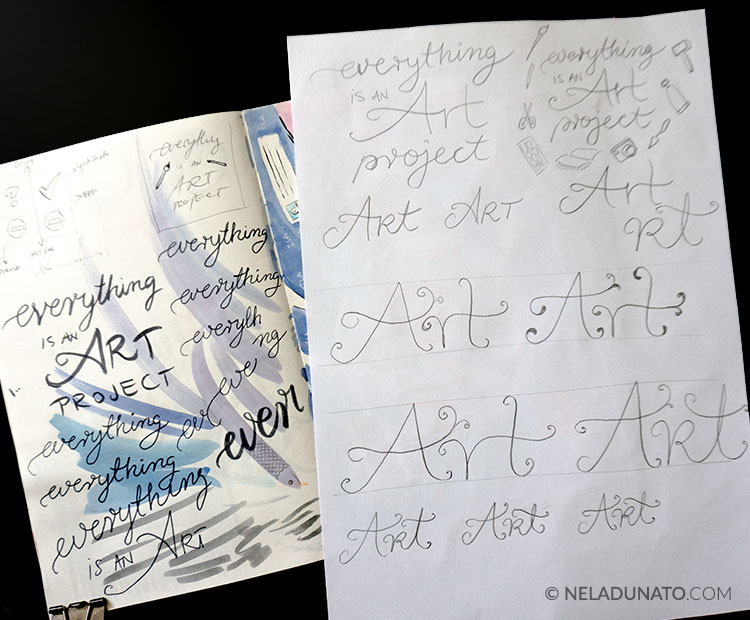 I knew I wanted to make the word "Art" more elaborate and unusual, with swirly endings on all the strokes. It took me many tries until I've settled on the letter shapes I liked.
2. Real size sketches
The next step was to draw a simple outline of the letters in actual size on a fresh sheet of paper. (I used regular copy paper.) The goal is to get the letter sizes and spacing more or less correct, and to make sure all the words are balanced in the composition. I use a mechanical pencil with a red lead in this first step (to make copying easier later on).
In this case, the words "is an Art" were placed too high and overlapped with the word above. I took another sheet of paper and used my "poor man's light table" method (a.k.a. a window – I've shown how I do that in this post) to copy the outlines in graphite pencil, making sure to fix all the mistakes I noticed on the previous sketch.
After copying the outlines, I started adding thickness to the letters to simulate a brush tip. I went for a low-contrast thickness on most words, and heavy contrast on the word "Art".
3. Inking
After making sure that there are no more mistakes on the sketch and that I'm pleased with how the letters look, I copied the letters again onto the third paper, this time a heavier 240gsm sheet.
I used Sakura Pigma Micron (0.2mm)* to draw the letter outlines, and the Faber-Castell Pitt artist pen* to fill them in. I've made the thin lines a bit thicker with the Pitt artist pen, since I knew that I'll display it in a smaller size on the web, and that the details would get lost.
If you've seen my earlier process pieces and my sketching kit, you know that I love to use bristle brush pens for inking, but I've noticed that if I want to achieve clean edges, brush pens are pretty unpredictable and leave me with a lot of mistakes to fix. The markers are much neater. I still love brush pens for calligraphy, though!
4. Digital vector
When I was done inking, I scanned the drawing and imported it into Adobe Photoshop to clean up dust and tiny mistakes that I've made during the inking process.
After that, I took the cleaned up JPEG image into Adobe Illustrator and used the automatic Image Trace option to turn the raster image into a vector.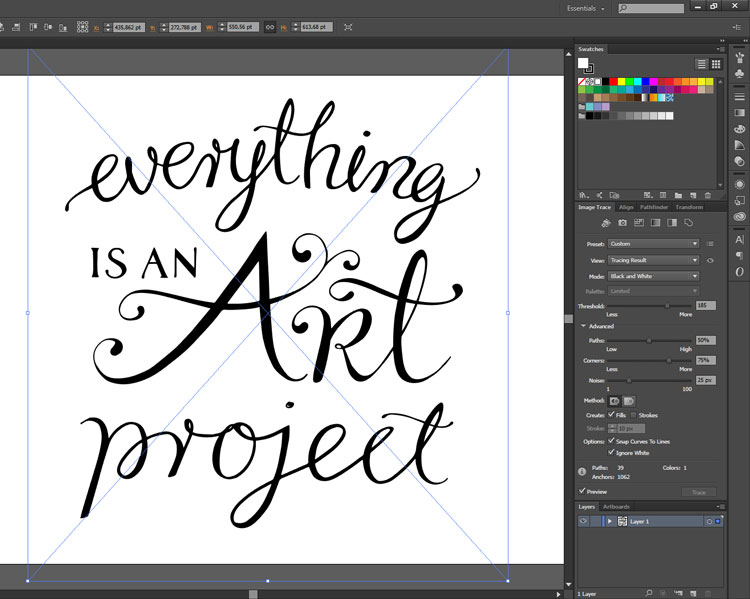 I've made minor manual edits to some details that were a bit wonky, and saved the vector in AI and PNG formats, to make it ready for use in different ways.
5. Photography
My original plan was to paint the art tools using ink and watercolor, and I even started sketching them. However, I had an unpleasant situation that left me with really low energy and motivation, and I just couldn't be bothered with things that take much effort.
Then I had an idea – what if, instead of painting every art tool, I just photographed the ones I have in my studio? My initial reaction was that that's "way too easy", and I had a lot of resistance toward that idea. Thankfully, I've realized that I was getting played on by my perfectionist tendencies, and that if the choice is to finish this project this week, or not finish it for who knows how long, I'll rather take the easy route.
I've set up an impromptu photo studio in my bedroom where the light is better, and laid out my tools on a white background one by one, making sure to photograph them in the exact position they'll be in on the finished piece, so that the light and shadow directions is the same on each one.
6. Digital photo montage
Lastly, I opened all the files in Photoshop and created the assemblage. I masked the background on each photo using a layer mask, and selected a background color that is slightly darker than the glare on metal tools, with a warm hue.
I added my logo to the bottom, and the image was ready to be shared!
If you'd like this work on your wall to inspire you to see your entire life as an art project, I've made the print available for sale in my Society6 shop.
I hope you've enjoyed this peek behind my shoulder, and if you'd like to see more of this, let me know in the comments!
---
Some blog articles contain affiliate links to products on Amazon. I'll get paid a few cents if you buy something using my link, and there's no extra charge to you.
---