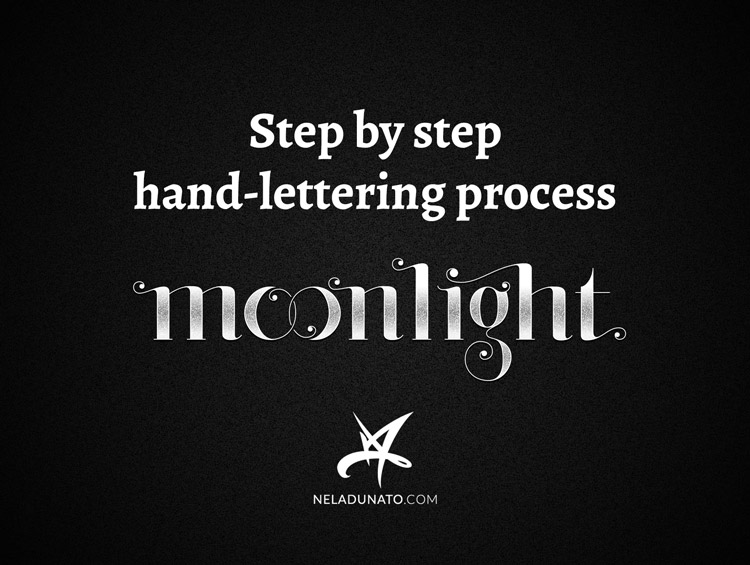 In my quest to improve my lettering skills, I've purchased the book "The ABC of Custom Lettering"* by Ivan Castro. I loved the book so much, I even wrote a review on Amazon (which I never bother to do). If you're a lettering student, this is the book to get. A large part of it focuses on calligraphy skills, since calligraphy is the basis for understanding good lettering. I've enjoyed the practice so much, especially using my super fancy wide Pilot Parallel Pen which I've praised here.
Toward the end of the book, there are specific lettering assignments, and I've started making my way through them. Mostly I'm getting double credit by taking on a project I'd do anyway, like my Kreativna logo, but this one was too specific so it's pure practice for the love of craft. That's fine, I'm no stranger to creative practice. Let's do this!
The assignment was to write a word in Carolingian miniscule, trace the outlines, and then change it into something unique through a series of iterations, fixing the mistakes along the way.
Step 1: Calligraphy
I took out my 6mm Pilot Parallel Pen and set out to write a word. Hmm, which word? Ivan suggests a word of 6-8 lowercase letters that includes ascenders (l, t, f, k, h), descenders (j, g, q, y) or both. I chose the word "moonlight" since it hits all the requirements and it's a nice goth word.
My first attempt wasn't so good. The second one was better. It could have been even better with more even spacing, but since this can be fixed in the lettering process I went with that.
Step 2: Tracing
I took another sheet of paper and drew the guidelines with a red technical pencil. Then I took out my trusty lightbox (which I think was my best investment in 2017) and traced the edges of the letters, paying attention to spacing and size so that it all looks a bit more even. I immediately started thinking about how to incorporate the Moon into the letter O.
OK, turns out my spacing isn't so hot, so I've annotated the spaces I'm going to have to decrease and increase in the next step.
Step 3: Customizing the letterforms
My first attempt at customizing was to make the letter smoother, and add the swirly terminals to all the letters. On top of that, I added some hanging decorations so the counters (negative space inside the letters).
I wasn't to crazy about this approach, and wanted to try something else.
Step 4: Variation on a theme
Another idea I wanted to explore was combining the two Os into a ligature and incorporate crescent Moon shapes. I kept the chunky soft letters and swirly terminals, but I did away with the hanging thingies.
I wasn't too happy with the results. The O connection wasn't working, and the left legs of M, N and H were weird, and I decided to scrap this direction altogether.
Step 5: A different direction
My next attempt was high-contrast serif letters with vertical stress. Added some swirly terminals for good measure. Through several iterations, I changed the O connection to two interlocking rings, and although the second O is "wrong" from the calligraphy standpoint, I took the artistic liberty to have both waxing and waning Moon crescent. I've also made some tweaks on the letter terminals and spacing.
The last one one looked promising, so I scanned it and completed it in Adobe Illustrator.
Step 6: Vectorizing the lettering
When I trace my sketches, I place the scanned sketch on one layer and lock it, and then create another layer where I draw my vectors with the Pen tool.
I thought it looked really nice with the super thin horizontal and swirly lines, so that's what I settled on.
I wanted to add some kind of a frame so that the lettering looks better on square and rectangular images that I would share on social media. I repeated the swirly theme, but added more shininess with the star shapes.
After printing the test page and tweaking the details, I made a version in white that I would take into Photoshop to create the final artwork.
Step 7: Adding bling in Photoshop
I created the square canvas in Photoshop and set the background to near-black dark gray. I added a soft gradient to make the inner glow effect. I then used the Noise filter to create the subtle grain.
After that, I imported the vector lettering as a Smart Object and used this process to create the silver texture:
Select layer contents
Contract selection by 1 or 2 pixels
Create new layer
Fill the selection with a black gradient
Add Noise filter to gradient
Lower the gradient layer opacity
The result was pretty decent after only a few minutes work, so I determined the project is a success, and shared it on social media.
My next lettering project will be the cover of my upcoming book "The Human Centered Brand", and I can't wait to share that with you!
If you'd like to see another step-by-step lettering process, check out my previous posts:
You can also see a selection of my lettering projects here.
---
Some blog articles contain affiliate links to products on Amazon. I'll get paid a few cents if you buy something using my link, and there's no extra charge to you.
---
4 responses to "Step by step hand-lettering process: "Moonlight""