I realized I haven't shared any of my creative processes in a while, so I decided to share some work-in-progress photos of my latest watercolor painting.
This is not intended as a how-to by any means and I'm not describing every step in detail, but I hope it will still provide some value to you.
The backstory
This illustration is a remake of a digital painting I did back in 2006. It was one of my first digital paintings ever, and well… it looks like that. (If you're very curious, I still have it on my old deviantART account right here. I'll wait here until you stop laughing.)
I liked the concept of this nostalgic, fairytale-like scene in the woods with warm pastel colors and an Art Nouveau aesthetic. It's been on my mind a lot, I just never made the time for it.
Sketching the new drawing
In 2013 I did a sketch of the scene again, hoping that with the new drawing & painting skills I've gained in the meantime, I will be able to improve it. As you can see from the photo, I used a red lead mechanical pencil for the sketch, one of the staple tools in my sketching toolkit.
Scanned and cleaned up a bit, the sketch looks like this:
I used the good old "poor man's light table" window transfer method to copy the sketch onto a sheet of 180g watercolor paper. (In case you're not familiar with this, it means I tape the sketch on a window glass, place a clean sheet of paper over it, and trace the lines. I included a photo of that in my post Komfor band logo design process.)
The pencil sketch looked like this:
And that's how the sketch remained for about a year. I was swept away work other work, and totally forgot about it.
What motivated me to complete it now was a project for which I agreed to provide an original painting for sale. With a deadline over my head, I got to painting! (I wrote about how to use outside accountability to push yourself to complete work you've been putting off, so check out that post for more info.)
Watercolor painting process
I started by applying the masking fluid to the edges of the page, and also protecting details like the bird, the lady and the leaves. I'm really new to masking fluid, and I've been doing most of my work without it until a few months ago. I must say I really like it, because it allows me to apply really broad brush strokes to the background without fearing I'll ruing the details.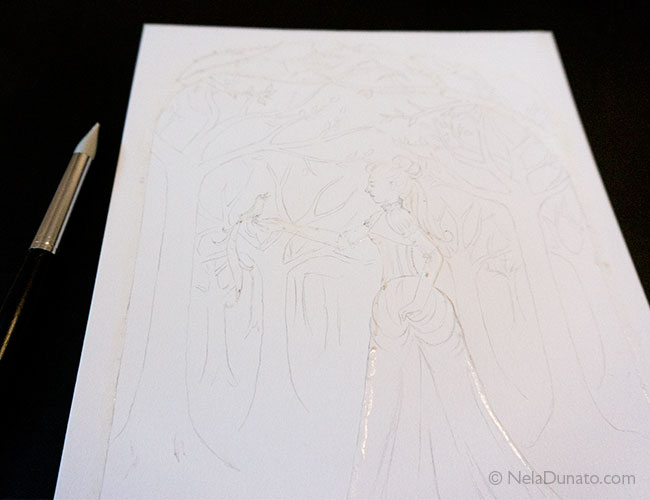 Drawing with masking fluid, and the rubber shaper I use to apply the fluid
While the fluid was drying, I decided to make some color thumbnails to pick the palette for the painting. I painted the tiny sketch in Photoshop, duplicated it and played with various color settings to get a new variation. I did a couple of them, and decided for the one on the far right.
This digital thumbnail sketch gave me a pretty good idea about which paints to pick for my palette, and how to make it all look unified. For example, I used crimson red, quinacridone magenta, burnt umber and payne's gray in varying rations in both the dress and the trees in the foreground, and I used the same permanent orange, yellow ochre and raw umber in the leaves, bird and the lady's hair. Even though the trees look brown, and the dress looks dusty pink, they look like they belong to the same whole.
I started by applying light washes of watercolor paint to the backround. First I added a very light greenish-gray wash over the entire painting, and then I added areas of stronger color to the sky, grass and trees.
Next, I added more intense tones to the trees. I removed the masking fluid from the lady and the bird, and added light washes of paint to the skin, dress and hair. You may notice that hair also looks pinkish at this point.
Before I removed the masking fluid from the leaves, I added another wash of deep green tones to the grass. Then I removed the masking fluid and started adding yellow-orange tones to the leaves, and also painting the hair highlights with them. I started adding some shading to the dress and skin.
I the focused on the dress and added even more shading, as well as the hair and face. I also darkened the foreground trees a bit more, and painted the bird in vibrant yellow-orange, echoing the leaves.
When the painting dried, I removed the painter's tape and remains of the masking fluid. I moistened the back of the painting and left it overnight under a huge, heavy book, sandwiched between paper towels, so it completely flattens the warped paper.
In the end, I was pretty pleased:

"Sing Me of Better Times" by Nela Dunato © 2016. Watercolor on 21x30cm 180g cold-press watercolor paper
I hope you enjoyed this little peek over my shoulder! If you'd like me to share more of my process shots or how-tos, let me know what you're most curious about, and I'll make sure to take photos or film it on video for next time.
Update: I now have a video series where you can watch me draw and paint from start to finish!
Here's a few watercolor episodes:

---
Some blog articles contain affiliate links to products on Amazon. I'll get paid a few cents if you buy something using my link, and there's no extra charge to you.
---
4 responses to "Painting process: Sing Me Of Better Times watercolor painting"