Sketching on the go is my favorite pastime, and I have the perfect portable sketching kit for every occasion. From the lightest most minimal everyday kit, to the "art studio in a bag" I take when I travel, one of these five kits goes with me literally everywhere.
About 6 years ago I wrote a blog post What's in my sketching toolkit? where I've shared my favorite sketching tools at that time—it's interesting to see which ones had remained with me over the years.
Timestamps:
00:13 Minimal sketching kit
04:14 Basic sketching kit
07:02 Watercolor sketching kit
15:16 Study sketching kit
23:37 Travel sketching kit
The following summary contains all the materials I've mentioned in the video.
1. Minimal sketching kit
This is the kit that I take with me whenever I leave the house. It's small and lightweight, so it fits in any of my purse, or even in the pocket of my jacket. It consists of one pen, one pencil, one sketchbook.
This minimal kit is enough to sketch and doodle something if I get bored, but even if I don't use it, I haven't wasted a lot of space on it, and what's even more important, weight. This kit is lighter than my wallet.
Art supplies I've mentioned:
(Amazon affiliate links. I'll get paid a few cents if you buy these art supplies using my link, and there's no extra charge to you.)
2022 update: I switched out the Pilot Metropolitan fountain pen for a vintage Pelikan 140 with a semi-flexible gold nib. I shared more info about that pen in my article on sketching with fountain pens.

Mermay day 26 – Pentel brush pen in a Talens 12x12cm sketchbook. Sketched as I was traveling with minimal art supplies.
2023 update: I got a new bookmark pencil case that fits an A5 sketchbook and can carry up to 4 pencils or pens. I switch the contents all the time, but usually I'll include both a fountain pen and a brush pen. You can see the pencil case in this short video:
2. Basic sketching kit
When I know I'll have time to sketch, for example I have a break in between meetings, or I'm attending a conference where I'll be sitting all day long, I take a different sketching kit that allows me more variety.
My all time favorite sketchbook is the Canson ArtBook Universal in A5 size which has 112 sheets (that's 224 pages), so these last me a long time, and so far I've filled out 4 of them. Because they have so many pages I use them for everything: drawing, sketching, doodling, but also writing notes. So it's an all-purpose sketchbook for everyday use.
To write with, I bring a pencil case containing an assortment of pencils and pens in my favorite colors. Currently this pencil case contains:
Depending on my mood, I might replace some ink pens with a few watercolor pencils. But this is basically what I've been using for the past few years with small variations.
2022 update: As above, I switched out the Pilot Metropolitan fountain pen for a vintage Pelikan 140 with a semi-flexible gold nib. I shared more info about that pen in my article on sketching with fountain pens.

Animal sketches with Pentel brush pens in a Canson Universal A5 sketchbook
3. Watercolor sketching kit
I often sketch on the beach, in local parks, or museums. Sometimes I meet with friends and we go sketching together. In that case I'll bring either my watercolor kit or my study drawing kit.
The sketchbook depends on how much weight I want to carry. If I want to keep it light, I bring a tiny one like this Hahnemuhle A6 sketchbook which comes both in landscape and portrait format. Before that I used the Moleskine A6 sketchbook, which was also pretty good.
If I'm willing to bring something heavier, then it's usually an A5 size sketchbook with watercolor paper. I don't have a favorite brand, these were just the sketchbooks was able to find in local stores, and the choice is not that great where I live. I prefer hardbound to spiral-bound because the pages smudge less.
Art supplies featured in my red pencil case:
People keep asking me about the red 4YOU pencil case! It truly is an ideal pouch for my needs, it was a lucky find in a local Muller store. I was able to find one on Amazon.de, and some German-only stores as well, including the German Ebay. I doubt you'll find this exact pouch outside of Europe, though.
2023 update:
4. Study sketching kit
This is the kit I take to the museum, or any place outside of my home where I plan to sketch people or animals. The focus is not so much on having a variety of colors, but on ease of use on the go—something that won't crumble and leave a lot of dust on my clothes.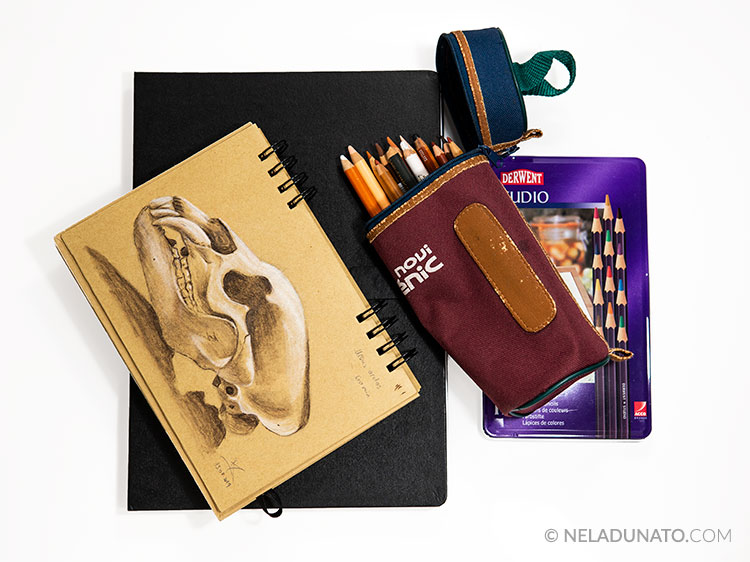 Art supplies I've mentioned in the video:
Sketchbooks I've shown in the video are Canson 180° ArtBook Universal in A4 size size and Hahnemühle Kraft in A5 size.
2022 update: I bought a beautiful pencil roll of Faber-Castell Polychromos, I wrote a short review of them here. I haven't taken them on a study sketching session yet, but they're my main color pencil set now.
5. Travel sketching kit / Portable art studio
I take this kit with me on weekend trips or vacations when I don't have to worry about weight too much. It provides a decent balance of flexibility and portability, and it contains materials that I'm currently using most often (this varies from time to time, so what you see in the video is a snapshot at a specific point in my life).
It contains everything from my watercolor sketching kit (see #3 above), plus a few additional tools:
I usually pack 2 sketchbooks—one watercolor sketchbook and one "workhorse" sketchbook for pencil and ink, doodles, and writing notes.
What's in your sketching kit?
Feel free to share your favorite sketchbooks, art supplies, pencil cases and bags in the comments!
I love learning what other folks are using in their art, especially if you have any clever tricks that you learned from your experience of working on the go.
More sketchbook videos