Welcome to another installment of the Sketchbook Adventures series! If you missed the first one, it's right here: Sketchbook Adventures: Summer Lettering Fun.
Today I'm sharing a video of my art creating process in my sketchbook using ink and watercolor, from sketch to finish.
The video is at 10x the normal speed, and the actual drawing took over an hour. Some parts got cut off because my camera can only film 30 minute long videos, and I didn't notice when it stopped filming – sorry about that!
Tools I use in the video (affiliate links):
This drawing is one of the series of mermaid-themed sketches I did during the summer.
It all started with this doodle I did on the beach while I was on vacation:
I used the same technique I show in the video, with a few details I added on top using a white gel pen.
I really liked how this first one turned out, so I prepared the watercolor wash page for another one. I usually do this in advance because it takes a while to dry, so I can jump straight into sketching when I'm inspired.
This was the second one in the series:
After I completed that one, I decided to film the third one so I can share the process video with you!
After the third one, I was officially hooked.
The fourth one I also sketched while on the beach. I ran out of ink just toward the end, so I added more details to the hair when I got home and colored it the following morning. I have both the before and after photos so you can see what my line-art looks like before coloring: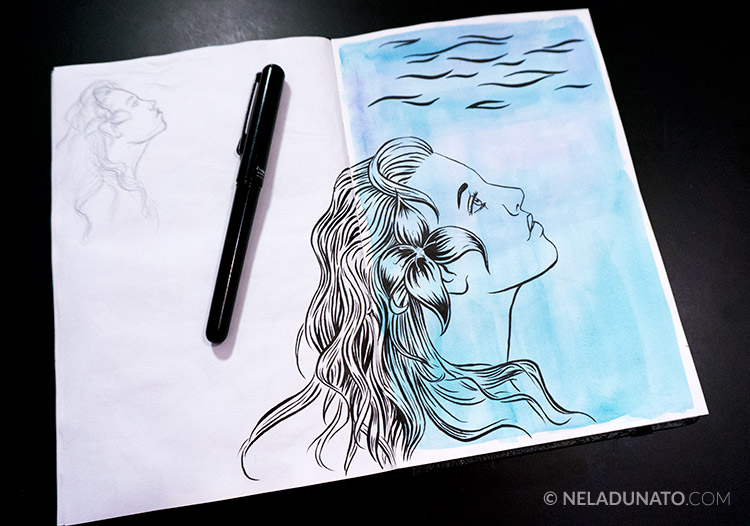 This is my favorite one in the entire series, and at the moment of this writing, it's featured on my homepage.
The last one is a more classic view of a mermaid. The idea was dictated by the background, since there appeared to be a clear line between the darker shades of blue "sea" and lighter "sky", which I emphasized with the additional layers of watercolor.
After this, I didn't have the drive to paint any more blue backgrounds, so I moved on to other themes.
Why mermaids?
I usually don't put too much thought into what I'm drawing, I just doodle what comes to mind – sometimes it's fantasy creatures, sometimes it's dark and gory, sometimes I choose to draw what I see in front of me.
I suppose the environment (hanging out near and in the sea) made me get into the "water element".
Also, watercolors as a medium lend themselves well to portraying water, so as I've been making these, I started enjoying them even more.
We could also find psychological reasons why these ladies all live deep in a body of water, some appearing content with their environment, and some gazing up toward the surface… but I don't want to get too cerebral about that and ruin the mystery. The healing processes that need to happen happen on their own, through the act of creating art.
Have you taken your sketchbook for a trip?
If you're a sketchbook addict as well, I'd love to hear where you spent your vacation, and what inspiration you've noted on the way.
If you're still not using a sketchbook on a regular basis, make sure to read my blog post Why I Think Every Visual Creative Should Keep A Sketchbook where I explain why and how to start a sketchbook practice.
Curious about my sketching tools? Check out this post about my sketching kit that goes into more detail about what I use.
P.S. Now there's also a Sketchbook blog category available, so you can see all my previous posts about this topic in one place. It was about time!

---
Some blog articles contain affiliate links to products on Amazon. I'll get paid a few cents if you buy something using my link, and there's no extra charge to you.
---
2 responses to "Sketchbook adventures: Aqua Ladies sketching process video"