Occasionally I like to feature bits from my sketchbooks, and today I want to share another series of lettering pieces. It's been awhile since my last lettering post, so here's some new work I did in the meantime.
To mark my sabbatical from social media and blogs, I created a lettering piece of the word "Unplug". I actually did this one live on Periscope, with people watching and asking questions. (That was a lot of fun, but I'm not sure if I'll do that again.)
I then scanned and vectorized the piece, making little tweaks so that the letters look more uniform, and laid it over a photograph of Lake Lokve in Croatia. I published this image on my social media accounts to inform my followers about the sabbatical.
This is a quick piece that I vectorized and used in a blog post When your passion becomes a chore. I'm pretty pleased with the little heart detail on the letter O.
I usually do freehand brush lettering, but I wanted to experiment with different styles of letters. This one is more constructed and even. I used it for my blog post How to bring back the passion – 5 key conditions for fulfilling creative work.
Another lettering piece intended for my blog. I'm really fond of the swirly TI ligatures.
After scanning and vectorizing the ink drawing, I created a composition in Photoshop using photos of my sketching tools and watercolor splatter scans, and placed the text on top of that. It looks almost realistic. I used it for a blog post 15 ways to infuse creativity into your boring business tasks.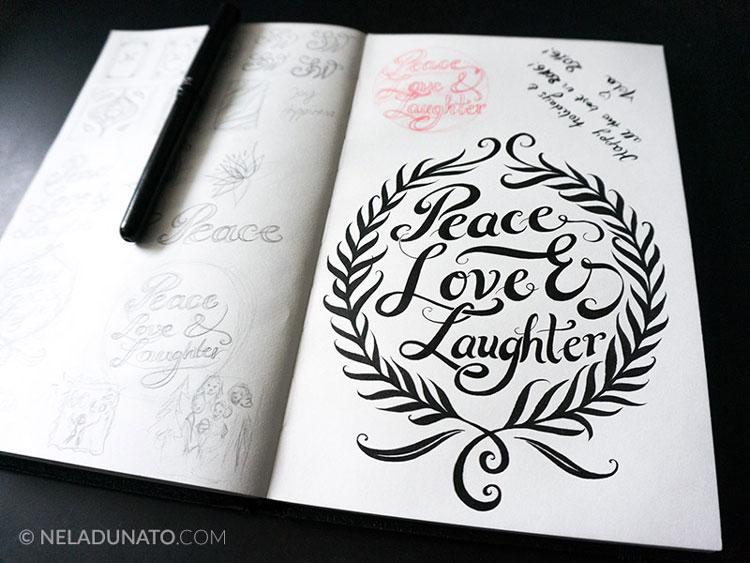 I try to create an original greeting card for my clients every year. Last year I used a drawing, and this year I decided to create a lettering piece featuring the qualities I wish for others.
I placed the finished vectorized design over an edited photo of the snowy forest on Platak, Croatia that I took last year.
Savarakatini is a logo project for a client. I started with pencil sketches, and I re-created the letter forms in Illustrator, and then tweaked them until the logo looked harmonious and balanced.
The final logo looks like this:

See more project graphics in my portfolio
 
I'm a fan of the TV show "The Expanse", and this was one of the quotes that stood out for me and I wanted to illustrate it. The letter shapes are based on the series' logo, and I invented the missing letters in a similar style. It's good to take a break and do things just for fun, without any purpose.
If you need a logo design, a poster, a book cover or some other hand-lettering project, check out my services page for more information about my rates and my process.
I'm taking a very limited number of projects this year, so if you'd like to work with me, get in touch soon!

---
Some blog articles contain affiliate links to products on Amazon. I'll get paid a few cents if you buy something using my link, and there's no extra charge to you.
---
4 responses to "Sketchbook Adventures: Hand Lettering vol. 2"