Every now and then I develop a new creative obsession, and it takes over my life. My latest obsession has been blackletter calligraphy.
I've finally unpacked my Pilot Parallel 6mm pen* that I've bought 3 or 4 years ago, and haven't used since. I also have a smaller 2.4mm pen that I didn't enjoy using very much. But this large pen is much different – I love every second of using it.
My only beef with it is that the supplied inks are not waterproof and run out very fast, so I've been experimenting with some of my bottled inks. (This is not recommended, since ink meant to be used with dip pens and brushes can clog up a fountain pen, but I've been extremely diligent with cleaning it, and never let the ink settle in the barrel for more than a few hours.)
The first few days I've just spent hours writing Gothic letters on scrap paper. I'm not sure what to do with all this paper, since it looks so good I don't want to throw it away. Perhaps I'll reuse it for some mixed media project in the future. (It would be much easier to do that if the inks were waterproof.)
In my pile of scrap paper I've found a skull sketch that I did years ago (probably circa 2008, maybe before that). So I thought, what's more appropriate to write over a skull drawing, than the word "Death" in a dozen different languages?
Seeing how transparent colored ink looks over graphite, I got an idea how I could use this technique in more art. One idea that crossed my mind is drawing facial tattoos on portraits. I wanted to test how this will look on a small scale project before committing to large A3-sized drawings.

"Technovirus" – graphite and ink drawing
The funny thing about this technique is that it's very much reminiscent of my early drawings when I used mostly graphite with black and red ink in my personal work. (I don't have those in my gallery anymore.) I know this color combination is far from unique and I wouldn't go as far to call it my "style", but it's something I've been continually circling back to.
The facial tattoo ornaments took a life on their own and I've done 8 full pages of ornaments looking something like this:
I intend to eventually turn them into vectors and offer as stock.
The third direction my explorations took is mixed media art journal pages.
Essentially, I've had a few pages in my sketchbook that were painted with watercolor backgrounds, but I've never done anything with them. So I decided to write with colored ink over these pages and layer watercolor, ink and watercolor pencils and see what happens. The results were pretty interesting.
These inks are supposedly waterproof (it says so on the bottle), but I've learned the hard way that they're actually not. If I go over them with ink or water, they start to melt and mix with surrounding color, which results in pretty cool effects.
On the other page, I've also added some dip pen writing with India ink. I like how it turned out.
I'll probably use these as backgrounds on blog post images and quotes, because the textures that happen accidentally are just amazing.
Another thing I've tried is doing some doodling and calligraphy with red ink, and then using that as a background for the top layer of doodles and writing in sepia. It's not a work of art, but I've enjoyed it nonetheless.
This gave me an idea to try a different approach with mixed media, one that I've seen done a lot with acrylics. (Since I don't enjoy splattering about with acrylics so much, I've never tried it before).
First I wrote some words with red ink. Then I covered them with orange, blue and violet transparent ink. (The orange is not a color I tend to use in paintings, so the color combination looks pretty weird and "too colorful" for my taste.) The words themselves got feathered, so you can't make them out, they only look like random red shapes.
I did more random effects by dropping water over ink and wiping it off. After it has dried, I drew a dragonfly and a butterfly shape over the page where the colors will show through, and covered the rest in black India ink.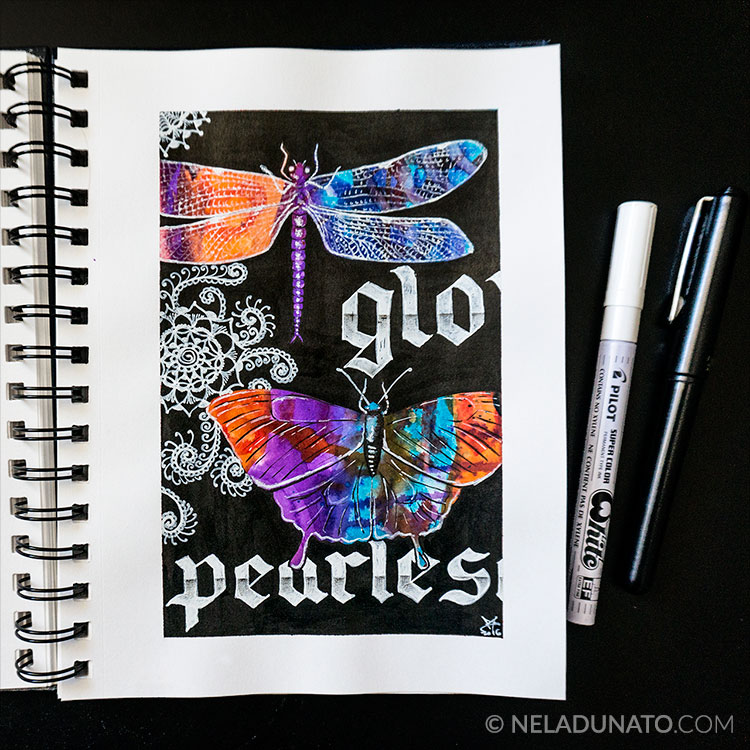 The resulting image looked too simple and uninteresting with all that black, so I took my white Pilot marker and drew some more lettering and lacy decorations over it. In the end, I was pretty content with how it turned out. It's a healthy combination of random and abstract, with what I really enjoy doing in art, which is precise detail and figurative drawings.
With so many different directions to continue trying out, I have no idea where this will take me, but I thought it would be fun to share this as it's happening, and before I've made up my mind about what it means.
All the work I do today for my clients started off as creative experimentation, and I love how this allows me to evolve my work in an organic and fun way.
Want to read more?
To see more of my sketchbook adventures and sketchbook flip videos, check out more posts here.
To learn more details about the mixed media techniques I use in my work, read my article: My 6 favorite mixed media art journal & sketchbook techniques.
---
Some blog articles contain affiliate links to products on Amazon. I'll get paid a few cents if you buy something using my link, and there's no extra charge to you.
---