As a hoarder of art tools and stationery (I mean professional creative tools), I frequently dip into creative obsessions that last until the novelty wears off, and I purchase yet another new tool. Lately it's been going on with fountain pens, which are my new go-to note taking and doodling tool.
In this post I share why I switched from ballpoint pens to fountain pens, which pen models I've bought so far (there's quite a few), and my impressions of writing and sketching with them.
Why I'm switching to fountain pens
Awhile ago I found a post on Facebook with tips on reducing plastic waste by switching to multi-use instead of disposable products, or at the very least products packaged in metal, glass, paper, or recycled containers. One of the tips included using fountain pens instead of ballpoint pens.
I used a lot of ballpoint pens. There was one in each bag, and a couple more in my office. (I especially loved multi-colored ones.) I don't dare to even count how many pens I've thrown into the trash over the years. Confronted with this realization, I decided to switch to fountain pens for good.*
* Big caveat: I still use white gel pens, because that's the only portable tool that makes thin, opaque white strokes. I haven't managed to give them up yet.
Soon after I realized I wanted to switch, I met a writer who is a fountain pen enthusiast. Through her I discovered there's a vibrant community gathered around fountain pens. I dove into online research and browsed through local stores in order to find the best pen for my writing and sketching style.
And so my descent into the fountain pen rabbit hole began…
How I got from two to nine (!) fountain pens in three months
I had two Pilot Parallel calligraphy pens for a couple of years. Wide as they are (2.4mm and 6mm), I didn't perceive them as writing pens, but for the sake of accuracy I'll let it be known that these two were my starting point—apart from those, I had no other fountain pens.

My current collection of affordable fountain pens. Writing samples closeup is posted below.
Before splurging on new ones, I tried to locate old pens I used in elementary school. My was only able to find a no-name pen I didn't recognize, and I started using it. It's fine, dry, scratchy, and heavy (made entirely out of stainless steel), but it served me fine in my early tests.
Next, I went into a local stationery store with a gift card to spend, and found that they carry two german brands, Lamy and Online. I heard good things about Lamy Safari and Al-Star, but couldn't find a single one with an extra fine nib. I chose a black aluminium Online Vision instead which came with a (so called) extra fine nib. I also got a converter and a couple of bottles of cheap Pelikan 4001 ink so I can avoid disposable cartridges altogether. The Vision was quite nice, but still too thick for my taste. OK for writing and taking notes, but I didn't like it so much for sketching. It sits in a box now, I'll probably give it away.
I looked to Japanese brands which feature thinner nib widths, and decided to get a Pilot Metropolitan, the most popular pen under $15 USD. With their thin fine nibs, aluminium body, and a nice range of colors, it seemed like the perfect pen for my taste. When it arrived and I tried it for the first time, I was enamored. It was gliding across the page with little effort. The fine line was as thin as I wanted it to be. I wasn't super happy with the ergonomics and the color of the pen which leaned towards brick red, but it was a cheap one so it's fine. It seemed like I have found my perfect pen and would not buy any more…
…until I got greedy for flex.
Being a hand-lettering and calligraphy lover, I got interested in flexible nibs for cursive writing. I enjoyed cursive writing with a dip pen, and wanted to see what it's like to write with a flexible fountain pen. According to my research, Fountain Pen Revolution is a brand that offers the most flex for the buck. I bought their Himalaya pen in Sindoor Red body color with an ultra flex nib upgrade for a total of $42 USD (plus shipping).

Fountain Pen Revolution Himalaya pen with ultra-flex nib and Pelikan 4001 Violet ink.
This is a super fun pen to play with and wonderful for calligraphy practice, but not something I would use daily. At its thinnest it's just like the Online Vision EF, but so much wetter and drinks up ink very quickly. I need to wait a while before flipping the page, which makes it impractical for writing notes. It also requires better quality paper in order not to feather, while my other pens can write on most papers without any issues. But the cursive and the flourishes look amazing, and I'm really happy that the flex nib has lived to my expectations.
Fountain Pen Revolution adds a free cheap pen to each order over $25, so alongside my fancy Himalaya I also received a transparent plastic (aka "demonstrator") pen called Muft. While I didn't need it, having an extra one to fill with different color inks is useful. This pen writes nicely, but has an unpleasant synthetic smell.

Fountain pen writing samples on 200 gsm copy paper.
Ink used: 1. Pelikan 4001 Brilliant Black. 2. Pelikan 4001 Violet. 3. Pelikan 4001 Brilliant Black. 4. Pelikan 4001 Violet. 5. Pelikan 4001 Brilliant Red. 6. Pilot Mixable Colour Black. 7. Pilot Mixable Colour Blue Black (diluted with water). 8. Pilot Mixable Colour Red. 9. Pilot Mixable Colour Red.
During all this pen and inks research my interest in calligraphy was revived, and I bought the remaining two sizes of the Pilot Parallel pen so now I have a full collection. This brings the total number of my pens to nine—five regular writing pens and four calligraphy pens.

Free-form italic calligraphy with a 3.8mm Pilot Parallel pen
That's the story of building my lovely fountain pen collection. I think I'm done shopping for pens for a while… Though the thought of another Pilot with a "stub" nib for even smaller italic cursive is appealing.
Update: A few weeks after writing this I gave in and ordered a Pilot 78G with a B nib. It's wonderful and now I write most of my notes and greeting cards with it. You can see samples of my writing with this italic pen in my 2020 "graphic essays":
2022 update: I added another vintage pen to my collection which is now my main sketching pen. I've added more information about this pen towards the end of this post.
Writing with fountain pens vs. ballpoint pens
Switching to writing with fountain pens was easy and I don't miss writing with ballpoint pens at all. Since I mostly write with fine nibs and I'm right-handed, smudging or bleeding was less of an issue. I just need to be more careful with pairing different pens, inks, and paper since in some notebooks some of the ink in some of the pens will feather or bleed through.
I think my handwriting looks nicer with fountain pen ink than it does with any fine-liner, ballpoint pen ink, or gel pen.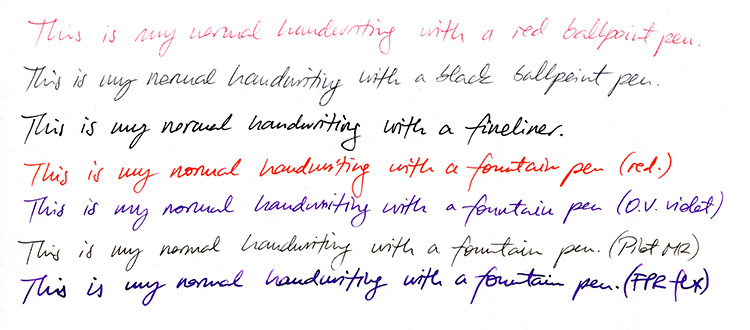 My handwriting as of early 2019 — a mix of script and printed letters. We'll see if I can turn it into a nicer script in a year.
Sketching with fountain pens vs. ballpoint pens & fine-liners
This was less straightforward than I'd like. Back when I started sketching regularly during my university years, I used a ballpoint pen daily. I liked them because my pen drawings didn't smudge as much as graphite drawings, but I also learned to appreciate their texture. Getting gradual shading was easy with a pen like the Pilot Better Retractable Fine, my all-time favorite. I didn't use any pencil outlines—I would only use a pen, and the initial construction lines would be barely visible in the end. I liked that a lot.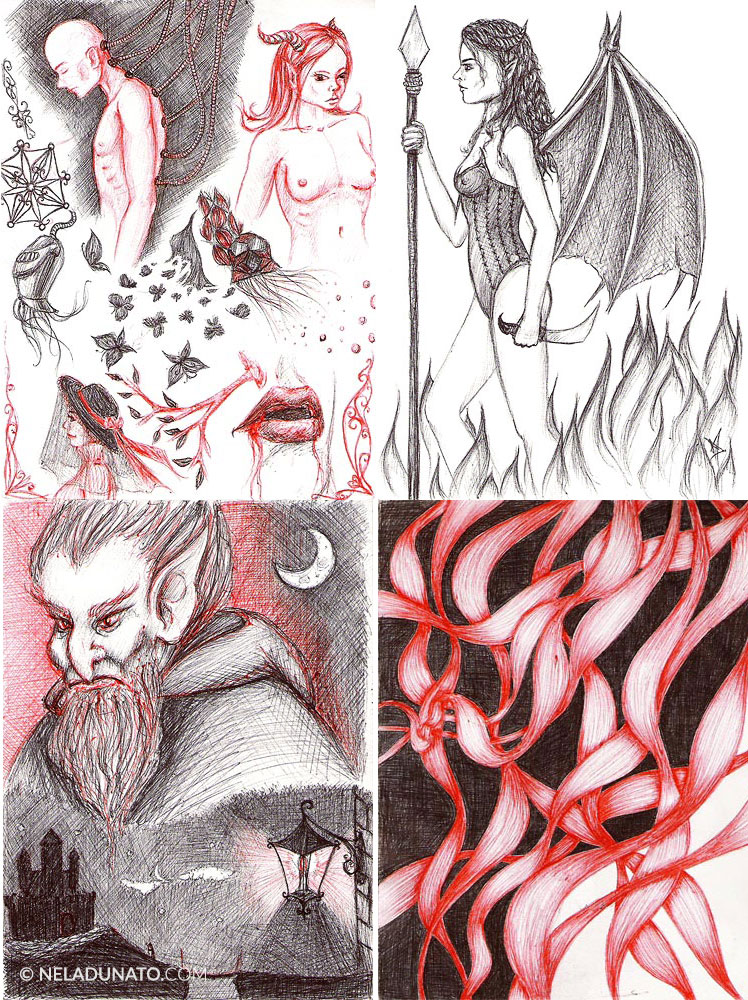 My ballpoint pen doodles from 2005
Fountain pens can't emulate the most delicate of lines made by ballpoint pens, nor can they achieve pencil-like tonal variation. They're more similar to fine-liners, and shading can be achieved through hatching, stippling, scribbling and washes. That's not bad, but it will take some getting used to.

Pilot Metropolitan F & Pelikan 4001 Brilliant Black ink in a Handbook Journal
So far, almost every sketchbook I tested can easily handle fountain pens since I mostly use those that work well with ink. My favorite one is the Canson Art Book Universal (I wrote an entire post about it), and the paper in it is perfect for both dry and wet pens. You'll see many examples of drawings from this sketchbook below.

Pilot Metropolitan F fountain pen & red Pentel brush pen in a Canson Art Book Universal sketchbook
Since I can't achieve subtle gradients through delicate hatching as I would with ballpoint pen, I started experimenting with other forms of shading, and creating more expressive drawings with lots of wobbly lines, instead of clean, precise lines.
What I loved about ballpoint pens is that I didn't have to use a pencil to sketch out the outline beforehand. What if I didn't use a pencil before sketching with a fountain pen too? How would my drawings change if I didn't know for sure what the right move was? I let myself experiment and use texture to cover up the earlier, exploratory lines which were "incorrect" and it resulted in quite different drawings than I usually make.

FPR Himalaya ultra-flex & Pelikan 4001 Brilliant Black ink in a Canson Art Book Universal sketchbook

Pilot Metropolitan F with Rohrer & Klingner Verdigris and FPR Himalaya Flex with Rohrer & Klingner Solferino ink in a Canson Art Book Universal sketchbook
Fountain pens & watercolor (and other wet media)
Ink wash
Since most fountain pen ink is water-soluble, combining a line sketch with a wet brush can have a nice effect, similar to that of a water-soluble pencil. I started using this technique when I want to carry the lightest possible sketching kit: just a sketchbook, a fountain pen, and a waterbrush.

Pilot Metropolitan F & Pelikan 4001 Brilliant Black ink in a Canson Art Book Universal sketchbook (The pigment separates a bit into green and purplish gray when water is introduced.)
This effect becomes especially cool with darker color ink where more of the actual tone of the ink is revealed by watering it down, while the crisp dark lines provide structure.

Online Vision and Rohrer & Klingner Alt-Bordeaux ink in a Handbook Journal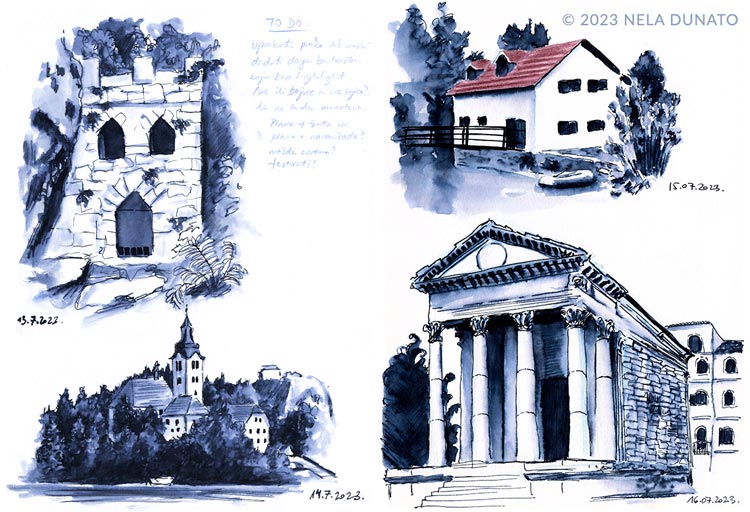 FPR Muft F with Rohrer & Klingner Verdigris ink + Derwent Inktense Shiraz pencil in a W&N hot press sketchbook. Click to see larger image.
Waterproof ink
I use waterproof fountain pen ink in combination with watercolor, brush pens, and watercolor pencils. My current inks of choice are Platinum Carbon black ink and Super5 Frankfurt gray ink. (I even switched the original ink in my Pentel Pocket brush pen with Platinum Carbon black, since it comes out 3 times cheaper.)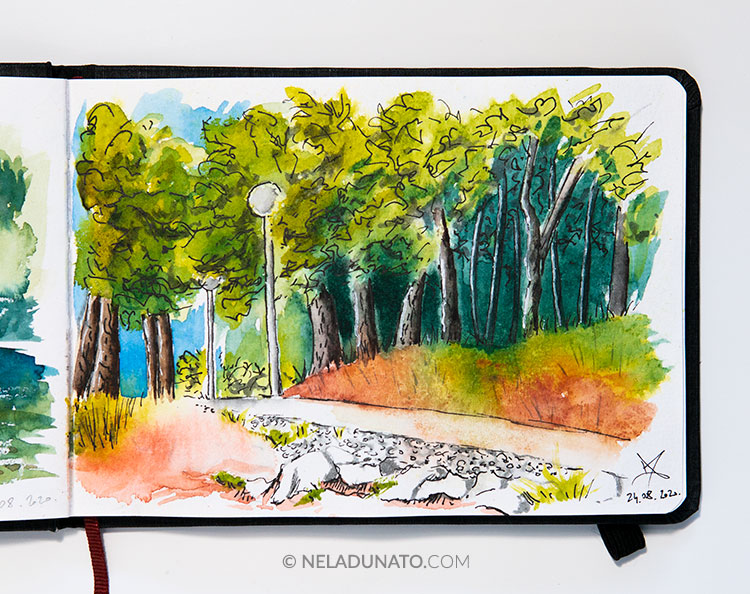 Pilot Metropolitan F & Platinum Carbon black ink with Van Gogh watercolor in a Hahnemuhle watercolor sketchbook
I like using gray outlines with watercolor because it results in more delicate-looking drawings.

Fountain Pen Revolution Muft fountain pen & Super5 Frankfurt ink with Van Gogh watercolor in a Hahnemuhle watercolor sketchbook
Flexible fountain pen vs. brush pen
I adore drawing with brush pens—they've been my absolute favorite inking tool for years. (You can see some examples of my ink drawings in my sketches gallery.) I was wondering how flexible fountain pens compare to them since some artists seem to like those.
I attempted to do a couple of drawings relying on the nib flexibility to get an expressive line—what you'd get when drawing with a dip pen. I didn't enjoy it. The nib is stiff and while it works for shorter vertical lines, when I attempt to create a long curvy line going from thick to thin or vice versa, it's a struggle. I had to turn my paper all the time so that I could create thick strokes where they should be, because unlike with a brush pen, the thick stroke only works in one direction: from top to bottom. I was much slower. Filling up large surfaces is tedious too, which you can see on the sketch below.

Not my best self-portrait, but it will do for a demo.
FPR Himalaya ultra-flex & Pelikan 4001 Brilliant Black ink in a Canson Art Book Universal sketchbook
I would not use a fountain pen instead of a brush pen. The brush pen is unparalleled in creating thick expressive lines and extreme line variation with ease, as well as filling up large dark areas. I prefer to use fountain pens for thin, consistent lines, the way I used fineliners before.
I have a very light hand, so creating thin and delicate strokes with a brush pen is not an issue for me, but these lines tend to be more wobbly and organic. If I'm trying to get a very clean line, fountain pen with a bit of flex is fine. Harder pressure can be used for outlines, and very light pressure for hatching. But varying pressure within a single stroke is difficult, and it's impossible on upward strokes. I'm not always able to rotate my sketchbook freely to use a downward stroke in all areas of the drawing, so I just don't think a flex pen makes my life any easier compared to the brush pen.
2022 update
In the spring of 2020 my partner's mom found his grandfather's fountain pens. Most of them are broken and non-functional, but the newest one among them was the Pelikan 140 from the 1960s with a 14-karat gold nib. It's a soft/springy/semi-flex fine nib, lovely to write with. (I've been told not all gold Pelikan F pens are this flexible.)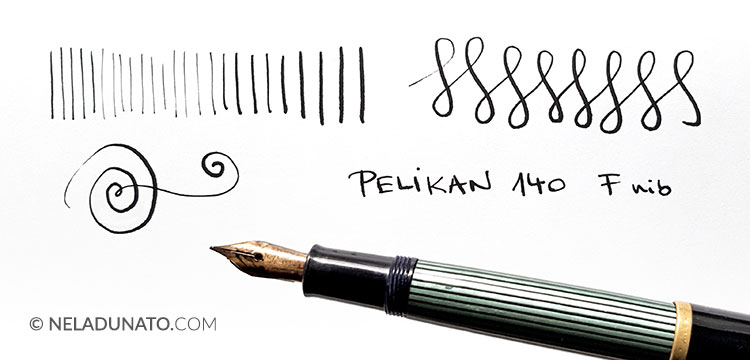 Demonstration of line variability produced by this vintage Pelikan 140 gold F pen
Recently I tried drawing with it to see if I like it more than the Pilot Metropolitan F nib. It produces a range from a very thin and dry line, up to a 1mm thick juicy line. The lightest line is skipping a bit on grainy paper, so it almost resembles a textured ballpoint pen line which I've been missing so much! It's exactly what I want for sketching.

Ink and watercolor doodles sketched mainly with the Pelikan 140 + the thickest lines with a Pentel Pocket brush pen, both filled with Platinum Carbon Black ink. (Click to see the larger image)
I definitely prefer the quality of the brush pen line whenever I depict anything organic (hair, eyelashes, branches, foliage, grass, clothes, etc). But this fountain pen is great for straight lines and precise details in small sketches. I think I've found a perfect combination that works for my style. In the above sketch you can see the faint, dry construction lines that remind me so much of my old ballpoint pen doodles. In the drawing below, I used the fountain pen for the hatching on the coat and the background, and for the uniform lines on the girl character's face.

Pelikan 140 + Pentel Pocket brush pen, both filled with Platinum Carbon Black ink
In conclusion…
Fountain pens are not the best replacement for ballpoint pens if you do a lot of gradual shading. They're a decent replacement for disposable fine-liners if you fill them with waterproof and lightfast fountain pen ink (not india ink!). Regular writing ink is not to be used in final artwork that's meant to be displayed or sold, but it's good enough for sketchbooks. Plus, the ability to use the ink wash technique is fun.
Another important thing to be mindful of is paper. Ballpoint pens and fine-liners work on any sketching paper, while fountain pens require sized paper with little to no texture, otherwise you'll get a blurry feathery mess. If your sketchbook is intended for dry media only, it will not work with fountain pens. You need to look for sketchbooks intended for ink or watercolor. I prefer those with smooth paper and lots of thin pages for both sketching and writing notes, like the Canson Art Book Universal. If you don't mind the cream-colored paper, Royal Talens Art Creation sketchbook is a good choice too.
I stand by my decision to stop buying or accepting free ballpoint pens because the sacrifice is more than worth it, and I'll be looking more into where I can substitute single-use art supplies with reusable/refillable ones.
If you're interested in learning more about my sketching kit, I created a detailed article and video: 5 types of portable sketching kits I use: watercolor, minimal, travel kit & more.
Have you made a switch to more sustainable art supplies?
How difficult was it for you to get used to them?
Do you still miss the old supplies, or is your new alternative fulfilling all your creative needs?
Do you have any tips to share?
Let me know in the comments—I'd love to hear about your experiences.
To sustainable creativity,