I take more or less regular social media sabbaticals in order to clear my mind and make more time for creativity and proper rest. Sometimes they last for about a week, and once in 2016 I took a full month. (During and immediately after that I started working on my first book. Coincidence?)
This year I didn't have a clear plan on when or for how long I'll be logged out. One day in June I've just had the thought "Enough. I need to do this now. For however long it takes." And as soon as I thought of that, I quickly typed the announcement, published it, and logged out—just like that. I was unplugged from all social media channels for over two months–from mid-June to the end of August. Here's an update on what I did while I was away…
It got so easy.
The first time I took a 9-day sabbatical I planned it in advance, careful so it doesn't coincide with any of my blogging and business plans. I was anxious about leaving my channels unattended for so long. What if someone sends me a private message and get mad that I didn't respond quickly enough? What if someone tries to reach me via my social media channels and I don't see it until it's too late?
After a few of these experiments I realized that people on social media can get by just as well without me. Even when I'm online, people sometimes send me the same message through multiple channels if I don't reply to their first message "quickly enough" (because I have turned mobile notifications off). I suppose they'll figure out they need to reach out in a different way if I don't respond.
Thankfully, my business doesn't depend on social media.
Of course social media helps and it resulted in many new friendships and business opportunities, but at this point in my career even if I lost all of my social media channels, I'd still be able to find clients with ease. I don't envy people who made social media such an integral part of their work that they can never get a break from it.
---
Take control of your social media addiction, regain your peace of mind & double your productivity.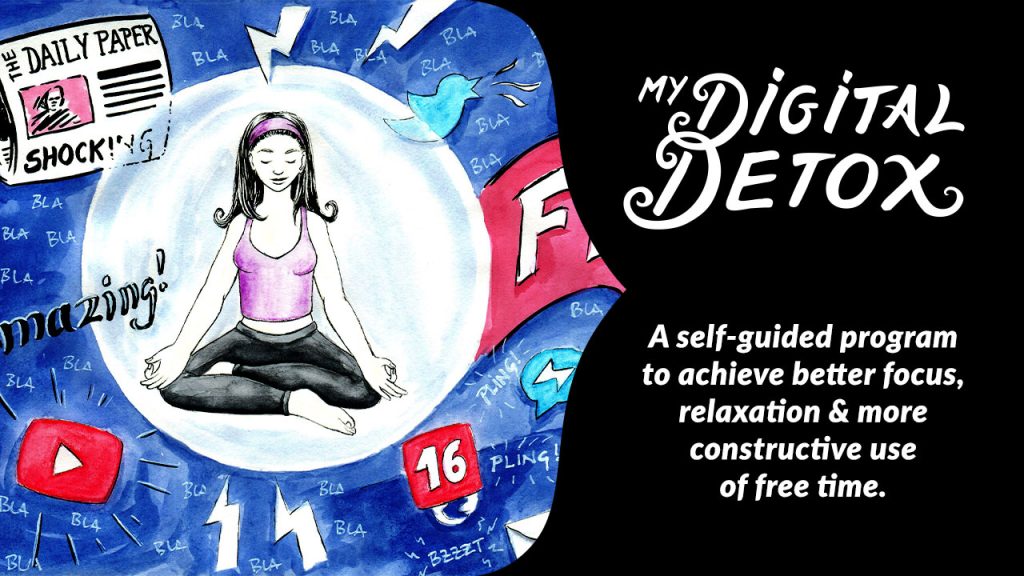 After many years of taking regular social media sabbaticals (ranging from 7 days to 2 months), I created a guide that helps you prepare for your own digital detox, avoid common pitfalls, and develop a healthier relationship with media and technology even after the detox.
Learn more about My Digital Detox Guide
---
Taking a break from social media is not deprivation.
People tend to think of social media breaks as a diet: you're not allowed to consume all of these delicious things. Like it takes a ton of discipline, and you can't wait to go back to normal. For me it's not like that at all—it's like a vacation. I get to be free of digital obligations. I get to ignore things that only clutter my mind. I get to disappear from people's attention and do whatever I want.
When my sabbatical is done and I'm about to log in again, I sigh: "Do I really have to? I wish this could go on for a bit longer."
It's not a diet, it's a special treat. Because I don't see how I could do it full-time forever (and believe me, I've thought about it a lot), I savor every minute I get because it's so rare.
So back to the subject… what did I do while I was not reading and posting on social media?
Client projects
Right before my vacation, I wrapped up two brand identity design projects, and started working on a new one, all of them for female entrepreneurs who corresponded with an elegant logo and brand identity style. It was a nice change of pace.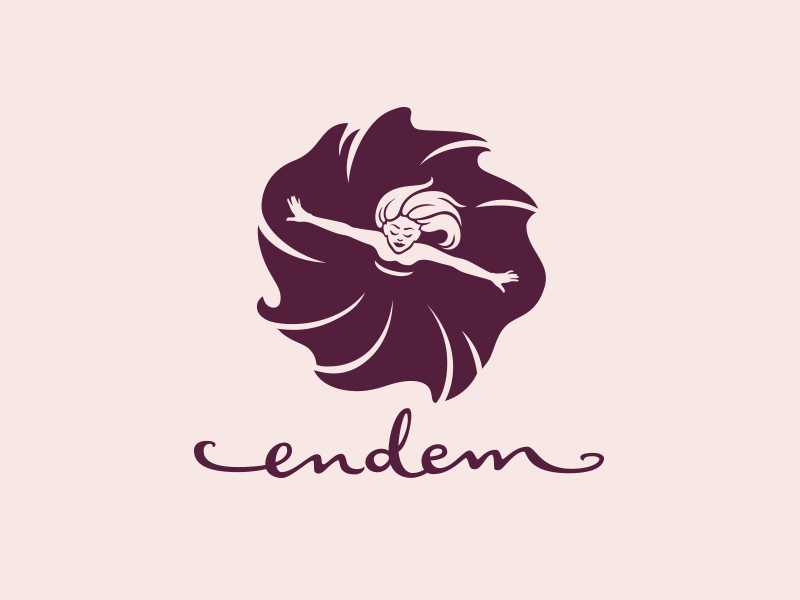 Logo and brand identity design for a fashion designer. Check out the whole project

Logo, brand identity and website design for a hospitality consultant. Check out the project
Personal art
My main goal with taking a break from social media was to "create like I used to" years ago, before I was able to take photos, film videos, and publish stuff instantly using my phone. I wanted to separate the creation part from the publishing part even more—to create space to dive deep into my practice without stopping to document every step, or worrying that I haven't posted anything worthwhile in weeks, so I need to impress my followers with my next piece.
Life & photo studies
Usually in the summer I sketch beach scenes, but after several years of doing that, now I get bored after a few quick studies. I need to keep looking for new motifs to inspire me.
This summer I challenged myself to draw more animals, and looked for opportunities to study from original material. (I don't like drawing from other people's photos if I can help it.)
One afternoon I went to our local Natural History Museum which keeps a selection of taxidermied mammals, birds, and marine animals. (Long-time readers may remember the first time I went sketching there in 2013.)
I did a longer study of a bear skull, and a couple of quicker studies of birds.

Bear skull drawing with Royal Talens Van Gogh sketch pencils in an A5 Hahnemühle kraft sketchbook
I wish they had more skulls and skeletons, but unfortunately this is the only complete skull that I could find. It's a really tiny museum with a modest exhibit.

Various birds with Derwent Studio colored pencils in an A4 Canson 180 Art Book sketchbook
During my weekends at my parents' house, I was able to take photos of flowers, cats, insects and birds, and then did some quick studies using the photos as a reference. And of course, I also did a couple of life studies of scenery.

Studies of swallowtail butterflies with graphite pencil and colored pencil (left) and a fountain statue with Pentel Art Brush pens (right) in an A5 Canson Universal sketchbook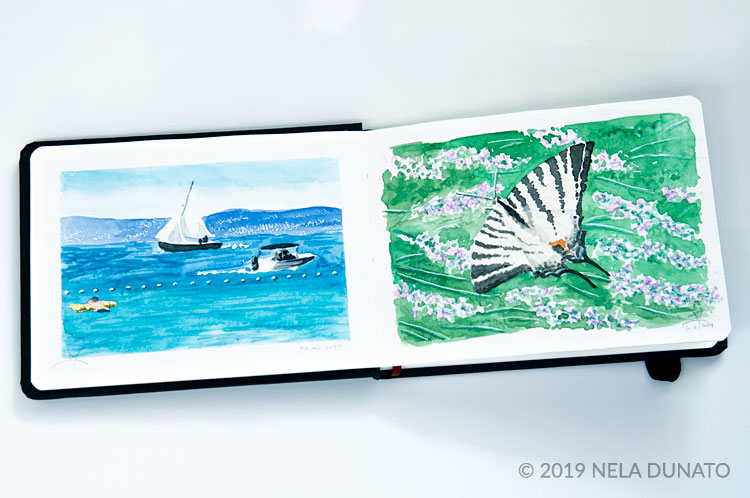 Swallowtail butterfly sketch, Van Gogh watercolor in a Hahnemühle Watercolor Book

Watercolor sketches of a moonlight cactus and a small bay, Van Gogh watercolor in a Hahnemühle Watercolor Book

Napping cats sketches with Derwent Inktense pencil in an A5 Canson Universal sketchbook
I took part in a few online classes
The goal with these classes was just to learn tips and techniques that I haven't tried yet so that I could add more variety to my experiments. I watched videos during the Make Create Express weekend retreat and wrote tons of notes on what I particularly liked from different instructors. I didn't use all of those tips yet, but I did get some ideas for future experiments.
The other class I took was The Nature Journal by Alisa Burke. I've been following Alisa's blog for a long time, but most of her classes felt "too beginner" so I never joined any. But this one sounded like a great way to expand on my nature sketching practice, so I jumped right in! I followed along with many of the lessons to break out a bit from what I usually do, and it was fun.
Here are some of the pages from my own nature journal, inspired by Alisa's techniques.

Nature journal – acrylic paints, collage, watercolor, and white Uniball Signo gel pen in a Clairefontaine Goldline A5 sketchbook
Alisa's style is quite messy (she says so herself) and I prefer things being neat and "just so" so I don't think I'll use the majority of these techniques in the future, but you need to try things out to figure out what you like. Printing with leaves was fun.
I fell in love with black gesso
In the aforementioned Create Make Express classes, I noticed that some artists were using black gesso instead of black acrylic paint. This got me curious, as I love working on dark surfaces, but I'm super precious about my one and only black Hahnemühle sketchbook and I save it for "better projects".
I usually use india ink to fill the background or my sketches black, but it's too wet for some types of paper, and white pens sink into it so I have to go over the lines twice. Black acrylic creates a plastic film, which is OK for paint markers, but not so much for gel pens or dry media. Black gouache is fine for dry media, but isn't waterproof so it gunks up my markers and pens. The solution to all of these issues is black gesso. It's waterproof, matte and slightly toothy, so it picks up both dry media and pens, and creates a gorgeous contrast to fine, opaque lines.
Now I can turn any sketchbook or watercolor paper into a black surface—even the loathsome Moleskine which I abandoned because I hated the paper so much. Here's an experimental spread I did with white gouache and different kinds of pens, pencils and crayons to test how they work on this surface:
And here's a leaf print I did in my nature journal inspired by Alisa's course:
I have a bunch of pages now covered with gesso that are waiting for inspiration to strike, so you'll probably be seeing more of it in the future.
What I didn't do
Despite thinking I should use my vacation for personal art (ie.paintings on canvas from my new series), I didn't do that. The weather was sunny and warm, and I spent as much time on the beach as I could, soaking up photons. I decided not to push making art if it's just not flowing right now. I'll write more about that in a future post.
Website update
There's several things on my list that are waiting for the best time to dive in, as these things usually end up at the bottom of the pile in busy periods.
The first thing I tackled was my design portfolio page, which looked old and sad with the tiny thumbnails and so much empty space around them. (You can still see what it used to look like on my illustration gallery, which I still haven't updated.) To a designer, the portfolio page is one of the few most important pages on a website and I needed to get my act together. Now the portfolio features a grid of large logo images across the entire page, so you can get a good look at them even without clicking on the project. I don't know why I haven't done that sooner, it took me exactly one Saturday afternoon to type a bit of code and change all the project featured images.
There's still a lot on my list, so I'll be slowly implementing new stuff in the upcoming months.
Personal time
Life is more than just working and sleeping, but with a busy schedule I had in 2018 and 2019 some things fell to the wayside. This summer I made huge progress on an office renovation project, and I caught up on some reading.
Reading for fun
In 2017 and 2018 I stopped reading books altogether because I needed to focus on writing my own book. (I did read stuff I used as reference material, but nothing outside of it.) Once my book was out, I caught up with some educational books, but I still wasn't reading for fun.
Now in the summer I finally finished some books that were on my reading list for a long time, and started reading more novels, stories and non-fiction books that have nothing to do with my work.
Home & office decluttering
When I wasn't chilling on the beach or reading books, I was cleaning up my house. For the past few months we really dropped the ball and the place was a dirty mess. So during our vacation we cleaned the place up, and then I fell into a spiral of finding more stuff to clean and declutter.
Apart from the typical wardrobe and memorabilia cleanup, I had a huge project of cleaning out my entire storage room. At the moment of writing this, my home office and storage are divided by a thin wall, and this week I'm having my dad and brother tear that wall down so my office surface will increase from 4.5 to 7.9 square metres.
Alongside the things I need (my crafting tools, papers, canvases, old paintings etc.) the storage was also full of old furniture, packaging, electric cables, and all sorts of crap that has no place in my studio.

Here's a tiny glimpse of the storage room before decluttering
I threw out several bags and boxes of stuff I kept for no good reason, and made room for some new furniture that can house the remaining of my studio equipment.

The remaining stuff in the storage room after cleaning it up
I'll show you the "before" and "after" once the whole project is done, it's going to look amazing.
Update 2023: The studio is now fully renovated, and it does look amazing!
Once I got the ball rolling, it was hard to stop so I went on with reorganizing my wardrobe, and what you can see here is a totally Konmaried sock drawer which now fits more pairs of socks and stockings than ever before. Now I know at any moment exactly how many clean pairs of each type of garment I have, which is crucial information.
That's it!
I thought I would do more Useful Things on my vacation (especially in the art and business department), but I didn't feel like it, and tried my hardest not to feel guilty that I'm not doing anything productive. I had the most relaxing and replenishing vacation in years, and I'm considering making this—the long social media sabbatical plus a month long vacation—a yearly tradition. Fingers crossed!
Tell me about your summer!
Did you go anywhere, or do anything interesting? I've missed out on all of your social media updates, so I'd love to hear about the highlights—feel free to share them in the comments.

---
Some blog articles contain affiliate links to products on Amazon. I'll get paid a few cents if you buy something using my link, and there's no extra charge to you.
---
2 responses to "What I did during my Summer Social Media Sabbatical 2019"