While the answer to this question may seem obvious to me and other designers, business owners aren't always clear on that.
I've written about this topic in a different context in my post Beginner's Guide to Visual Design Services, and today I'll focus on just the two services small business owners tend to hire out the most – logos and website design.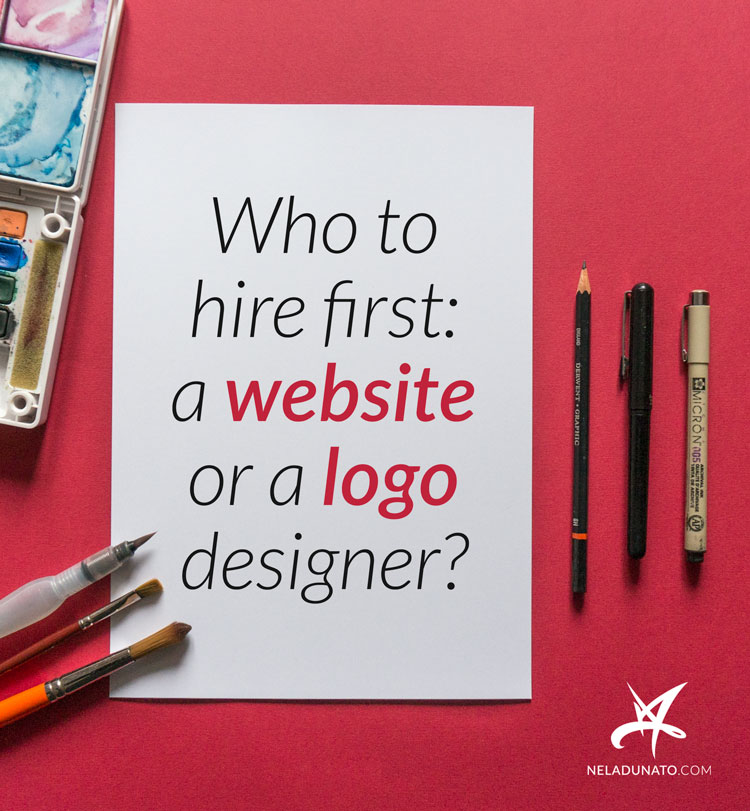 Website design vs. website development
Just to make the terms I use in this post extra clear, website design consists of creating a visual style of the website, as well as creating the website architecture and wireframes, while keeping up with the good standards of user experience and accessibility. A website designer might also be creating themes for your CMS of choice (WordPress, Squarespace etc).
Website developers primarily develop custom website functionality, or build their own content management systems. Front end developers turn visual design style guides into templates (if the designer hasn't done that).
I'm mentioning this because, depending on what you're trying to build, you might also need a developer, not just a designer, and this is independent of the topic I'm discussing here.
Many businesses don't need custom development for their website, and I wrote this article with them in mind.
I divide the evolution of every small business into two distinct stages, and here are my recommendations for each one.
Stage 1: The Bootstrapper
In the beginning of your new venture, you might not have enough funds to hire other experts. You might not even have a separate business bank account, or your offers or unique value proposition fully developed.
You're testing things, and you're still learning about what you want to do, and what your clients need. The vision of what you want your business to grow into may still be unclear.
This is the "sandbox stage" of business, and I believe that solopreneurs who are fuzzy about their business shouldn't invest a lot of money in design assets.
In fact, I'd rather recommend they don't invest any money, because it's going to be wasted on low quality work anyway. This money is better spent on learning new skills and buying assets essential to doing the work for your clients (equipment, software, office space, etc.).
Anyone can make a basic website.
Ooops, have I just put myself out of business?
Nope. Designers have specialized knowledge and experience that other people don't have, and if you want to do your website right, we're here to help.
But we're not here to just install WordPress, pick a pre-made theme and load it with content. You can absolutely do that yourself. Sure, it may not be perfect, but it will be out there, collecting new visitors, leads and clients.
If you're bootstrapping, that's exactly what you should do.
Don't obsess over your logo.
At this stage, service businesses don't need a logo.
Physical product businesses are different because they also have packaging and physical representation in stores that requires a more professional approach. Digital businesses based on apps will at least need a recognizable icon. (I've written about the utility of logos in my article 7 ways a logo can make your business better.) But for the service business, in the beginning a simple wordmark (text based logo in a easily readable font) will work.
While this won't be very good, it will do for now, when all you need is to put something on your business cards and website header.
What I definitely don't recommend is:
Designing your own complex logo
Wasting money on Fiverrr
Both of these are almost always going to result in logos that just aren't good. In the latter case, they may actually be plagiarized.
I could go into the full story why designers on Fiverrr aren't able to create quality logo designs, but for now I'll just say that good design takes time and effort, and people who get paid peanuts don't invest the time and thought required for a great logo. You might get an OK logo, or a decent logo (if it's original), but not a truly great one.
Long story short, save your money.
Stage 2: The Pro
Some of my clients choose to start off at this stage right off the bat, and it's great when people can do that – but many aren't able to until 2 or 3 years in. The signs of being in the Pro stage are:
At this point, having well designed marketing materials and all the touchpoints in your customer process will help you raise the bar, and be perceived as the expert that you are. Improving your brand and website will even enable you to raise your prices.
The first thing you need is a visual brand identity
A good logo is a great start, but without any context around it, your overall brand may still look like patchwork pieced together from different downloadable templates and Pinterest inspirations.
I prefer to leave my clients with ready-made business cards, social media graphics, document and presentation templates, as well as clear instructions on how to properly format other materials on their own called the branding guidelines.
Having a foundation of your visual brand formed before you hire out any other design or marketing services will ensure your money is well spent. This way, all the communication and products that go into the world will look coherent, consistent and professional. (More on this in my article: Save time, money & frustration in your business with a brand style guide)
Website follows the brand identity
I've seen business owners try to commission branding and website development services at the same time because they're in a hurry to launch their site, but that doesn't work well. A website should be a natural extension of the brand, and evoke the same experience that you're trying to achieve through personal touch and marketing.
If you hire different people to design your brand and your website, the website team will need input from the brand identity designer on the general visual direction – that way, the website won't look like it was designed by different people. This can only happen if the brand is finished, so website should immediately follow a rebranding project, not be done at the same time.
What do you do with a website in the meantime?
You could approach it in different ways:
You could hold off "the big reveal" of your new brand until the website is done, and do a big launch of the rebrand all at once (this is good if you don't have to wait too long on the website).
You could remove the old website and put up a temporary page with new branding (not good if you're getting sales from your current website).
You can switch the logo on the old website design and leave other things as they are, but implement new branding on all the new website content (I did this with my own rebranding project).
The latter option is also cash flow friendly, as you're not pressed to jump into a new website project sooner than you're ready.
Ultimately, hiring out website design isn't just about having it visually consistent with your brand, it's also to fix all the user experience issues that your current website has. Research has shown that user experience impacts brand perception, so getting expert help will help your bottom line, as well as your reputation. (That's a pretty sweet deal if you ask me.)
What's the next step for you?
Which stage is your business in, and are you approaching it as The Bootstraper or The Pro would?
If you're an expert consultant that's ready to look the part, check out my logo, brand identity & website design services. I'd be happy to chat with you more on how we can evolve your brand together.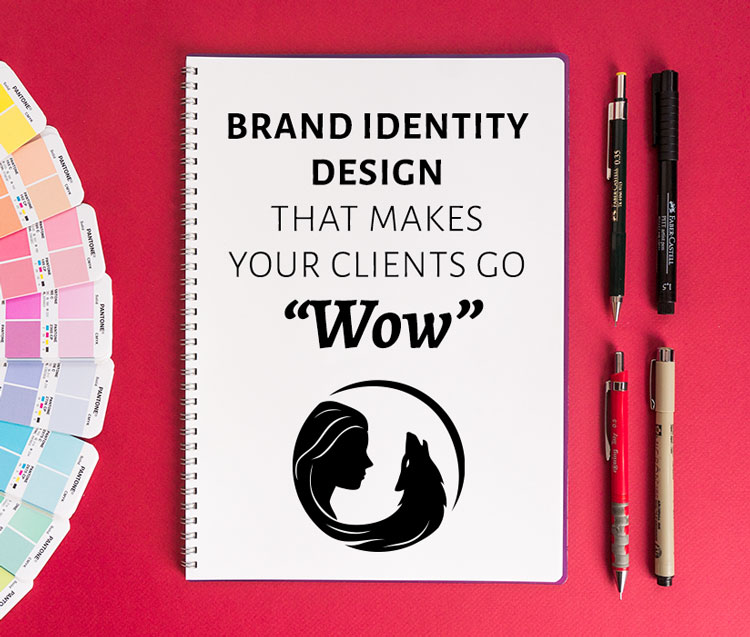 ---
Some blog articles contain affiliate links to products on Amazon. I'll get paid a few cents if you buy something using my link, and there's no extra charge to you.
---