A long time ago (about 15 years to be exact) I got my hands on a computer with an Internet connection, and unleashed my genius onto the world. I was a sarcastic little bitch opinionated freethinker, and expressed my uncensored thoughts on newsgroups, forums and later on my own blog. (Thankfully, you won't find any of that on the Wayback Machine.)
People found those posts amusing, because bitchiness is funny when it's not directed at you.
As the time went by, I grew and changed and entered the world of personal development.
I read books, meditated, observed my emotional reactions, slowed down my negative thinking and even got certified in a few emotional healing modalities. I became a better person and stopped bitching on the Internet so much. (Really, I was just too busy working my ass off to even give half a crap about all the things that are wrong on the internet.) Recently, I complained about something unrelated on my personal Facebook profile, and this seemed to surprise some people. They weren't accustomed to this tone, and had no idea what brought it up. (FYI, weeks of not enough sleep and too much work is what brought it up.)
If you happen to think I'm a nice person saying nice things all the time, I want to prove you wrong. And also possibly amuse you while I'm at it. We'll see if I've still got it.
I love personal development. I really do.
If you've been around here for a while, you might have noticed that the majority of my posts are about personal development, which may seem a bit weird for a blogger that's not in the business of selling personal development.
Except, there is a connection between what I do for a living and why I do it, which I explain in more detail here. Half of my book is all about personal development, and the other half is about business, branding, design, and that sort of stuff.
Topics of our beliefs, emotions and memories, and how they affect our ability to show up with our full creative potential are what inspires me the most. It's what I think about when I'm not thinking about work, money, relationships, chores or the impending uprising of intelligent machines.
If I wasn't a visual artist, my second career choice would be a psychotherapist. That's how much I care about the human condition (and my own condition, to be completely honest).
But those blogs.
You know which blogs I mean. You've probably read them, too. Those blogs that feature a new post every day of the week – a post that looks and feels exactly the same like the post from the day before, and if you've read one, you've read them all. Those blogs that seem to talk a lot, yet say very little. Those blogs that are listed on every life coach's sidebar under the title "As seen in".
During my battle with depression, I thought I needed more positivity and encouragement in my life, so I subscribed to a few of those blogs – all the most popular ones.
Day after day I'd try to keep up with the flood of posts. After reading through a dozen of them, I've realized it's a pile of drivel I don't have the energy or patience for. I kept scanning through them and noticed how each post follows a template that makes them so predictable and boring, and that there's so little substance in them.
I wanted to like them. I truly tried to enjoy them, but I just couldn't. One by one, I unsubscribed from those blogs, and continued my search for meaning without them. And what a great decision that was!
I didn't think about this topic until today. I didn't even care. They never crossed my radar (and thankfully, nor my Twitter feed because apparently you, my friends, aren't tweeting their stuff. Good job!)
What triggered me so much that I want to dedicate 2000 words to this now?
An epiphany. A real epiphany, not a fake one that happens after you read one of those posts.
No, it was something that stuck with me for hours after, and made me think about the question "How do we really change? How do we absorb positive influences and allow them to affect us?" I'll tell you right away, it's not through reading 7 tips to worrying less and enjoying life more.
But first, let me answer the question why I hate personal development blogs:
1. They sound actionable, but they're really not
How annoying is it when the title says "How to X", and then it doesn't actually teach you how?
All those blogs have in their writing guidelines that the posts must end with actionable steps, not just inspiring thoughts. The problem is, "actions" people suggest are almost always gigantic and vague.
"1. Question your negative thoughts.
2. Meditate.
3. Make peace with your past.
4. Write a journal.
5. Drink a smoothie every morning."
Each of these "actions" is its own huge topic that has to be deconstructed into 10 to 20 smaller steps to make it truly actionable.
Entire books have been written about questioning your negative thoughts, meditation and green smoothies. What the post is really suggesting is to go read a dozen other blog posts in order to even get a chance to get up from your computer and take action.
2. They make things appear easier than they are
Like overcoming depression, losing weight, finding a dream career, or your ideal partner. See, it's easy, just follow these 17 steps, and it will all come around.
No, it won't. These 17 steps may have worked for that one person in that specific situation, but to even suggest that this formula will fit you is borderline insane.
I cannot overstate the damage that these kinds of posts inflict. If a person tries to follow the outlined formula and doesn't succeed (because life doesn't work that way), they may end up thinking there's something wrong with them, or lose faith in any information they run into, even one that could be genuinely helpful. People start saying things like "Self-help doesn't work" because they've been burnt.
Change is hard, and while it's encouraging to read how someone has overcome hardships through a mindset shift, it's a huge stretch to suggest that "anyone can do it" if they just repeat all the things that worked for the author.
3. They sound really profound, but don't challenge you at all
Because you've heard it all before.
Popular blogs become victims of their own success. As the number and diversity of their readership grows, they feel pressured to maintain the growth (because of advertising dollars), and so they do what they think they need to do:
Publish every single day.
Limit posts to 1000 words, or people will get overwhelmed and won't read them.
Stay away from the dark and heavy topics, unless they have a happy ending.
Don't dig too deep, it has to stay palatable for the average reader.
These are some serious constraints – ones that I as a writer have difficulty agreeing to, and luckily, I don't have to because I don't need millions of readers for my "business model" to work. I can write whatever the hell I want (including criticizing other blogs).
When you're limited by a word count and what topics you may and may not cover, that presents a problem for writing things of real value on the topic of everything that happens inside your head.
And since each guest blogger only has a chance to publish one post in 6 months, they can't do a series that would allow them to go into the depth that the topic they're an expert in requires. It's not the writers' fault – I'm sure they're smart, wise and experienced people, and their own blogs may actually be way more interesting.
Big personal development blogs are fast food for your mind
Since you gotta get it cheap and fast, they can't really provide you with all the nutrition you need. But they give you a hook to keep coming back for more when you have to spend 10 minutes waiting for a bus. They make you feel like you're doing something useful, while you're not really doing anything.
Just as a diet of cheeseburgers isn't a recipe for a healthy body, a diet of popular personal development blogs is not what you need for a more fulfilling, meaningful, joyful life. I'm not saying that any kind of blogs are a requirement for a more fulfilling, meaningful, joyful life – people have found ways to be happy centuries before we even had the Internet. But if blogs happen to be your thing, there are alternatives.
Let me circle back to what I mentioned in the beginning.
The epiphany that started this avalanche
I'm in the middle of a process right now, with no idea how long it will take for me to get through to the other side (and if I ever will), and recently I've been doing some heavy lifting in the personal development arena:
Writing my butt off every single day.
Meditating.
Long walks in the park.
More meditating.
Stalking like a jungle cat for any sign of judging thoughts and hurt.
Working with the thoughts and emotions that arise, until I get to the root of them, until I realize why they're really here.
It's a full time job. It's not for everyone, and not even for me the majority of the time. But right now I'm in this process that I want to dedicate my attention and energy to, because I suspect that it will have a profound effect on my personal life and my career.
And today I've been avoiding work in favor of working on my issue of avoiding work (I call that productive procrastination), and the results have blown my mind.
I excavated so much old gunk and hurtful memories that have been keeping me back, and so much guilt that no child should ever experience, let alone carry around for 20-something years. I cried from sadness and then I wept with joy, and then I just sat there with a stupid smile on my face because my mind went completely blank. Not a single worry in the world. If this is what I get a few days in, I can't imagine what will happen in the month and year ahead of me.
This is the kind of magic that happens when you apply what you already know. When you practice what you preach. When you walk the talk.
You don't waste your time with 6 tips blog posts. You don't eavesdrop on every podcast that gets into your orbit. You don't binge-buy books from the "Spirituality" section, devour them and throw onto the pile.
There's literally no time for that. Because working on your "stuff" is work, and it takes so much of your energy, that you can't possibly keep up with all the distractions.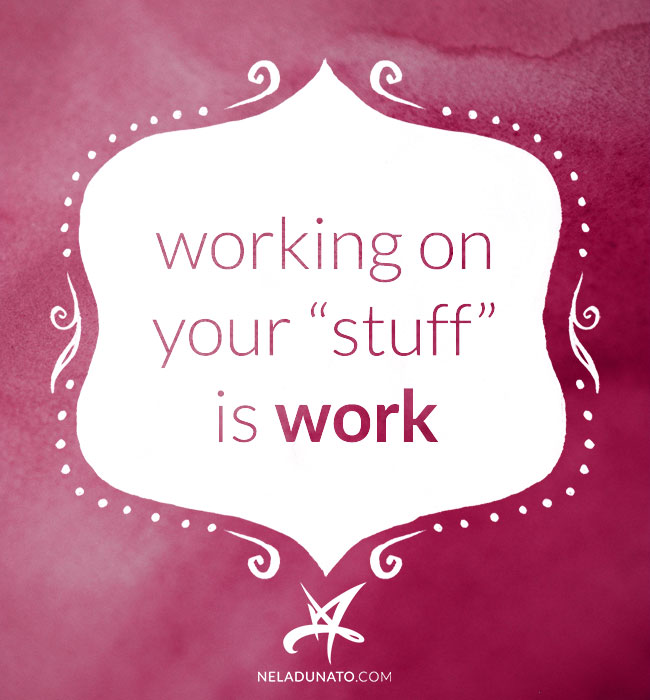 At times like these, 6 tips posts are not what I need. What I need is one of these things:
Paradigm-shifting thoughts that blow my socks off.
Step by step techniques I can apply to get through the sticky parts.
Truth. Not the Truth, anyone's truth.
Number #1 is the kind of thought that makes you go either "Holy shit, this never even occurred to me – it changes so much!" or "This is exactly how I've been feeling about this, but I couldn't find the words to explain it to myself so eloquently."
To be honest, I don't really need #2 since I've found what works very well for me, but I like to supplement my toolbox with more variety.
And the truth. We call it "authenticity" – you know, the thing we need to do in the "social era" if we want people to "know, like, and trust" us. The word "authenticity" has gathered so much lint from being dragged around every thought leader's blog, stage, and elevator, that a lot of us have become a little desensitized. So truth will do for now.
Being the aesthetics snob that I am, I don't want poorly written truth. I like it to be poetic, beautiful, and correctly spelled. This doesn't mean lightweight and joyful, oh no – it can be dark and heavy and difficult to stomach, but as long as it's true and beautiful, I'll take it.
So I've found other sources for that – some old, some new – and I'm bathing in them and finding tiny gold nuggets of my own inner truth reflected in their words.
My absolute favorite "personal development" blog right now is The Fluent Self. I'm using quote marks because she'd cringe if she knew I'm associating this term with her blog, but "destuckification" still hasn't caught on around these parts, and I have to keep things palatable for my readers.
Anyway. If you go there now and try to read from the latest post to the earlier ones, it will absolutely make no sense. It took me several attempts, until I realized that this is not a collection of loosely connected self-contained articles – it's a story. I needed to first get familiar with some core concepts and how things work so that I can follow along. (Luckily, there's a list of most popular and helpful posts in the sidebar, so start there.)
The reason this is my favorite blog of this kind is that it doesn't preach the concepts so much (though it does offer plenty of useful theory). It's about demonstrating how the theoretical concepts are implemented.
What this blog does for me is that it provides accountability. When I'm tired, worn down or just plain don't want to journal my heart out or apply any of the techniques I know, all I need is to go there and see "Oh, she's showing up again. Every single week. Just showing up, and look how things change."
And this makes me want to show up. Sometimes I literally show up in the comments. Other times I grab my journal, or go meditate, or console my inner child or whatever.
Knowing that I'm not the only one doing the heavy lifting does seem to make things easier.
What now?
All this begs the question, how does my own blog fit into this? I just trashed some of the kindest, nicest people on the Internet and called them out for superficial writing – how am I going to prove I'm not like that and make your time here worthwhile?
By everything I hold sacred, I will try.
I vow to never write pretend how-to posts that feature vague tips that aren't actionable at all. If I write to teach, I'll show you how it's done. No secrets or hooks. Feel free to call me out if I fail to deliver.
I will strive to write things that inspire you to question your current perception of the issue, or that sound like music to your ears because this is what you've been waiting for someone to say out loud so you don't have to. Things that challenge our ingrained beliefs about life, creative work, business, health, and relationships.
And lastly, I offer you truth.
Not the Truth, just my truth, so you know you're not alone in the arena.
Sometimes, that's all we need.
Love and jungle cat purrs,