Overcome obstacles on your way to a more creative life
The richly illustrated book Creativity Keys guides readers through the 10 keys to resolving the most common creative blocks faced by those who want to enrich their life by creating art. Laziness, doubt, isolation, distraction, conformity, boredom, lack, burnout, struggle and fear are a challenge for creative people all over the world, from beginners and hobbyists to professionals. The solutions to these challenges are sometimes obvious, and sometimes counterintuitive and unexpected.

Through numerous examples, tips, and journaling questions it encourages readers to come up with their own solutions and take steps towards developing a regular creative habit. Unlocking one blockage at a time, readers grow their self-confidence and find their own unique path to achieving their desires and ambitions.

With her open and compassionate approach, the author respects the reader as a wise and resourceful person who knows what is best for them, but they may need an incentive to stand up for themselves in a world that too often distracts us from what is most important.
This time I'm looking for a traditional publisher, so if you can recommend a good agent or connect me to an editor that might be interested, please let me know!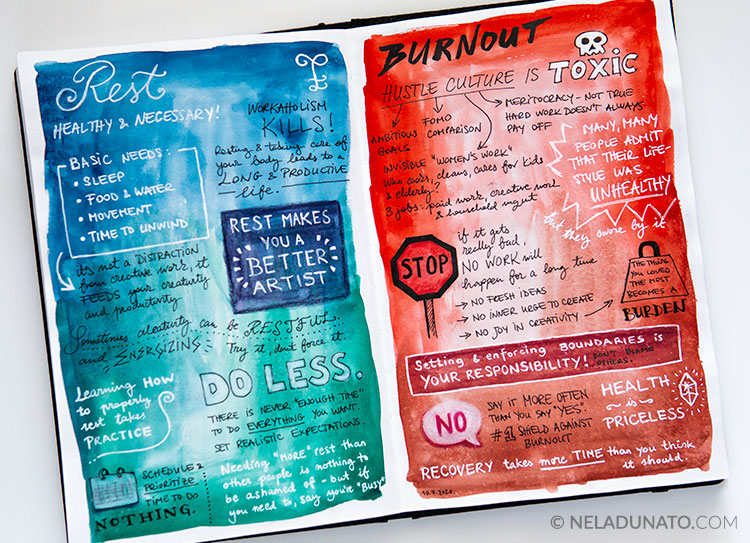 "I believe that almost everyone will find at least one chapter in the book, one key that will be so useful and impactful that it's worth reading the book just for that one key."

Visnja Zeljeznjak
book beta reader, writer and educator
Current book status:
Croatian manuscript is finished and edited (by me).
6 beta-readers from my target audience have sent in very detailed feedback, and their overall impressions were overwhelmingly positive. I also incorporated their feedback into the edit, and it greatly improved the manuscript.
10 out of planned 20 chapter illustrations are complete. Those make up 4 finished chapters.
Minor illustrations for sample chapters are done, but I may be adding more to the rest of the book.
Book layout of sample chapters is complete.
I've submitted the finished sample chapters to a Croatian publisher for consideration.
Next steps:
Complete the remaining chapter illustrations.
Complete the book cover illustration and design.
Edit the auto-translated English manuscript.
Send the English manuscript to a native writer for proofreading.
Send an English sample book layout to a potential publisher.
Find a book agent. (Know a good one? Let me know!)
Interview for Athena Village
Want to get notified of updates?
The best way to stay up-to-date is to get subscribed to Nela's Letters. It's a semi-regular newsletter (about once a month, but usually less frequent) about a variety of topics, creativity being one of them. The sign-up form is below.
In addition to the book, I'll release an exclusive "behind the scenes" digital zine and video which reveals my entire creative process and challenges I've overcome. I've been keeping a journal since I started working on the book, so this is a unique opportunity to look into the mind of a creator in the midst of a project, while everything is still raw and uncertain. This is the kind of writing I love to read!
The zine and video will be self-published, so I'll decide when I think it's "finished". If you want to know when it's out, sign up below.