Take control of your social media addiction, regain your peace of mind & double your productivity.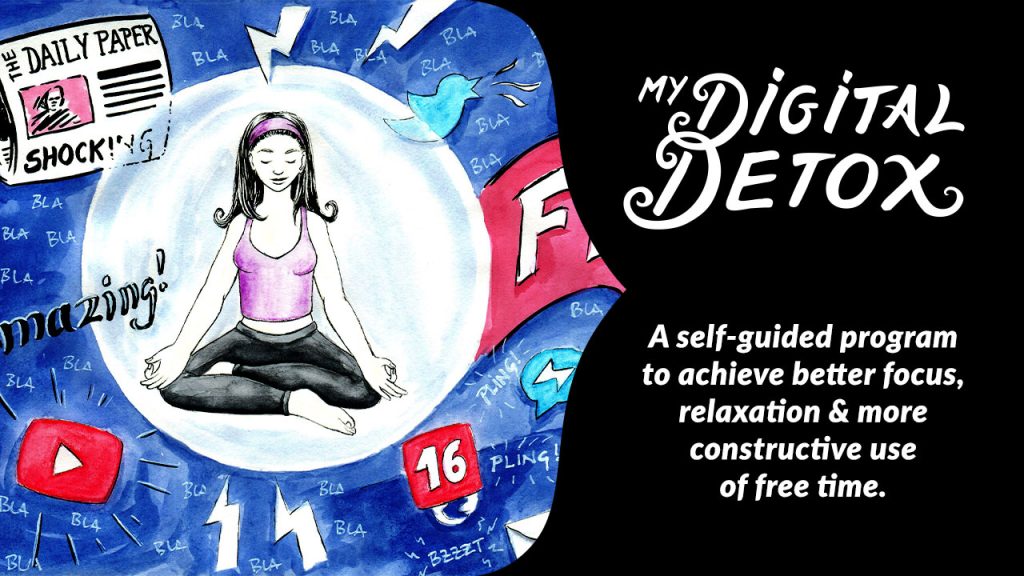 A self-guided program that helps you achieve better focus, relaxation, and more constructive use of free time.
Are you procrastinating on creative projects while spending hours on social media "looking for inspiration"?
Do you feel like your phone is glued to your hand and you rarely put it down?
Do you find yourself falling into a cycle of refreshing the same apps over and over in hopes that something interesting will appear?
Are you overwhelmed by incoming messages and comments, and the notification sounds irritate you?
Do you feel nostalgic about the time when we used to control our technology, instead of it controlling us?
Technology fatigue is common. People are becoming more aware that their digital habits are out of control.
Awareness is the first step. But what can we do about it?
Gradually changing digital habits is a long and often unsuccessful process. We're surrounded by too many temptations. It is too easy to say "let me just check this for a few minutes…" Those few minutes turn into hours, and we're back to square one.
Most people do not succeed in gradually and permanently changing their unhealthy digital habits. We need a drastic move that will shake things up.
Digital detox is a period of eliminating temptations and finding better ways to spend our free time.
Some people have a mini digital detox every weekend.
Some go on a month-long social media sabbatical every year.
There are many possible forms, and everyone can find one that best suits their lifestyle.
My Digital Detox is a 24-page guide that prepares you for a successful detox—however you define it—and supports you in choosing healthy activities that enrich your life.
Preparation is extremely important, because that's how we can avoid temptations or replacing one unhealthy habit with another. Preparatory tasks include:
Finding your biggest motivation and a reward for a completed detox.
Examining your current habits and needs.
Setting realistic rules that you will follow without exception.
Important actions related to digital communication channels.
Actions related to habits you want to strengthen.
The core digital detox program is quite simple, yet effective. Daily planning, check-ins, and quick journaling prompts help you notice how you might be sabotaging your own detox and using unhealthy replacement behaviors to fill the void. You'll be able to course-correct each day, and learn a lot about your needs and habits that will empower you to develop a healthier relationship with media and technology even after the detox.
Buy the Digital Detox Guide
$10 USD*
24-page digital interactive PDF file
* + VAT in certain EU countries, calculated during checkout
Your payment information is safe
Secure payment processing and file delivery is handled by Gumroad. You can pay with a credit card, debit card, or PayPal. You'll receive an email receipt with your digital file download link. Please check your Spam folder if you're using Gmail!
If you've never heard of Gumroad before, here's a short introduction for new buyers.
---
Why did I create this guide?
If we haven't met yet: I'm Nela Dunato, designer, visual artist, author, and teacher.
I became active on the Internet in 2000, when the online world looked drastically different from today. I've always spent more time online than the average person, but during that time it wasn't so bad because most of my activities were constructive and creative. There wasn't so much content available to occupy my entire day.
About 10 years later, I felt that something wasn't right for the first time. Too many different social media channels where something is happening non-stop. Too much content that distracts me from my own dreams and goals. When I bought my first smartphone, I became inseparable from the Internet. It's always there for me during all my waking hours.
Many times I tried to restrain myself and moderate my Internet and social media use. But it never lasts, I always slip back into unhealthy habits.
In 2013 I heard about media detox for the first time, from an Indian yoga and meditation teacher. I decided to try it and described how it went on my blog. This experience was extremely instructive for me, I dare to say life-changing.
For the first time in years I was faced with the urge to fill my mind with new information, instead of using the wealth of information I already know.
Each day this urge was getting weaker, until it was almost completely gone.
My mind became quieter and it was much easier for me to meditate and focus on my priorities.
I got many new insights and ideas, because I finally allowed my mind to just think, instead of absorbing information.
The detox has reset my relationship with digital media, and I developed healthier habits when I returned to it without restrictions.
After this first media detox, I continued to do them regularly at least once a year, and more often if I feel the need. They're usually shorter (7 to 10 days), and my longest one lasted 2 ​​months.
Unsurprisingly, during every social media detox my productivity doubles or triples, and I'm left with more free time than ever!
So far, during my digital detoxes I have:
Completed client projects in record time.
Renovated my studio.
Written entire chapters for my books. (As well as many, many articles.)
Painted lots of personal art and fun experiments.
Invented, completed and launched multiple passion projects.
Made improvements to my website that I've been putting off for months.
Whether I do the detox while I'm working or on vacation, after the first few days there's always a surge of energy that propels me into inspired action. Even if I entered the detox completely burnt out and demotivated. I think every creative person should experience it for themselves.
Through trial and error, I've discovered numerous pitfalls that can ruin our progress if we're not prepared.
I found myself repeatedly replacing one unhealthy habit with another (like binging on TV shows, or online shopping).
I would make an exception (e.g."I will only use Instagram") and that exception had become an obsession.
I came up with ways to prevent this and collected what I've learned from my own experiences into My Digital Detox Guide. I hope that everyone using this guide successfully completes their digital detox and experiences all the benefits it has given me.
Since I've created this guide, I've been using it myself!
Even though I have many years of experience and I know all about the best practices and potential pitfalls, it's still a great reminder and it keeps me on track and committed to my goal.
Buy the Digital Detox Guide
$10 USD*
24-page digital interactive PDF file
* + VAT in certain EU countries, calculated during checkout
Questions and answers
How long does the digital detox last?
Everyone determines the duration for themselves, depending on their needs and circumstances. Suggested duration is 9 days of detox and 7 days of preparatory activities before the detox starts, but feel free to adjust it.
Does this mean that I shouldn't use any electronic communications and media at all?
Everyone determines the rules for themselves. If it's not feasible for you to stop using a communication channel due to work or personal reasons, don't let that stop you! It's not about perfection, but making a step in the right direction.
Most of the time I just do a social media detox (including blogs and videos) plus TV shows and online courses. I usually keep using email and instant messaging since they're not a source of issue for me anyway. I rely on my calendar, productivity, and navigation apps to accommodate for my ADHD symptoms, so going fully offline and device-free would make me non-functional in my day to day.
This is not about returning to the 90s, but about eliminating your personal Kryptonite—the things that are sucking up your free time, or causing your anxiety.
What if I run my own business?
Many entrepreneurs around the world go on a digital detox without issues. I'm a business owner too so I understand the worry that everything might fall apart if you're not online to take care of it… But it can be done. Preparation is key.
Business owners have the right to rest like all other workers. If you're afraid to go on an unplugged vacation and set healthy boundaries with clients, that's a serious problem that would be great to discuss with a qualified psychotherapist or coach.
Can I use this guide more than once?
Purchasing this guide grants you a single user license for an unlimited time. You may duplicate the guide for your own use, but you're not allowed to share it with others.
If you want to share this guide with other people, contact me to arrange a group discount.
Buy the Digital Detox Guide
$10 USD*
24-page digital interactive PDF file
* + VAT in certain EU countries, calculated during checkout
Terms and conditions
Nela Dunato Art & Design is a business entity registered in Croatia (EU), and is subject to international regulations set by the European Commission.
Duplication, publication, and distribution of files or hard copies of this guide is prohibited. Any form of sharing requires the author's written permission.
By purchasing digital content (e-books, videos, audio recordings), you waive your right to a refund at the time of downloading the digital content to your device (computer, tablet, phone, e-reader). You can cancel the purchase of digital content only before the download of the content has started.
Purchases from EU countries may be subject to value-added tax (VAT). This tax is automatically included during the checkout process, depending on your country of residence. If you have a registered business with a valid EU VAT number, you can enter it during the checkout process and the VAT will be deducted.
Privacy policy
Your personal information is securely stored by Gumroad Inc, you may read their privacy policy here. This information will only be used to deliver you the product, and will not be used in any unauthorized way.
If any improvements are made to this digital product in the future, you may be notified to download the updated version.